Are you set up for success in 2016? Join 2,500 real estate industry leaders Aug. 4-7, 2015, at Inman Connect in San Francisco. Get Connected with the people and ideas that will inspire you and take your business to new heights. Register today and save $100 with code Readers.
---
The real estate agent you see hunched over her smartphone while sipping a mocha latte, swiping left and right, may not be searching for her next Tinder match.
She could be using a new mobile gaming app designed to turn more of her Twitter followers into real estate clients.
That's Jeff Walker's dream. His startup's mobile app will show agents their Twitter followers one at a time and provide suggestions for how best to engage each one.
A follower comments on crime in a neighborhood? Send him a link to local crime data.
Agents earn points they can use to unlock bonus features, such as relevant blog posts and tips for getting more followers.
This is an example of how real estate entrepreneurs are leveraging social platforms to increase engagement, pioneering new ways for agents to generate leads beyond advertising.
It's just an idea now, but Walker hopes that Property Carnivores' three-month stint in the real estate tech accelerator Elmspring will give it the connections, investors and guidance to create a hit product and success in the real estate industry.
Chicago-based Elmspring launched last year.
Like the two other real estate tech accelerators that have cropped up recently — NAR's REach and MetaProp NYC — Elmspring participants get access to mentors, capital and opportunities to network with influential real estate executives.
A member of the accelerator's third class, Property Carnivores received $20,000 in cash, gave up 6 percent in equity to Elmspring and gets office space at the group's headquarters in the tech hub Chicago 1871 for three months.
Elmspring is run by Madison, Wisconsin-based brokerage Century 21 Affiliated, which claims to be the largest Century 21 affiliate in the world, with approximately 1,500 agents and 70 offices in four Midwest states.
The other startups in this Elmspring class with Property Carnivores are:
Alpha Lead: Alpha Lead helps agents connect with higher-value clients.
DrawBridge Solutions: DrawBridge Solutions helps facilitate redevelopment of environmentally impacted properties.
Commercial Connected: Commercial Connected connects buyers and tenants with commercial listings.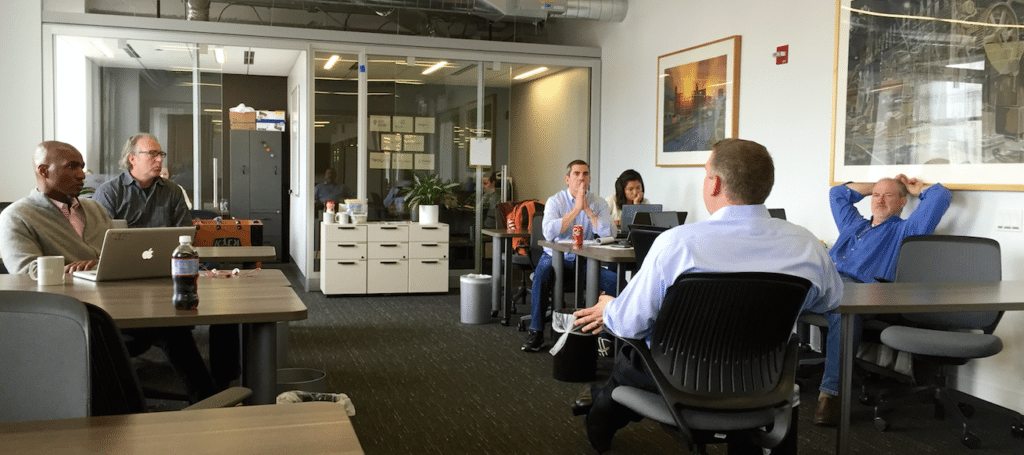 Elmspring co-founder Tom Bretz addresses the accelerator's third cohort.
Accelerator hopes
The idea for Property Carnivores had been bouncing around Walker's head for months. Without Elmspring, the brainstorm might have remained an idea, he said.
Property Carnivores is an outgrowth of Content Carnivores, a firm Walker founded two years ago that tracks social media activity and picks out stories and news most relevant to specific audiences.
Property Carnivores hopes to build on that groundwork by helping real estate agents become more involved in the social conversations that their followers care about.
Walker has no residential real estate expertise or connections, so Elmspring is an opportunity — giving him immediate access to real estate brokers and agents who will help him shape his new product.
The seed money helped Property Carnivores start building a product immediately.
At the end of the program, the accelerator hosts product demo days that puts startups in front of investors interested in real estate tech. Walker is furiously working on a product to show investors that he hopes will kick-start his funding.
Networking and mentors
In the first week, Elmspring helped Property Carnivores secure server time from Amazon Web Services at a discount.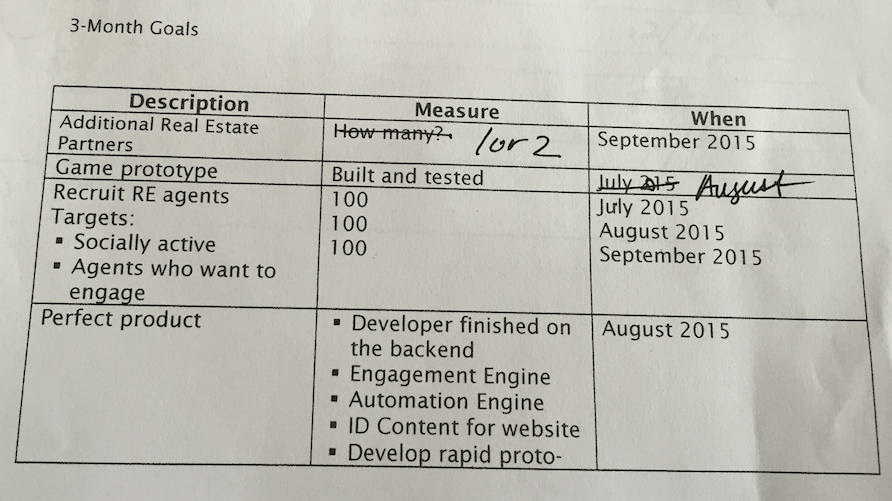 Property Carnivores' business goals for its time in Elmspring.
In the second week, the accelerator hosted a dinner at a hip Chicago restaurant where Property Carnivores' founders got to schmooze with two dozen investors and mentors.
At a well-attended networking event Elmspring put on two days later, Walker connected with four Elmspring mentors, including a Realtor association exec who could help Property Carnivores shape an enterprise-level product.
That's jumping ahead. Right now, Walker has his head down.
---
Inman Connect San Francisco is right around the corner — register now and save $200!
Start Inman Connect SF off right! Choose from three powerful events on Aug. 4. Reserve your spot now for Agent Connect, Broker Connect and Tech Connect.