Have suggestions for products that you'd like to see reviewed by our real estate technology expert? Email Craig Rowe.
Takeaways:
A private, collaborative home search experience for buyers.
Buyers can invite friends, family into search circle.
Helps keep buyers away from portal searches and agent poaching.
The pitch
Buyer Circle is a private home search tool that allows collaborative home browsing among agent, buyer, family and friends.
Type of software: Buyer management, home search.
Platform: Web-based, browser-agnostic.
Ideal for: All agents, any size team looking to better capture buyer attention.
Top selling points
Distraction-free: Buyer Circle brings full MLS searches into a private, single-buyer browsing interface.
Handcuff your leads: Helps keep buyers focused only on their searches and circle's content, not competing agent ads or third-party solicitations.
Get social: Buyers and circle members can comment, like, dislike, share, send and assist on all features of a home.
Things to consider
Your success with Buyer Circle will depend on your breaking the habit of buyers' dependency on other websites. Stay engaged and remind them that all Zillow, Trulia and realtor.com properties can be found in your circle.
The close
It's not often I come across a solution that focuses strictly on helping buyer's agents that isn't trying to be a CRM.
That alone is reason enough to give Buyer Circle a click or two of attention.
The gist is this: When you secure a buyer's business, you create a private search "circle" in which they can browse the entire market within a closed "Buyer Circle," free of distraction from portal clutter.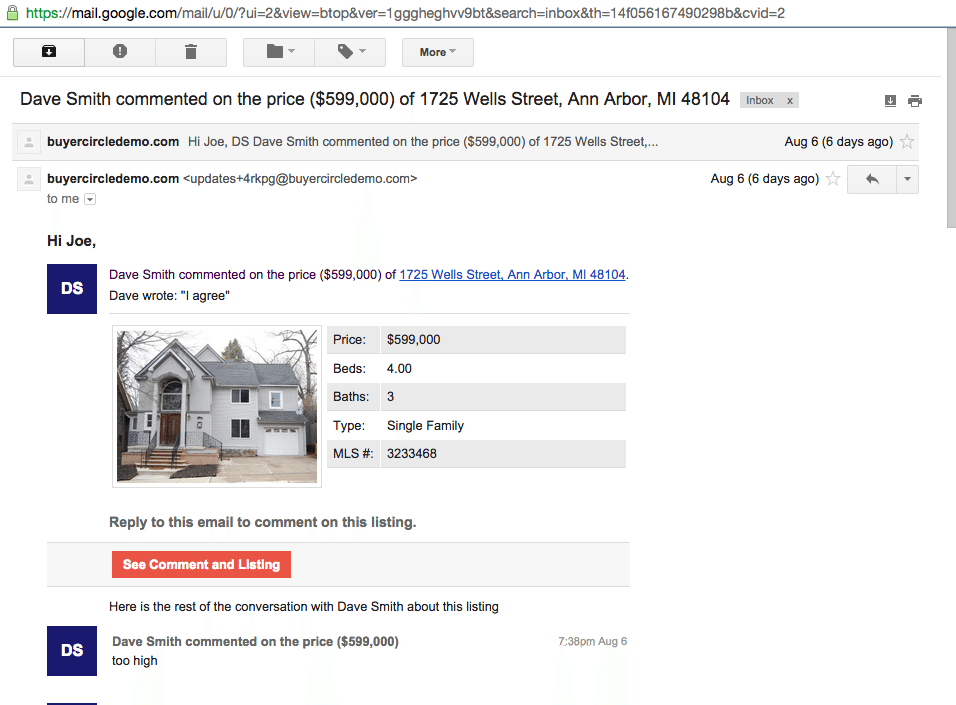 Agents create an initial search and buyers then adjust as they go.
What makes it a true social circle is that buyers can invite whomever they want to join them in the circle.
Houses that are searched and saved as favorites are open to comment and insight from all circle members.
Every image and search characteristic (for example, flooring, patio, garage, bonus room) can be liked or disliked, allowing agents to get an idea of how their buyers' tastes are adjusting to the market.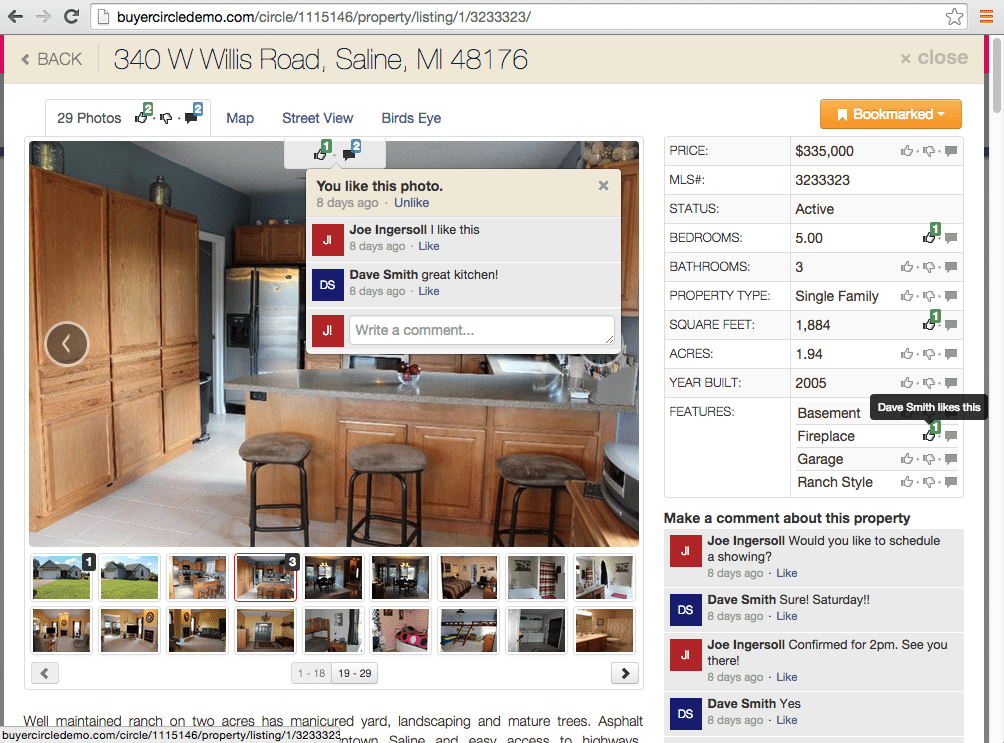 Our social media presence is driven heavily by what others think of what we post. My friends like pictures of backpacking destinations, not breakfast items. So I post shots of mountains and mule deer.
Rest assured, people are looking at homes their friends like. And if everyone is in on the search, agents have that many more individuals locking their clients into the process.
That does have a drawback. With so many opinions flowing into the home search, it's possible dissenting opinions will negatively impact the flow of the transaction.
Then again, anyone think that isn't already happening?
At least with this solution, you, the agent, can offer a proactive response to Aunt Mildred's opinion of the powder room's finishes.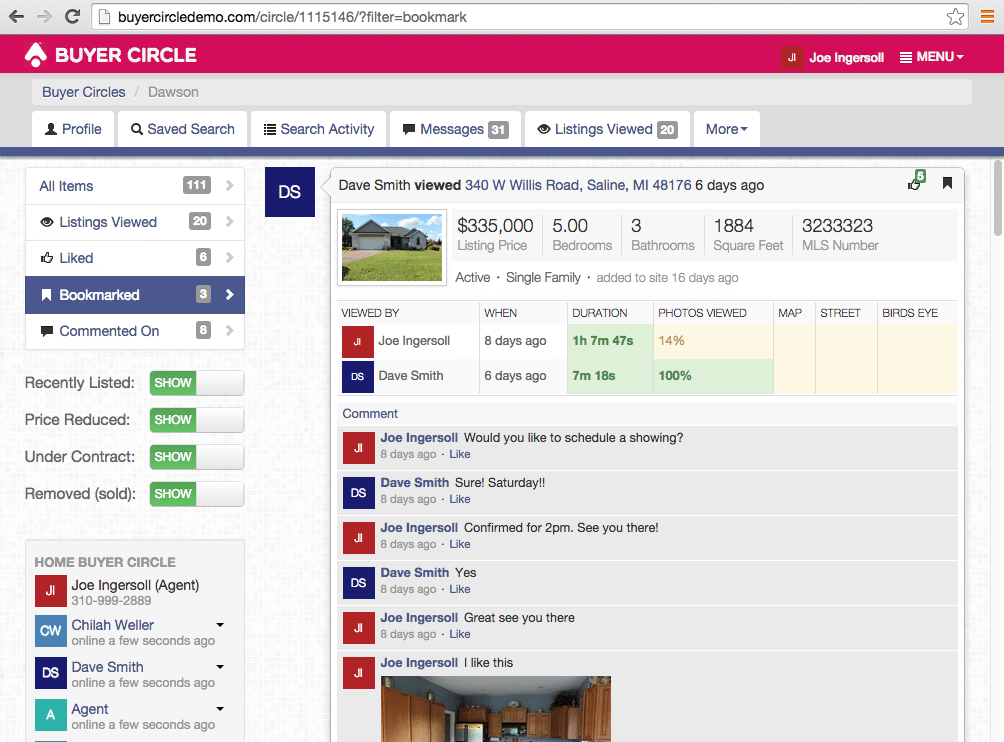 Buyer Circle constantly feeds MLS listings into the buyer's circle and updates favorites as listing details change.
The user interface is a good one. Buyer Circle filters MLS listings into a scroll of "cards." Each selected card opens to reveal full details. It's all graphically consistent and contemporary, designed to illicit circle feedback.
Members of each circle are alerted when a comment is posted or when someone wants a tile backsplash.
Behind it all is an admin interface that is easy to navigate. The dashboard tracks every data point within the system, even each like, favorite and forward.
Buyer Circle is good for teams, too. Top-level members can assign circles, monitor all activity within each one and grant access rights.
Not unlike Relola, Buyer Circle is heavy on consumer appeal.
The bulk of its feature set wasn't developed for agents, and its use of social engagement tactics makes it immediately appealing to buyers.
I'd be surprised if buyers don't enjoy the Buyer Circle experience. The company launched at Inman Connect, so things are just ramping up.
However, this is not a product in beta. It's ready to go.
If you could invite one celebrity into your Buyer Circle, who would it be?
Do you use Buyer Circle — and what do you think? Leave a comment and let us know!
Do you have a product for our tech expert to review? Email Craig Rowe.