Takeaways:
Property managers and owners in Kansas City, Missouri, have to produce benchmarks for energy efficiency.
The multifamily sector is a culprit for lacking energy-efficient resources.
Studies show that energy efficiency in rentals increases home values and decreases vacancies.
The City Council of Kansas City, Missouri, recently passed an energy empowerment ordinance to help cut down costs and improve the energy efficiency of multifamily homes throughout the city. Buildings that are 10,000 square feet or larger are required to have benchmarks and regular reports in regards to their energy and water usage by property managers and tenants.
A new article was enacted in Chapter 18 of the Code of Ordinances to encourage conservation among the housing sector that is notoriously known for its lack of inefficiency. The city's goal is to raise awareness about wasted utilities through transparency.
By improving the energy efficiency of multifamily buildings in Kansas City, Councilman Scott Taylor, co-sponsor of the ordinance and co-chair of the City Energy Project Advisory Committee, says the average middle-class family can save money every month. Proponents of this and other similar measures in other U.S. cities suggest this could improve housing affordability issues.
The "Multiple Benefits of Multifamily Energy Efficiency for Cost-Effectiveness Screening" report from the American Council for an Energy-Efficient Economy released in June also suggests that energy efficiency can improve return on investment (ROI) for property managers. The report found that energy-efficient rental units can improve tenant satisfaction and therefore reduce tenant turnover rate and vacancies.
In its cited case studies, ACEEE found that both the tenants and the owners were pleased and saved money with energy-efficient upgrades to their buildings. The owners felt the properties were also more marketable to potential new tenants, and demand improved for those units, thus driving down vacancy.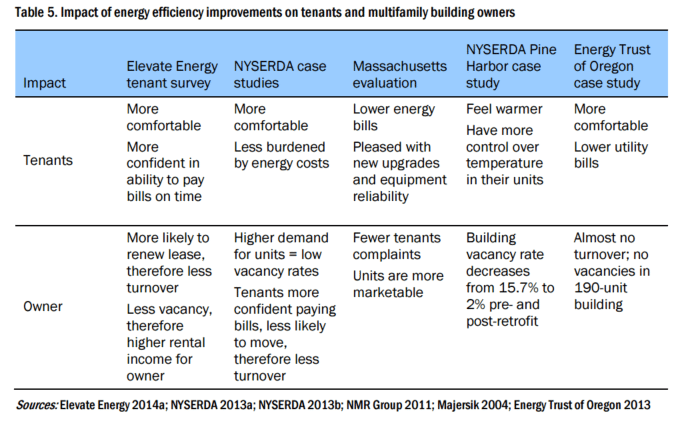 Out of a sample size of 26 building owners and managers, 23 percent saw an increase in property value and the other 77 percent saw no difference. No one reported a negative impact.
A case study from Massachusetts found lighting maintenance to be the No. 1 most value-added energy-efficient update with an additional value of $2,927 and an estimated 28 percent savings on bills.
Cities throughout the nation such as Denver, Atlanta and Chicago are implementing or in the process of laying out benchmarking for energy efficiency in the city's commercial and multifamily sectors.