Are you set up for success in 2016? Join 2,500 real estate industry leaders Aug. 4-7, 2015, at Inman Connect in San Francisco. Get Connected with the people and ideas that will inspire you and take your business to new heights. Register today and save $100 with code Readers.
---
In addition to promoting a home's standout features such as a big backyard or sunset-facing porch, real estate agents may soon be touting a home's solar energy-generating potential.
That's if Sun Number has any say in the matter. By measuring a home's orientation, roof slope, tree cover and other factors, the Deephaven, Minnesota-based startup assesses how well homes are set up to turn sunshine into energy.
Sun Number scores fall between 1 and 100, with 100 representing a home that is best situated for solar energy panels.
Ratings above 50 indicate that a solar energy system is a good investment, according to Sun Number's founder, Ryan Miller. The tool also displays how a home's solar energy outlook compares to the average of homes in the same ZIP code and market.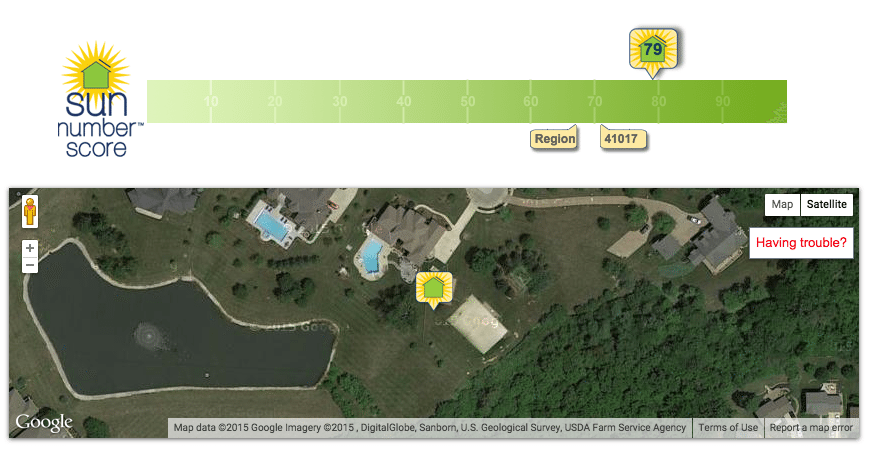 Screenshot for how a Sun Number score shows up on a listing detail page on a broker's website featuring the tool. 
Sun Number hopes to do for solar energy what Walk Score has done for commute information in real estate.
Walk Score, which provides ratings for walkability, bikeability and public transit access related to individual addresses, has become a standard attribute on listing detail pages. Redfin purchased Walk Score in October.
Other firms are looking to give agents and consumers information on homes they haven't had access to before.
HowLoud, for example, gives buyers insight into the noise pollution bombarding a home from airplanes overhead, nearby car traffic and commercial businesses with its SoundScore tool. It launched earlier this year.
By tapping into these new sources of information, agents can help seller clients fetch more for their homes and buyers sniff out good deals.
Sun Number's rollout
Sun Number has calculated solar energy ratings for homes in dozens of U.S. markets. This month, it kicked off a partnership with real estate marketing firm Delta Media Group, which now bakes Sun Number into its premium broker website packages.
Just a handful of brokerages have incorporated the tool, including Cutler Homes in Kentucky, Re/Max DFW Associates in Dallas and Re/Max Equity Group in Portland, Oregon.
Sun Number is free for consumers, brokers and agents. The firm makes money on the referral fees from local solar contractors. Consumers are prompted to fill out a contact form for more information on solar energy in their area, and the firm sells them as leads.
Miller is looking to partner with brokerage networks and portals to make Sun Number as ubiquitous as Walk Score.
Sun Number has plans to introduce a mortgage product that will offer leads to lenders who offer home loans that include money for solar energy installations, a class of loans known as "energy-efficient mortgages."