Have suggestions for products that you'd like to see reviewed by our real estate technology expert? Email Craig Rowe.
Takeaways
Open houses are still vital to property marketing, but need to evolve.
More agents are becoming developers of tech solutions to industry needs.
Device availability can speed or hamper adoption.
The pitch
Open House Toolkit is an open house management and lead capture application.
Platform: iOS for iPad, Android, Kindle.
Ideal for: Individual agents or agency teams who hold multiple open houses.
Top selling points
Versatile: Software works on all common tablet types; allows for affordable rollout of automated open houses. Windows version in development.
Go offline: No Internet connection required.
Truly mobile: Ease of use allows for new open house setup in couple of minutes.
Things to consider:
Open House Toolkit doesn't integrate with your website listings or IDX account. All properties are created and detailed within the software.
The close
Open House Toolkit sets up fast.
Hurried agents can get it running for a new open house in minutes. They need only to plug in general data about the listing and add pictures from the device's native camera or photo library.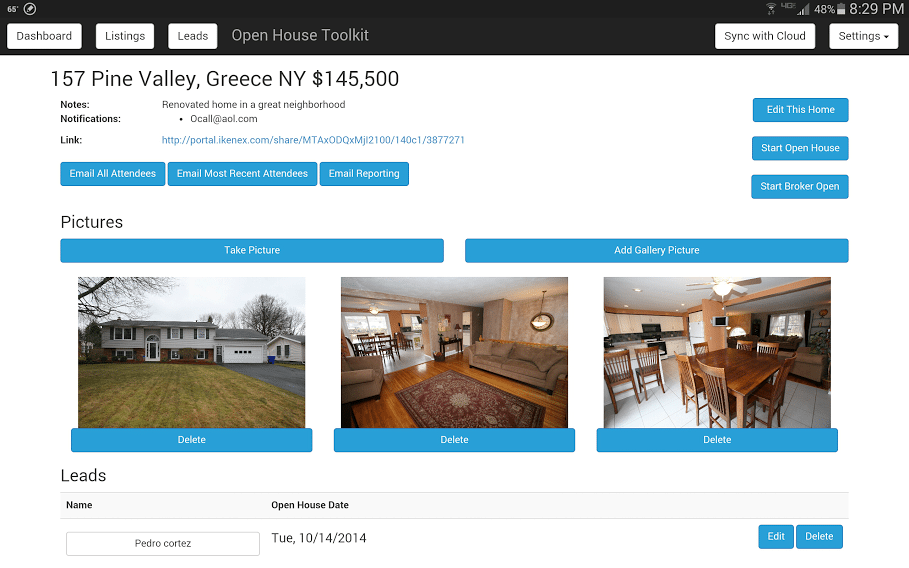 The sign-in form floats under an icon in the corner of the screen. When tapped, it presents as a simple text card over a property slideshow.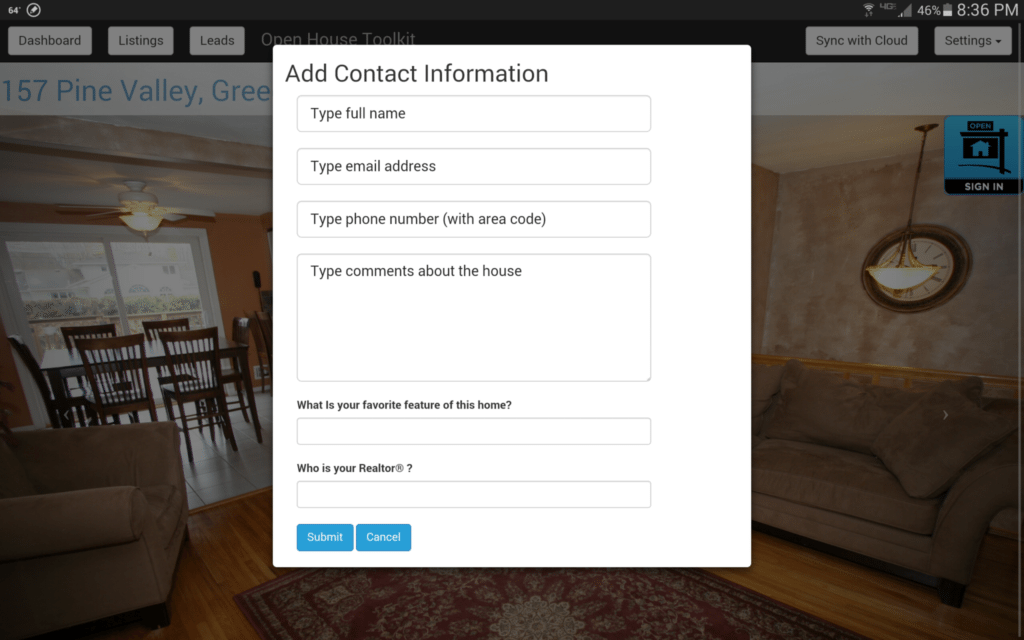 Prospects don't hunt and peck to enter names and emails, representation status and lender information.
Agents may want to upload a PDF brochure of the property or about their agency for users to browse on the tablet.
Whereas Spacio Pro wins in visual appeal and lead generation, Open House Toolkit takes the practicality trophy.
This is a tool for the everyday agent who's juggling open houses between soccer games and Rotary committee commitments.
Registrant questions are easily customized via the dashboard for either a buyer or broker open house.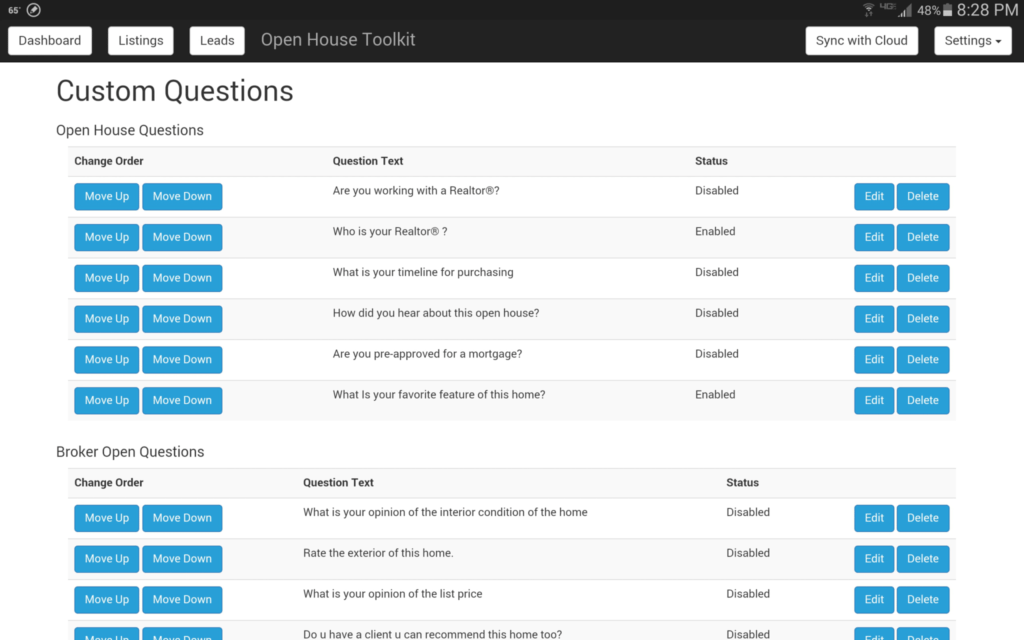 Users manually determine and assign lead quality when the event is over.
The software enables users to pick and choose which stakeholders (owner, developer, broker) get the breakdown via email, which is launched directly from the software's back end.
Pay careful attention to the fact that Open House Toolkit can operate on Android and Kindle, and soon Windows tablets.
These devices are significantly more affordable than iPads. Some of them are even free.
This means agents can deploy several throughout an open house, alleviating front-door sign-in pressure.
A potential buyer may be more apt to provide information and feedback when actually standing in the master suite.
Because Open House Toolkit works offline, data is stored on each device. However, data on multiple devices can be synced to a single user account.
Lead lists are easily exported via .CSV for upload to any number of sales and marketing databases.
Lead quality is manually categorized by the registrant's information. Provided, of course, what they said about themselves was accurate.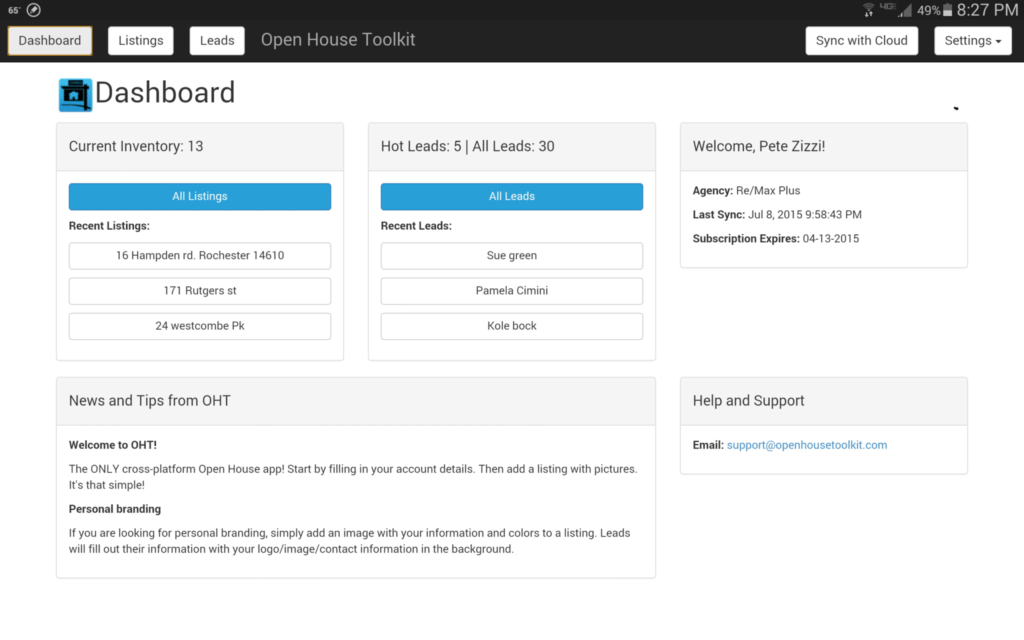 I like this product, and there's no reason not to use it. It was developed by a single agent who needed a way to better manage his primary customer acquisition process.
I'm still waiting for an open house solution that has the power to natively deliver to agents everything that's public about the people who sign in.
The majority of us are easily searchable.
We register for random news forums with our Facebook accounts so we can tell a person how wrong they are. We openly share professional backgrounds with total strangers via LinkedIn.
Why can't we get people who want to buy a house to share their Twitter handles?
What is it about being in front of someone that makes us fear telling them who we are?
Maybe software like Charlie can find its way into a paperless open house tool.
Let's find a way to make open houses the powerful data collectors they have the potential to be.
Open House Toolkit is a good start.
Are you open to having your product reviewed? Email Craig Rowe.
Do you use Open House Toolkit — and what do you think? Leave a comment and let us know!
Have a technology product you would like to discuss? Email Craig Rowe.