Mortgage rates plus all the latest real estate market news.
Freddie Mac released its August Insight & Outlook report
2015 mortgage originations estimates have been increased to $1.45 trillion and 2016 originations to $1.3 trillion.
2015 is expected to be the best year yet with an increase home sales projection of 5.73 million units.
The cash-out share in the second quarter of 2015 to 34 percent from 27 percent in the first quarter of the year.
Auction.com released its latest Real Estate Nowcast
August home sales are projected to fall between seasonally adjusted annual rates of 5.46 and 5.86 million units.
This projected rate puts August home sales 1 percent above July 2015 rates and 12.9 percent above July 2014.
The median sales price is expected to drop to $230,666 nationwide.
CoreLogic Home Price Index (HPI) for July 2015
Nationwide home prices including distressed sales, increased by 6.9 percent in July 2015 on a year-over-year basis.
Colorado, Florida, Hawaii, Nevada, New York, Oregon, South Carolina, South Dakota, Texas and Washington saw its growth match or surpass the nation's annual price growth, which was 6.9 percent.
Home prices nationwide increased by 1.7 percent in July 2015 over the June 2015 numbers.
Metrostudy's survey of the San Francisco Bay Area real estate market:
In the second quarter of 2015, both quarterly new-home starts and the number of closings increased by 11 percent over the same quarter of 2014.
25 percent of new-home starts were in the $1 million or higher range, causing 61 percent more people to rent now than in 2010.
Annualized new-home starts are down by 4 percent compared to the second quarter of 2014.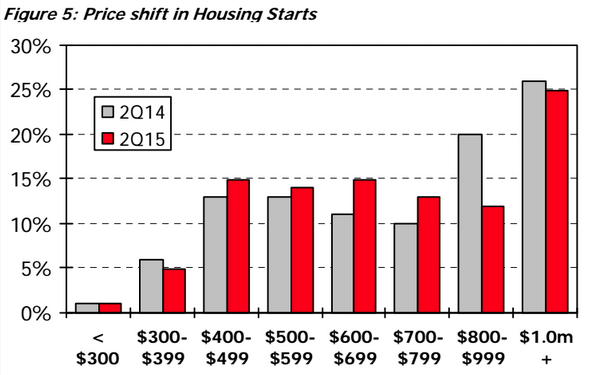 We'll add more market news briefs throughout the day. Check back to read the latest.
Yesterday's market news:
Homes.com's June 2015 Local Market Index:
47 percent (142 of 300 markets) achieved full pricing recovery, which is three more than what was reported in May.
In June, 99 out of 100 markets increased their three-month averages, but for the first time in six months one market saw a decline for the metric.
The West dominated in annual gains with all 10 markets showing improvements, the South dominated in recovery and the Midwest came in second for recovery.
Send market reports to press@inman.com.