A Denver broker created a community Facebook group to talk about "fugly" urban development projects.
The group has more than 2,000 members today and has become a place for community members to talk about their vision for the city.
Brad K. Evans, the group's creator, says it has grown into a space where important conversations about Denver can take place, and where people on two sides of an issue can meet in the middle.
For Denver broker Brad K. Evans, the word "fugly" has a special meaning. "Fugly can be anything," he says. "There are fugly businesses, and there are also all sorts of different layers of things we don't talk about."
In spring of this year, Evans created the Denver FUGLY Facebook group, a closed community group that, despite its privacy restrictions, has grown to 2,323 members (and counting).
"On April 1, 2015, I drove by a set of newly constructed townhomes at 22nd and Glenarm, and this is when and where the idea for DenverFugly came into focus," Evans wrote in a post on the group page earlier this month. "I recall saying out loud as I drove by: 'My god, that is so f*cking ugly.' I was probably even screaming about 'how the stupid can they get???' I then took some photos of the project, and raced back to my office and created this Facebook group, DenverFUGLY. Over the next few weeks, I drove around in neighborhoods across the city, taking pictures and documenting some of the FUGLIEST of the FUGLY, and began posting them and making constructive and often critical comments as to what I liked and didn't like about what I was seeing."
The page has grown well beyond a place for members to post photos of new development that sets off their fugly-meters; now, conversations on Denver FUGLY are just as likely to be about a neighborhood association's fight with a rescue mission or new bike lanes as they are about development projects that might or might not be fugly.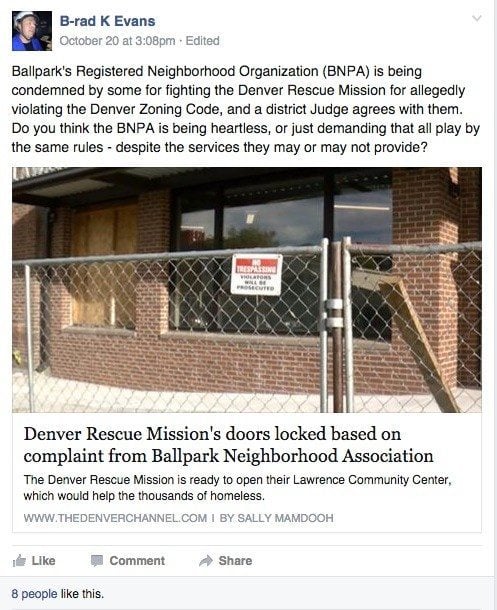 Evans — who also founded bicycle group Denver Cruiser Rides — talked with Inman about the genesis of the page and why he felt it was important to create a group like this. We turned the discussion into this how-to guide for any enterprising agents or brokers who might be interested in creating their own version of Denver FUGLY.
1. The group should come from a place of knowledge and passion.
"As a Realtor in Jefferson Park before the market crashed, I knew that was going to be the next hot neighborhood," Evans said. "I was part of the land-use committee; I knew the pressures of neighborhood plans and city zoning, I knew the mechanics of how cities develop and had seen the collapses of cities.
"Now that the market's recovered, Jefferson Park is ground zero for it, because of the pretty lucrative zoning codes," he added. "That was the seed — it was in my face every day. I didn't know how to express it — as a Realtor, I get more leads than I can deal with; I don't need to create a place to generate leads, I'd rather create a place that's more pure, which is why I rarely talk about being a Realtor on that page."
2. Constructive discussion should be the goal.
"There are plenty of venues to bitch about everything, and I'm not that person," Evans noted. "Let's talk about something, and once you figure it out, what's the solution? Then you have tools to fix it."
Discussions on the Denver FUGLY page do get heated sometimes; Evans welcomes anyone who wants to be a member, and there are both pro-development and anti-development voices in the mix.
He said there is some moderation involved (more on that later), but that for the most part, the most hot-headed group members tend to self-censor or leave the group entirely, and now Denver FUGLY is one of the few places those two groups can engage in constructive discussion together.
3. Think big.
"I started with development because that's the hot button," Evans explained, "and now, all these things are tied together with the question, 'What kind of city we want to have?' You've got to start with one idea, and I knew it would evolve; I had an idea of what Denver needed to talk about."
There are still plenty of photos of heinous developments in Denver — but there are also photos of what group members would like to see more of in the city, and the group membership itself has become more robust and integrated. Members of Denver's official Community Planning and Development group have joined Denver FUGLY, as have artists and restaurant workers and journalists and other real estate professionals.
4. Prepare to moderate.
Evans didn't start the group thinking he was going to spend time as a moderator, but his experience creating the Denver Cruiser Rides taught him a thing or two about managing dissenting opinions. "I think I've kicked a couple of people off the group because they won't stop," he said, "But everyone else, it's like — 'I was hot-headed, I'm sorry, let's keep going.' Usually if they're hot-headed enough, they'll leave the group themselves."
He added that making the Facebook group private was unintentional at first, and by the time he realized his mistake, the group was too large to switch from private to public. "I accidentally made this group private and was so pissed about it," he said, "but it's actually kind of protected it a little bit."
And you have to be prepared for some slings and arrows to be thrown your way sometimes, too. "My girlfriend says, 'You've got such thick skin, people are so mean to each other!' And I'm like, 'I'm a redhead with freckles, I've heard it all before,'" Evans laughed.
5. Be willing to dissent from popular opinion.
Some of the most popular posts on Denver FUGLY emerge when Evans is questioning conventional wisdom — like a recent post wondering whether the alleged influx of people into the city, reportedly the result of legalizing marijuana for adult use, is actually happening, or a post that called out The Denver Post for its headline that said construction of a new bicycle lane would snarl traffic on Arapahoe Road.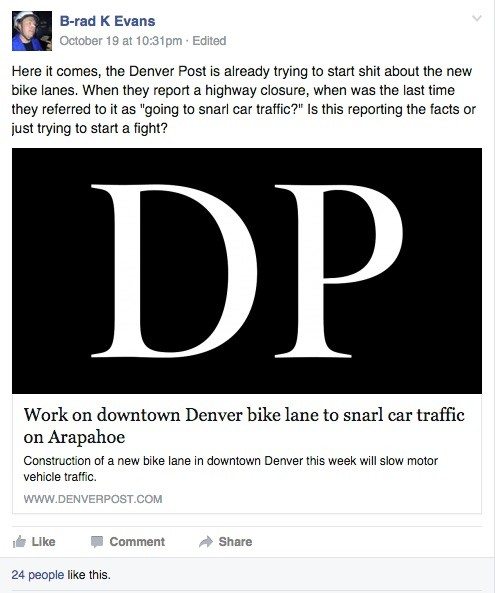 "Being a dissenting voice — that unfortunately has followed me around for my whole life," Evans said. "I either don't suffer fools well or my bullshit meter's pretty good."
6. Don't make the space about your work in real estate. It should be bigger than that.
"I'm not approaching this as a Realtor," Evans noted. "When I started as a Realtor, I like going to neighborhood meetings, city planning meetings, I was interested in that. It wasn't unnatural for me to be there.
"I know about the market and about how real estate works, so it's an interest, but it's not like I'm selling myself," he added. "I could regurgitate a bunch of stuff, that's also not in my wheelhouse.
"Denver's in a shift place, and FUGLY caught the wind of that," Evans concluded. "How did it grow? Unwittingly, I stepped into a hot-button thing about development and neighborhoods and the urban core. If I had a dollar for every second I spent on it …
"I think that this isn't exclusive to Denver, so I hope it spreads to those other cities and other people start doing these same things."
There's already a Seattle FUGLY group, and Evans said he's also heard from someone in Austin, Texas, who's interested in creating a city page along the same lines. He invites anyone interested in joining the brand-new FUGLY network to email him at bradk@denverfugly.com.