People like to be told what to do by agents, who know what to do.
At the end of the day, all the sellers care about is that you sell the house.
What separates top agents from the rest is they keep finding a way to make it happen.
You would think that if you had introduced your client to a bargain 3.5-acre foreclosure property in north Beverly Hills for $1.9 million, that client would stick with you when they prepared to sell it at a big profit just five years later.
And Gary Gold's client, Nathan Frankel, did do that. Frankel had kept in touch with Gold as he carried out the construction of a guest cottage and larger main home, so their relationship was well-established by the time Frankel decided to sell.
But then, after a couple of months on the market, with no success, Frankel started talking to other agents.
Sold within a month of considering a switch
"It sold within 30 days of me (thinking of) switching agents. I was just so frustrated," said Frankel, a scrap metal entrepreneur.
Frankel was talking to the audience of Luxury Connect last Thursday, along with Gold. It was one of the most riveting sessions at the conference; they spoke frankly about their experience working within one of the most talked-about property sales in Beverly Hills this year.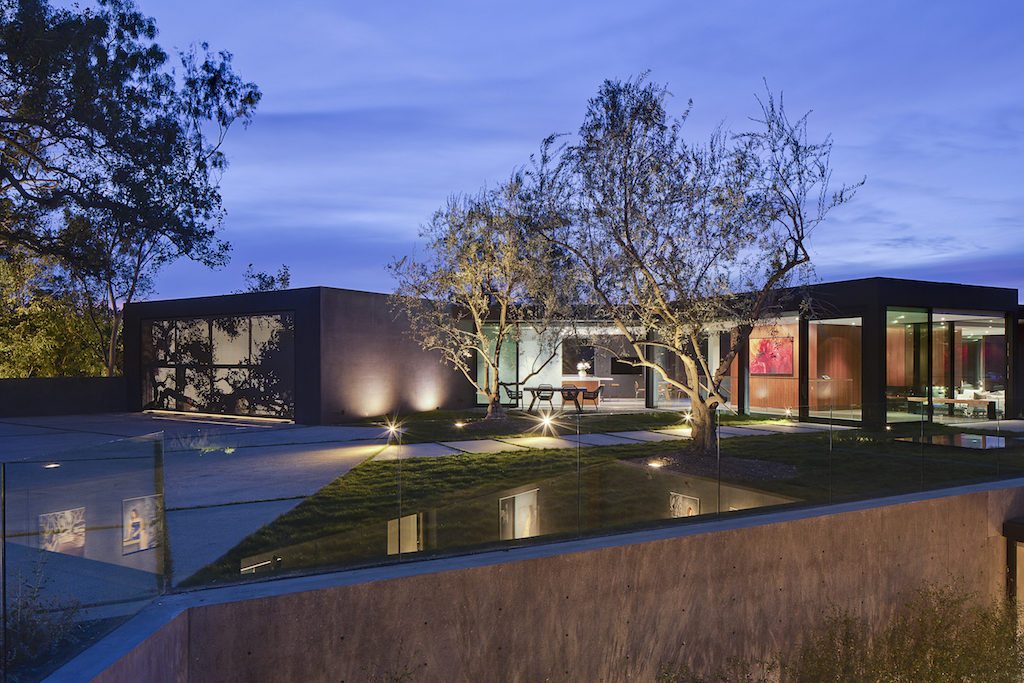 Frankel is very happy he stuck with Gold, he told the audience of luxury agents. His discussions with other agents never went anywhere.
Gold doesn't hold his client's temporary lack of belief against him.
"He had a $20 million asset on the line," he said later, without bitterness.
Frankel negotiated to pay a commission of 5 percent. He didn't have a high opinion of agents.
"I did have a very cynical view," he said.
A unique property
To his credit, Frankel had reason to have high hopes for an excellent offer. He had achieved great things with the property, unusual for many developers. He sorted out the access problems it had and then brought in an unknown architect, Noah Walker, who worked with the contours of the property rather than fighting them.
The result was a contemporary minimalist bachelor pad on a large scale, with a very nice guest house nearby that suited the Chinese buyer who eventually bought it.
It did it no harm that it was on the same street as the homes of Channing Tatum, Harry Stiles and Demi Moore.
Gold, a former stand-up comedian and a seasoned and internationally renowned agent built an impressive PR campaign for Frankel.
"We were on NBC Open House, LA Confidential, we were in The Wall Street Journal, Realtor.com, and LA Times magazine. It was on Chinese TV, the property also had two videos."
"Everybody in the world wanted to see this house. It was an architectural masterpiece. Forty-one people looked at it, and it should have been more," added Frankel.
"Miley Cyrus and Beyonce looked at it," said Frankel. And another 39 parties.
"For every 14 people, there was one offer," added Gold.
The asking price was $23 million, and it went for $20 million.
At this price mark, Gold said he is used to dealing with a more seasoned vendors.
Labors of love involved emotion, of course
But this property and the two houses Frankel built on it were a real labor of love for the inventor, and emotions were inevitably involved.
"The reality is: for a seller to freak out on that obscure of a house in that price range is really unrealistic. We were getting the people, but it was not an easy house," said Gold.
"I did just as good a job as humanly possible, but people are really volatile when selling homes."
The house was a little isolated, the master bedroom was on the small side and the kitchen had no family room, he said.
"Nathan had built a bachelor pad," said the top-selling agent.
"I did a great job on communicating. Nathan saw all our marketing, he knew about everything, what people were saying.
The $23 million price tag was unprecedented in that part of town, $20 million was the right number, said Gold.
"I just kept telling myself: 'I am going to be selling this home.' I got one last person in, and that person bought it.
Don't take 'no' for an answer
"I see it a lot in dealing with great agents; they don't take 'no' for an answer. Figure out how to keep a deal together rather than saying 'que sera, sera.'"
At the end, Gold and Frankel were totally in sync.
"The buyer had real specific needs — he wanted to close really quick, and we jumped through hoops for him. Nathan and I got very aligned," said Gold.
The agent and his seller remain on very good terms. In fact, Gold found Frankel a rental in the Valley to recover from the process.
"I said to myself: 'This guy wants to take all his chips off the table. He just wants to sit on the sidelines for a while. He just made all this money, and the whole thing was very overwhelming.'"
Digital homesales — possible?
Could Frankel imagine a day when a house sale is done purely digitally?
"I can't imagine that day," said Frankel. "And we sold to a foreign buyer who found it online from 8,000 miles away."
The whole process was a real collaboration, he said.