New home care and and service concierge Super seeks to help homeowners get a better handle on home repair and maintenance costs.
Three plans offer protection for basic appliances, up to major home systems, at one monthly cost.
Super is available on computers and mobile devices, and as of now, only to homeowners in DC and parts of Maryland.
While owning a home is one of the best investments that most people can make, the initial financial hurdle to home ownership might not be the last big chunk of change that is dropped.
Routine home maintenance, surprise repairs and the time needed to coordinate repairs or upgrades weighs on the wallet, and the calendar.
New home care and and service concierge Super is in business to change that.
Jorey Remer, founder of Super, posted on blogging site Medium this week to announce that Super is out of what he called "stealth mode," and about the reasons why he founded the company after moving to the Bay Area.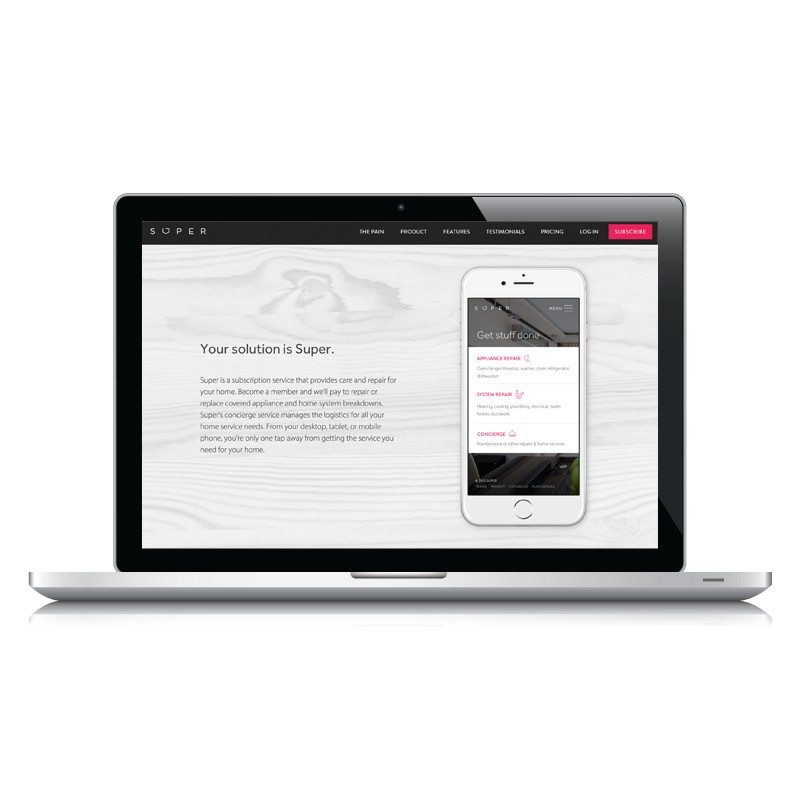 "As a long-time renter, I had been used to paying the same amount month-over-month and having someone else manage the property," Remer wrote. "I knew what to expect in costs, and I had one person to call when I needed help.
"Home ownership is a different experience altogether. I love my home. I love my home equity. But I hate the home ownership. Home ownership takes too much time and too much money. It's too unpredictable, and it's difficult to budget for the inevitable breakdowns."
He said that, in the face of time-honored solutions like the phone book, to digital solutions of every stripe, a critical piece was missing.
"But all these companies share a flawed assumption: that caring for your most valuable asset should be the responsibility of an owner who is not a professional."
Here's how it works: Homeowners pay for one of a variety of plans that offer basic maintenance of appliances and home systems, and includes concierge-level service that takes the hassle out of scheduling repairs and upgrades.
The company says that their plans make repair and upgrade expenses more predictable, and provides handy schedules so that appliances and large systems, like HVAC, can stay in good working order. Not only does this allow a predictable spot in the family budget, it can save busy homeowners a great deal of time in remembering to, and then scheduling repair appointments.
Homeowners can also be reminded to do their own basic maintenance to prolong appliance and system life — many times items that especially first-time homeowners overlook. This includes reminders to check and replace furnace filters, clean the dryer vent to prevent fires, and drain sediment from the hot water tank.
The lowest-price option is a $25 per month basic Appliance plan, which covers six appliances. There is a $50 per service call charge, but subscribers can accumulate a quarterly credit to help defray that cost. It covers basic kitchen and laundry appliances, up to $1,500 for replacement.
The $75 per month upgraded Whole Home option covers a broader range of appliances, and home systems. Maximum replacement costs vary. The copay per service call remains $50, and these subscribers get a quarterly credit of $50. The company sells the most of this type of plan.
And for those who seek premium service, $150 a month will get you everything in the Whole Home plan, but no copay will be charged for service calls. It includes a $100 quarterly credit.
Whole Home and Premium members can also avail themselves of the opportunity to have a no-cost professional review of their homes, so that the homeowner can learn more about maintaining their specific home systems and appliances. That service also provides Super with information about the customer, to help get services dispatched more quickly and efficiently.
Concierge services, the cost of which can be defrayed by quarterly credits, allow the homeowner to have someone scheduled to come out and perform necessary maintenance, such as gutter or dryer vent cleaning, or niceties such as window or carpet cleaning.
All plans start after a 30-day waiting period elapses.
Super is available on computers and mobile devices, and as of now, only to homeowners in D.C. and parts of Maryland.
"Things will always break in your home," Remer posted. "That's inevitable. But let's build an experience where they are less likely to happen and less painful on your wallet. Let's use a data-driven technology platform that gives individualized care for the lifetime of the home, that not only fixes the problems that arise more rapidly but also anticipates what may need preventative maintenance."
For more information, visit hellosuper.com.