According to a recent report from Redfin, home values in Los Angeles increased 9.6 percent in December over the same time the previous year. The median sales price has been steadily on the rise since October, bringing the value back up to the June 2015 level.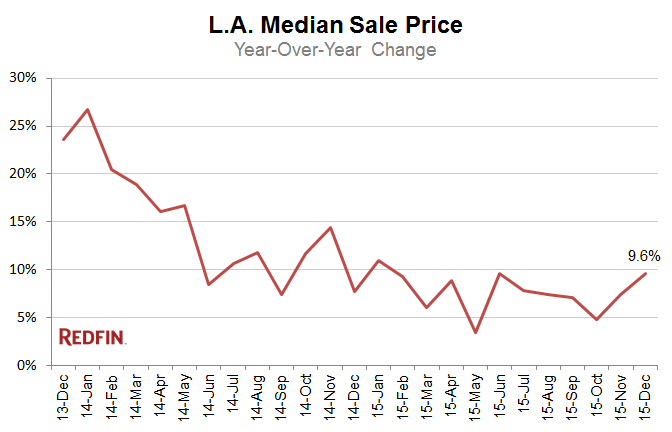 Conditions to seemed to be slowing in October and November, but trends shifted paths going into the last month of the year.
Homebuyers in LA seemed to have taken advantage of the time of the year, snatching up 3.6 percent more homes than were added to the market during December.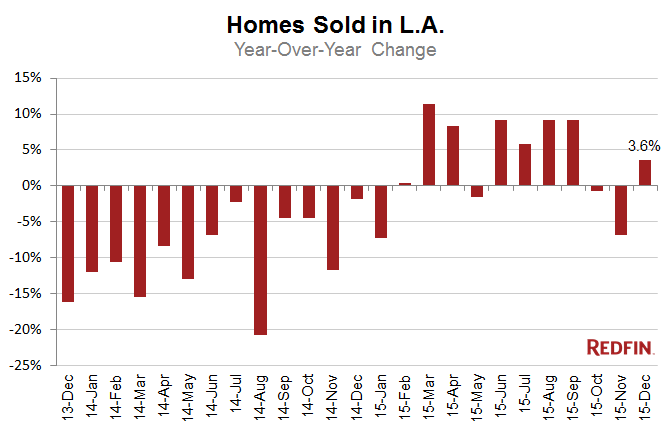 3 ways to get ahead in 2020 — starting right now
Grow and nurture your sphere now so you can reap the rewards next year
READ MORE
Some neighborhoods are leading the path in Los Angeles. West Adams is growing as a revitalizing area of LA.
Check out Redfin's breakdown of Los Angeles neighborhood real estate trends.
Neigh-bor-
hood
Median Sale Price
(Thous.)
Year-Over-Year
Homes Sold
Year-Over-Year
Inventory
Year-Over-Year
New Listings
Median Days on Market
Avg Sale-to-List
Beverly
Glen
$2,050
52.0%
22
46.7%
35
-18.6%
23
40
96.1%
Beverly
Hills
Post
Office
$2,400
39.1%
55
7.8%
109
-6.0%
72
34
95.4%
Brent-
wood
$1,437.5
-17.9%
110
-11.3%
154
23.2%
125
22
98.2%
Central
LA
$850
3.0%
770
-6.8%
1,053
-5.1%
1,010
27
97.7%
Century
City
$932.5
8.1%
84
9.1%
93
-13.1%
80
22
98.9%
Chats-
worth
$535
9.2%
117
3.5%
112
-32.5%
117
22
97.2%
Cheviot
Hills
$1,411.
417
-19.2%
14
-30.0%
24
50.0%
26
20
95.9%
Cren-
shaw
$560
0.0%
44
91.3%
37
-24.5%
44
15
100.9%
Down-
town

$605
7.1%
82
-9.9%
114
-5.0%
101
32
97.4%
Eagle
Rock
$700
7.7%
69
-4.2%
61
-1.6%
79
21
101.6%
East
LA
$625
19.6%
594
5.7%
612
-1.1%
702
19
100.3%
Encino
$697.5
-0.6%
173
-2.3%
193
-14.6%
191
29
96.5%
Fox
Hills
$438
7.5%
20
-33.3%
13
-50.0%
27
12
101.5%
Glassell
Park
$625
8.0%
83
130.6%
45
2.3%
78
7
99.4%
Greater
Echo
Park
Elysian
$813
25.3%
66
40.4%
91
28.2%
73
19
100.1%
Hancock
Park
$2,626.
388
26.6%
18
5.9%
18
100.0%
17
35
98.1%
Highland
Park
$612
14.9%
81
-24.3%
91
-3.2%
102
20
99.9%
Holly-
wood
$750
-4.8%
61
-22.8%
114
31.0%
102
28
98.9%
Holly-
wood
Hills
West
$1,150
0.0%
171
4.3%
252
-1.6%
226
24
97.4%
Holmby
Hills
$1,239
-33.0%
11
22.2%
19
-24.0%
13
25
95.0%
Lake
Balboa
$475
11.1%
87
-12.1%
70
-28.6%
83
15
99.1%
Marina
del Rey
$878
17.1%
75
-18.5%
63
-23.2%
72
15
98.9%
Mid-City
$825
4.4%
137
-3.5%
143
-27.0%
147
22
98.7%
Mount
Wash-
ington
$720
25.2%
72
2.9%
60
11.1%
71
16
102.0%
North
Holly-
wood
$475
11.8%
132
-5.7%
156
-18.8%
153
26
98.9%
North
Valley
$450
6.9%
1,216
5.5%
1,169
-28.4%
1,269
21
98.6%
North-
west
San
Pedro
$478
8.6%
81
52.8%
60
-23.1%
76
24
99.1%
Pacific
Pali-
sades
$2,450
23.8%
83
-1.2%
125
21.4%
111
32
97.1%
Pacoima
$365
14.1%
71
6.0%
76
-42.9%
90
21
100.4%
Pano-
rama
City
$415
9.8%
57
9.6%
39
-50.0%
52
16
101.2%
Sherman Oaks
$775.5
10.0%
221
-9.8%
237
-5.2%
257
19
98.1%
Silver
Lake
$874
-4.5%
80
-7.0%
96
5.5%
95
22
99.1%
South Central
LA
$344.25
7.6%
189
-6.4%
323
-15.2%
292
28
98.0%
South
LA
$375
10.6%
792
-3.3%
1,342
-9.8%
1,204
23
98.7%
South Valley
$535
7.1%
1,516
-1.4%
1,547
-24.1%
1,586
24
97.8%
Studio City
$981.7
13.9%
139
8.6%
181
11.0%
181
25
96.8%
Sun Valley
$421.5
7.3%
71
-15.5%
75
-30.6%
86
22
99.2%
Sylmar
$400
8.1%
147
15.7%
148
-33.0%
159
24
98.9%
Tarzana
$595
32.7%
129
7.5%
150
-14.3%
141
27
97.1%
Valley Village
$816.5
22.8%
42
-17.6%
48
-15.8%
40
19
98.6%
Van
Nuys
$490
10.1%
103
-12.0%
125
-33.5%
120
16
98.7%
Venice
$1,700
8.6%
90
-6.3%
123
10.8%
116
23
97.4%
Watts
$275
10.0%
93
3.3%
165
-9.8%
146
32
100.6%
West Adams
$525
27.1%
42
7.7%
38
-37.7%
44
14
102.1%
West
Long
Beach
$371.5
14.3%
41
7.9%
43
-30.6%
44
36
99.4%
West
Los Angeles
$1,150
19.9%
1,376
-7.6%
1,604
-5.9%
1,595
21
98.5%
West-
wood
$850
6.3%
97
1.0%
128
-19.0%
113
35
96.7%
Wood-
land
Hills
$669.950
3.1%
211
6.6%
208
-29.0%
212
22
96.9%
Los Angeles
$559,000
9.6%
2,499
3.6%
5,529
-20.0%
2,028
24
98.2%