Recent migration patterns show that 25 to 34-year-olds are moving closer to city centers.
Houston is one metro that has benefited greatly from this trend.
In a study of 51 large metros, young adults are choosing most large metros to put down roots.
When young college graduates decide where to move, they are not just looking at the usual suspects, like New York, Washington and San Francisco.
Recent research from think tank City Observatory, which studies various trends on urban living, indicated that young adults are moving to urban centers, especially the close-in neighborhoods within three miles of the center of the central business district.
In fact, the number of the 25-34-year-old age group moving in that direction has surged, up 37 percent in 2010 as compared to 2000.
And Houston is one of the beneficiaries of that trend.
The study found that the number of college graduates aged 25 to 34 in Houston grew 50 percent from 2000 to 2012. That's the top-ranked metro in the study, and that percentage is exactly double the average of all the metros studied.
Increasingly, as the think tank pointed out, young adults have different standards than their parents. And, young college-educated adults are very specifically choosy during the prime years for household relocation.
According to the think tank, since 2000, the nation's 51 largest metropolitan areas have seen this surge even the overall population of those neighborhoods stayed essentially unchanged (down 0.2 percent).
The number of 25 to 34-year-olds with a four-year degree increased from about 800,000 in 2000 to 1,100,000 in 2010. The number of well-educated young adults increased about twice as fast, in the aggregate, in close-in urban neighborhoods as they did in large metropolitan areas as a whole (19 percent).
All the 51 large metros in the study, except Detroit, have gained young talent.
They call this subset of millennials "the young and restless."
They are termed this because educated people in their late twenties to early thirties are statistically the most likely to move across state lines of any adults. Where these talented young workers choose to live can have a big impact on local economies.
This demographic oddity has been good for older cities with cheaper housing and some degree of lifestyle amenities, like a Cleveland, a Pittsburgh or a New Orleans.
But for Houston, it leads the pack in percentages over cities such as Denver, San Diego, Nashville, Salt Lake City and Lone Star neighbor Austin.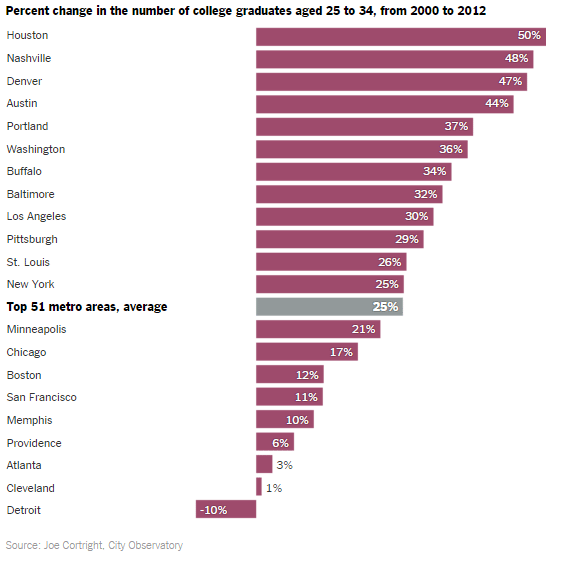 Where the young and restless end up usually portends the economic powerhouses of the future.
When young adults are in their most mobile years, they're not choosing the suburbs as their parents likely did. About 25 percent more of the young and restless lived in major metropolitan areas in late 2014, when the report was compiled, than in 2000. That jump is more than double the percentage increase in the total population of large metros.
City Observatory's study is based on data from the federal American Community Survey.