RealtyTrac released its Q4 2015 U.S. Residential Property Loan Origination Report, finding 1.6 million loans were originated on residential properties in the final quarter of 2015, a 1 percent increase over the same time in 2014. On a quarter-over-quarter basis, this was a 14 percent dip.
Purchase originations in the fourth quarter of 2015 fell quarter-over-quarter by 25 percent, which was the biggest push downward in the final months of the year.
"New mortgage rules implemented at the beginning of October likely contributed to the decrease, but weakness in some local economies could also be contributing to the decrease, most notably in oil producing markets such as Houston and Oklahoma City, both of which saw purchase originations decrease by double-digit percentages both quarterly and annually," said Daren Blomquist, vice president at RealtyTrac.
On a localized level, all of 65 metropolitan statistical areas with at least 5,000 loan originations in the fourth-quarter posted declines, which is pretty unsurprising.
And while quarter-over-quarter, all metros saw a decline, there are a few that saw massive annual gains. Nashville-Davidson-Murfreesboro-Franklin topped the list with a year-over-year uptick of 79 percent.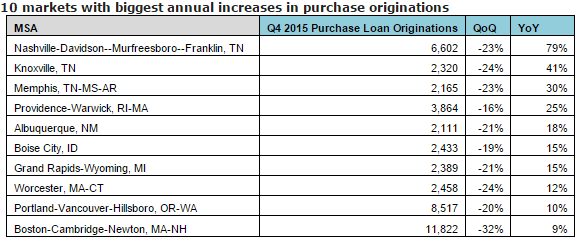 Take a peak at your city to see how it fared in the fourth quarter.
In the San Francisco area, there were 9,937 purchase loan originations in the fourth quarter of 2015. This represented a 1.3 percent decrease over the fourth quarter of 2014.