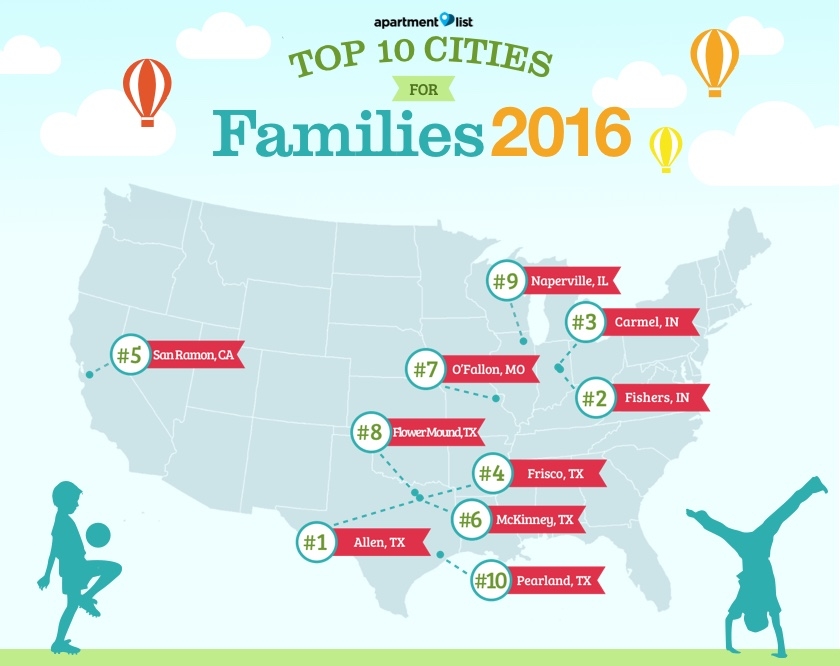 At Apartment List, we know that people care about a lot of factors when they're searching for a home. Everyone wants a great apartment at a great price, but families look for different things in a city than young singles.
Last year, we released our list of the best cities for young families; this year, we refreshed our analysis with the latest and greatest data to help you make the best decision for your homebuyers. This report is specifically tailored for Naperville.
The Apartment List methodology
Our analysis centered around the four factors that we identified as being important to families:
Safety (35 percent): We used FBI data to rank cities by the number of violent crimes and property crimes per 100,000 residents.
Housing cost (30 percent): We used census data to calculate the percentage of the median renter income required to rent a 2-bedroom apartment.
School quality (25 percent): Cities were ranked on high school graduation rate for public school districts based in that city. Comparing schools across different states can be challenging, but using high school graduation rate data from the Department of Education gives us a good estimate of overall school quality.
Child friendliness (10 percent): Communities with a greater percentage of children tend to be more child friendly, so we used census data to score cities based on the percentage of the population that's under 18.
We weighted these factors using the percentages listed above, and used this index to assign grades and rankings to the nearly 500 cities in our study.
Naperville ranks among family-friendly cities
Naperville has taken a hit from last year's ranking of third best city for families, to ranking as the 9th best city for families in 2016. Its most impressive score was in education, with a graduation rate of 96 percent.
Second most impressive was its crime score, with a relatively low rate of about 1,200 crimes committed per 100,000 residents. This rate holds up very well against nearby Chicago, where the rate of crimes committed per 100,000 residents is about 4,010, making Naperville quite safe in comparison.
The median renter spends 29 percent of their income on a two-bedroom in Naperville, 6 percent less than Chicago's 35 percent of median renter income required.
Yuki Graviet Knapp is a Content Marketing Associate with the Growth Team at Apartment List and is a resident of the Bay Area.