We'll add more market news briefs throughout the day. Check back to read the latest.

U.S. Census Bureau and Department of Housing and Urban Development's new residential sales for January 2016:
Single-family home sales in January 2016 were at a seasonally adjusted annual rate of 494,000.
This is 9.2 percent below the revised December 2015 rate.
It's also 5.2 percent below the January 2015 estimate.
Mortgage Bankers Association's weekly mortgage applications survey:
The market composite index decreased 4.3 percent on a seasonally adjusted basis week-over-week.
The refinance index decreased 8 percent week-over-week.
The seasonally adjusted purchase index increased 2 percent week-over-week.
Freddie Mac's Multi-Indicator Market Index (MiMi):
The MiMi purchase applications indicator increased 9 percent in 2015.
The national MiMi value is at 82.7.
Year-over-year, the national MiMi improved 7.65 percent.
Mortgage rates:
Home equity rates:

Who has time for conferences? You do!
5 five reasons why you should invest your time in industry events
READ MORE
Yesterday's most recent market news:
National Association of Realtors existing-home sales for January 2016:
Existing-home sales were at a seasonally adjusted annual rate (SAAR) of 5.47 million in January 2016.
This is up 11.0 percent year over year.
The median existing-home price for all home types was $213,800.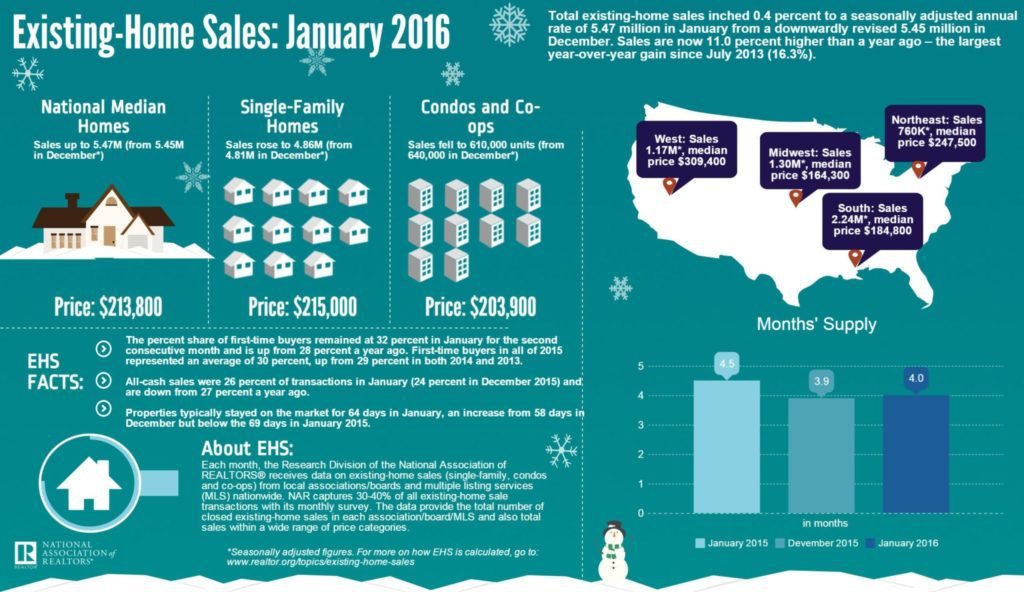 S&P/Case-Shiller Home Price Indices for December 2015:
The index rose 5.4 percent year-over-year in December.
Portland led the way in price increases (11.4 percent), followed by San Francisco (10.3 percent) and Denver (10.2 percent).
The national index rose 0.1 percent month-over-month.
Email market reports to press@inman.com.