Check Inman every day for the daily version of this market roundup.
Mortgage rates:
Home equity rates:
Thursday, June 23:
Freddie Mac's Primary Mortgage Market Survey:
30-year fixed-rate mortgages (FRMs) averaged 3.56 percent with an average 0.6 point for the week ending June 23, 2016.
This is up from last week when it averaged 3.54 percent.
A year ago at this time, the 30-year FRM averaged 4.02 percent.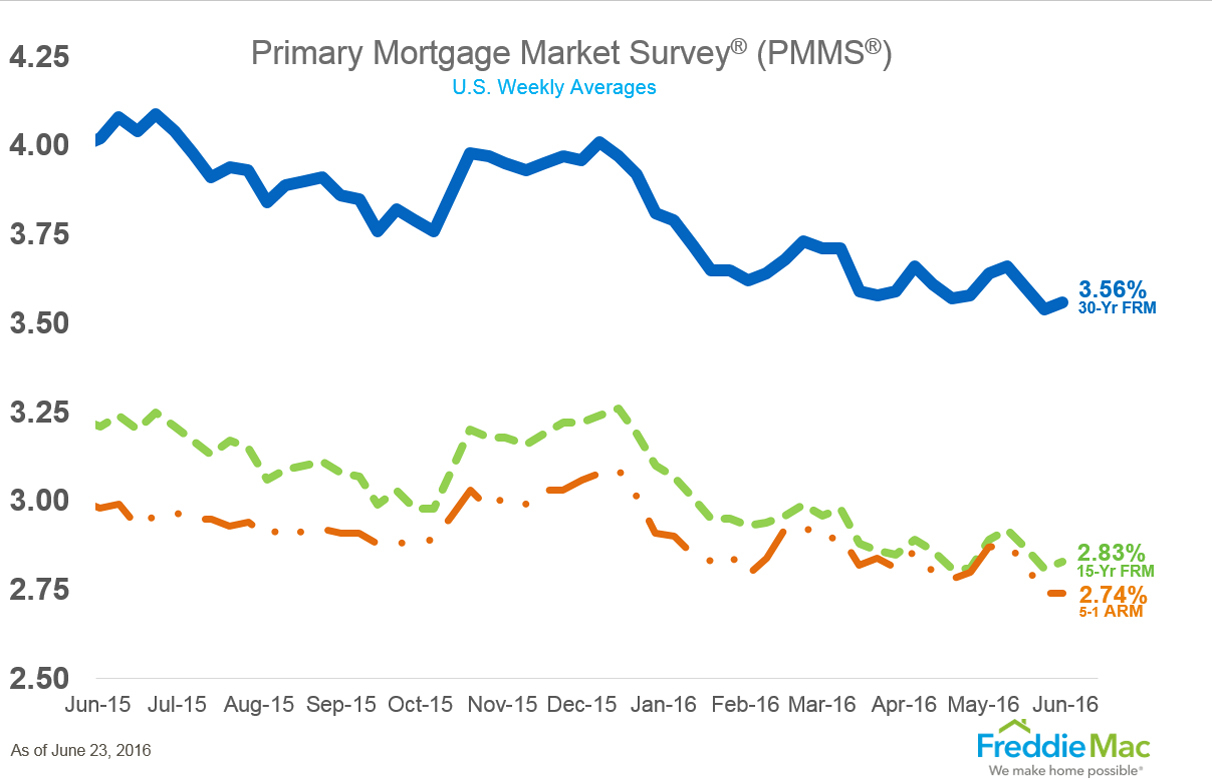 U.S. Census Bureau/U.S. Department of Housing and Urban Development's New Residential Sales for May 2016:

Find the best tenant and maximize the ROI of your rental
The landlord-tenant relationship should be looked at more like a partnership, rather than simply a transaction
READ MORE
Sales of new single-family houses in May 2016 were at a seasonally adjusted annual rate of 551,000.
This is 6.0 percent below the revised April rate of 586,000, but is 8.7 percent above the May 2015 estimate of 507,000.
The median sales price of new houses sold in May 2016 was $290,400; the average sales price was $358,900.
The seasonally adjusted estimate of new houses for sale at the end of May was 244,000. This represents a supply of 5.3 months at the current sales rate.
CoreLogic's Market Pulse Report for June 2016:
Active loans with interest rates higher than 4.50 percent comprised 38 percent of all loans in February 2016.
Completed foreclosures were down 15.8 percent year-over-year in April 2016.
Home prices were up 6.2 percent year-over-year in April 2016.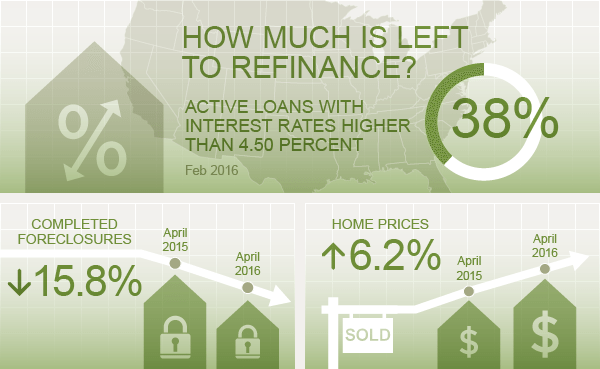 Wednesday, June 22:
NAR Existing-Home Sales for May 2016:
Total existing-home sales grew 1.8 percent to a seasonally adjusted annual rate of 5.53 million in May from a downwardly revised 5.43 million in April.
Sales are now up 4.5 percent from May 2015 (5.29 million).
Sales are at their highest annual pace since February 2007 (5.79 million).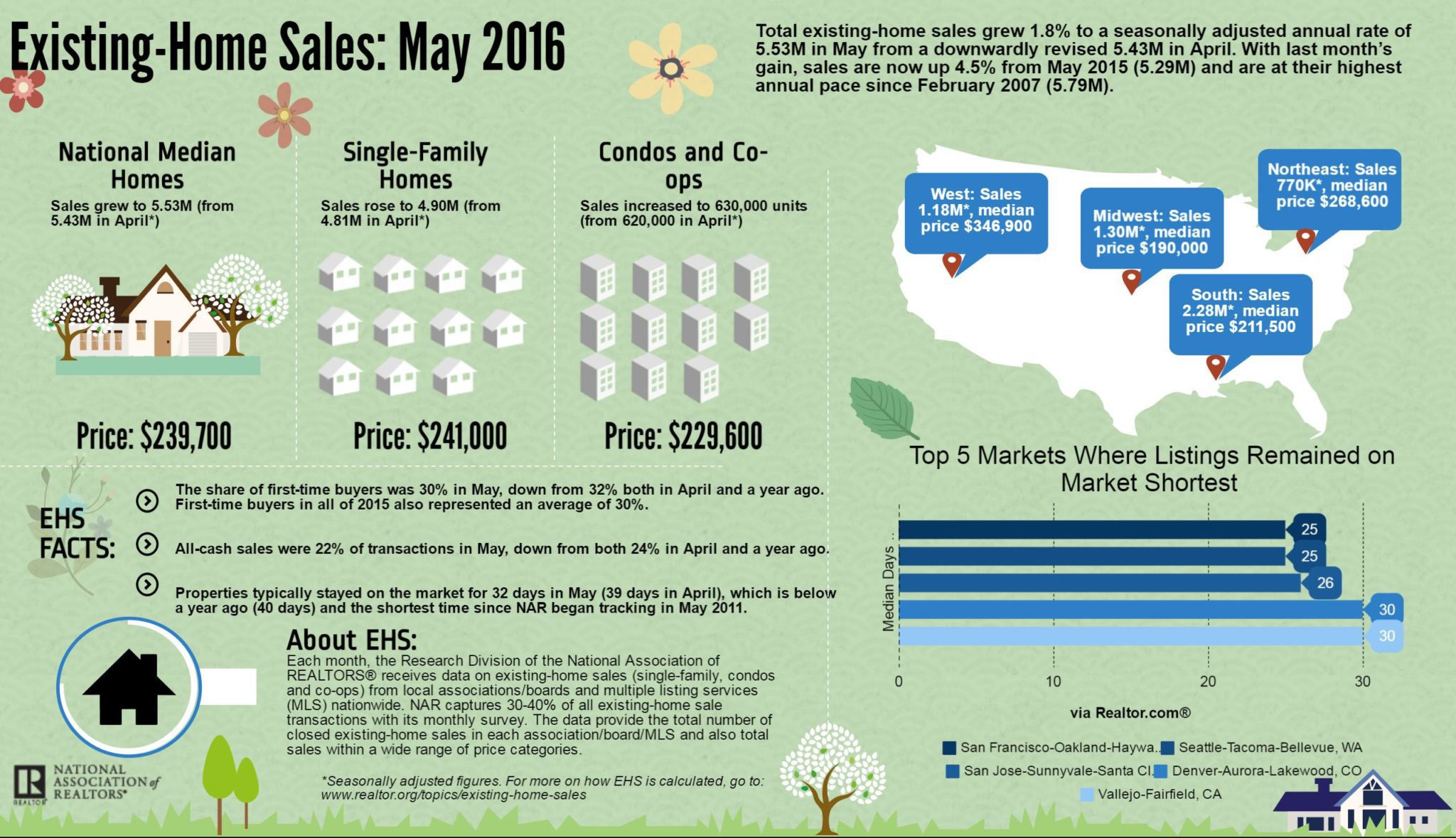 Federal Housing Finance Agency's House Price Index for April 2016:
Home prices rose 0.2 percent month-over-month in April 2016.
The March 0.7 percent increase was revised to 0.8 percent.
Year-over-year, home prices were up 5.9 percent.
Black Knight Financial Services' May 2016 Mortgage Monitor:
The total U.S. loan delinquency rate (30 or more days past due, but not in foreclosure) was 4.25 percent in May 2016, up 0.36 percent month-over-month and down 13.47 percent year-over-year.
The total foreclosure pre-sale inventory rate was 1.13 percent, 3.55 percent lower than April 2016 and 28.78 percent lower than May 2015.
The total foreclosure starts were at 62,100, up 5.79 percent month-over-month and down 28.78 percent year-over-year.
Mortgage Bankers Association's Weekly Applications Survey:
Mortgage applications increased 2.9 percent week-over-week.
The refinance index increased 7 percent week-over-week.
The average contract interest rate for 30-year fixed-rate mortgages with conforming loan balances ($417,000 or less) decreased to its lowest level since May 2013, 3.76 percent, from 3.79 percent week-over-week.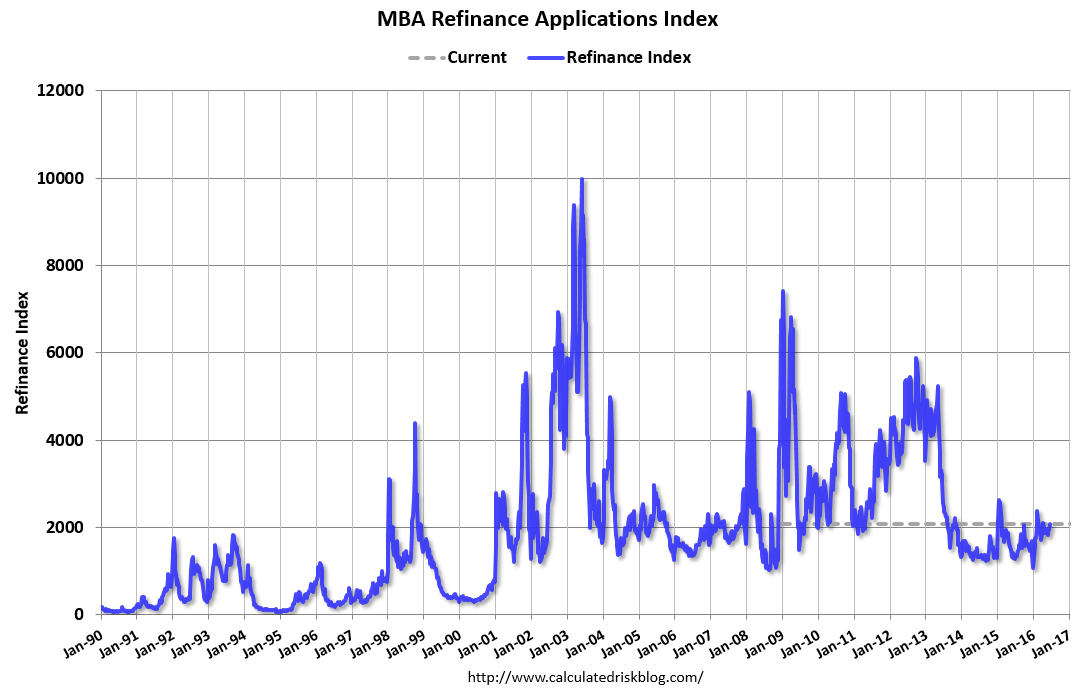 Tuesday, June 21:
First American's Q2 2016 Real Estate Sentiment Index:
Title agent expectations for growth in purchase and refinance transactions across all property types in the year ahead are 17.3 percent more positive year-over-year.
Quarter over quarter, title agents' confidence in purchase market growth increased 12.9 percent and 23.2 percent for refinance transactions.
Title agents are now predicting 4.0 percent real estate price growth over the next 12 months, a slight drop from the Q1 prediction of 4.6 percent annualized price growth.
May 2016 First-Time Buyer Mortgage Share/Mortgage Risk Indices from the International Center on Housing Risk:
First-time buyer volume increased 15 percent year-over-year.
First-time buyers accounted for 59.1 percent of primary owner-occupied home purchase mortgages with a government guarantee.
The combined first-time buyer mortgage share index was 53.2 percent, up from 52.9 percent in May 2015.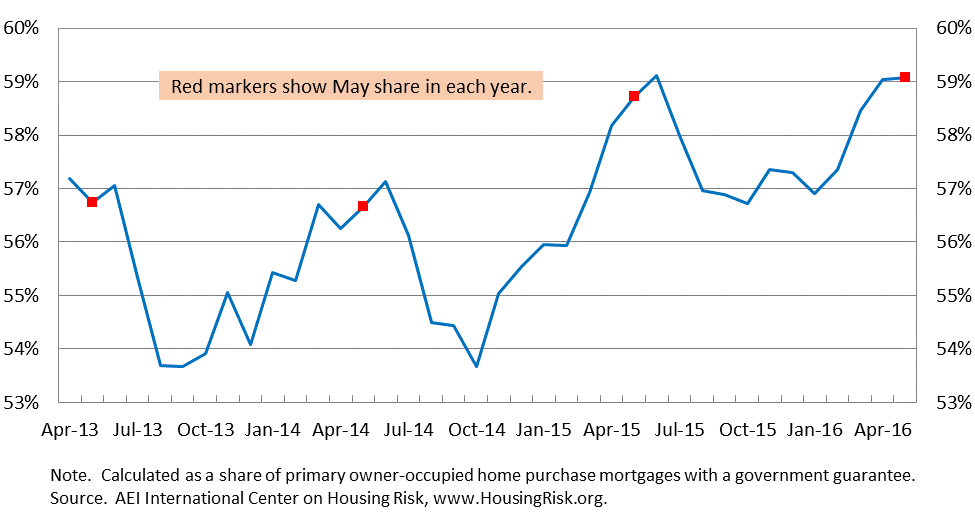 Email market news to press@inman.com.