The national foreclosure rate (0.9 percent) is the lowest in nearly a decade.
Illinois' foreclosure inventory reached 1.1 percent of all mortgaged homes as of July.
Chicago's foreclosure inventory dropped 32.6 percent annually.
After years of consistent improvements, the national foreclosure rate is at its lowest level in nine years, according to CoreLogic's July 2016 National Foreclosure Report.
Thanks to loan modifications, a healthy labor market and upward housing trends, just 0.9 percent of mortgaged homes are in some state of foreclosure – the lowest rate announced since August 2007.
"The U.S. Treasury's Making Home Affordable program has contributed to the decline through permanent modifications, forbearance and foreclosure alternatives, which have assisted 2.5 million homeowners with first mortgages at risk of foreclosure since 2009," CoreLogic Chief Economist Frank Nothaft said in a statement.
In July 2016, 34,000 homes completed the foreclosure process, down 16.5 percent year-over-year and 3.9 percent from the month prior. The serious delinquency rate in the U.S. sat at 2.9 percent, the lowest since May 2016, according to the report.
National foreclosure inventory is down 29.1 percent year-over-year, reaching 355,000 homes in the U.S. July marked 57 consecutive months of annual foreclosure inventory declines, CoreLogic says, and the majority of states (29) posted a lower foreclosure inventory compared to the national rate.
Chicago vs. Illinois
Illinois' foreclosure inventory reached 1.1 percent of all mortgaged homes as of July, down 30.7 percent from July 2015 to reach 13,836 completed foreclosures in the past year. The judicial foreclosure state posted a serious delinquency rate of 3.6 percent in July.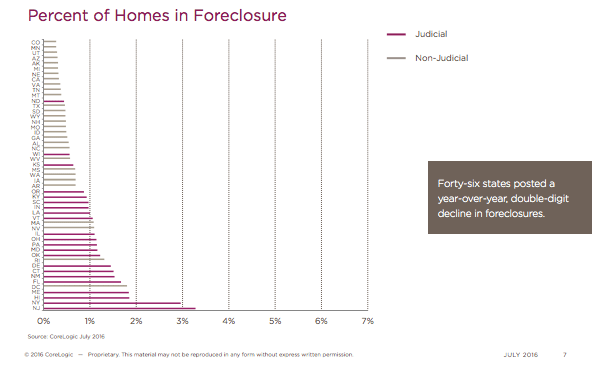 While there were 6,137 completed foreclosures across the Chicago metro in the 12-month period ending in July, foreclosure inventory dropped 32.6 percent year-over-year to reach 1.2 percent of mortgaged homes. Serious delinquencies in Chicago surpassed the statewide rate, reaching 4 percent.