Rentals built since 2010 are 7 percent smaller than those built between 2000 and 2009.
Midwest markets posted the biggest size drop during the time period, at 9 percent.
About 80 percent of the average size reduction is due to a change in living unit sizes.
The tiny house movement doesn't fit every lifestyle, but that's not stopping developers from scaling back new apartment sizes.
Average square footage for new construction rentals dropped 71 square feet in the past six years compared to the early 2000s, according to a new study of the top 20 metros from Robert Charles Lesser & Co. Advisory (RCLCO).
Units built between 2000 and 2009 averaged 988 square feet, while units built since 2010 average 917 square feet.
Although a 7 percent reduction isn't necessarily staggering, renters looking for more breathing room might consider resales instead. Some of these shifts are more obvious in the mid-range markets, where developers are gearing their efforts toward studios and one-bedrooms over larger unit types.
Cramped? Move South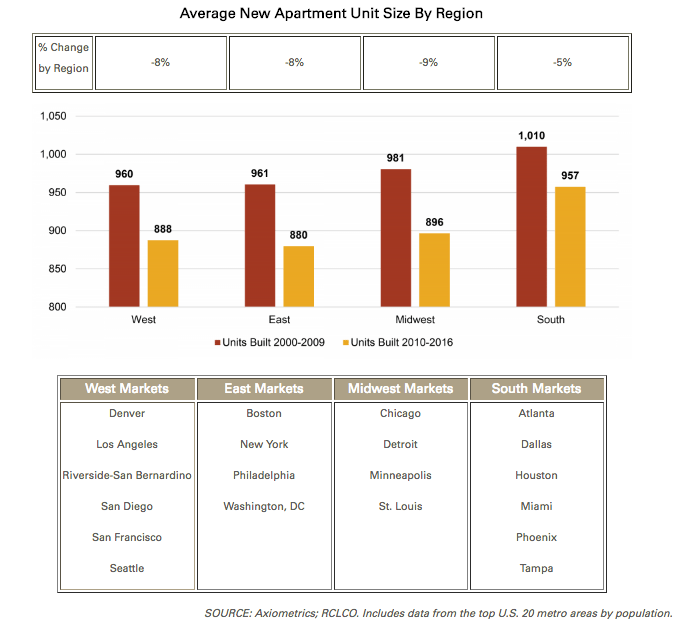 Unit size is shrinking across the country, with Midwest markets showing the biggest drop at 9 percent from the previous decade. New apartments in Chicago, Detroit, Minneapolis and St. Louis averaged 981 square feet before and 896 square feet now.
New rentals built on both the West and East Coast dipped 8 percent in size, on average.
Denver, Los Angeles, Riverside-San Bernardino, San Diego, San Francisco and Seattle new apartments offered an average 960 square feet about 10 years ago. Today, new apartments in this region average 888 square feet.
Boston, New York, Philadelphia and Washington D.C. new rentals dropped from 961 square feet to 880 square feet – current the tiniest region for average new apartment unit size.
Markets in the South and Southwest, including Atlanta, Dallas, Houston, Miami, Phoenix and Tampa, exhibited the smallest decline and continue to average the largest size of all regions. These metros showed a 5 percent drop between the average size of units built in the 2000s compared to the 2010s. Units built before 2009 averaged 1,010 square feet, compared to 957 square feet from 2010 forward.
New apartment size or more studios?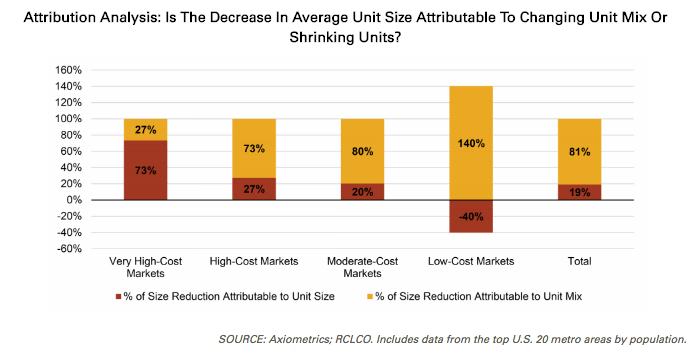 In most cases, new construction is focusing more on smaller unit types instead of cutting back on square footage across the same layouts. About 80 percent of the average new unit size reduction is due to unit mix changes.
Unit mix is less of a factor in very high-cost markets, where just 27 percent of the size reduction is from an increase in studios and one-bedrooms being built. Developers in these markets are essentially building tinier units with the same number of bedrooms without demand suffering.
But, drop one tier lower into the high-cost markets, and almost three-quarters of square footage reduction stems from unit mix fluctuations.
San Francisco dropped an average 98 square feet – or 11 percent – from 923 to 825 square feet, on average. D.C. saw a 90 square foot drop (9 percent), from 970 to 880 square feet.
Miami's new apartment sizes dropped from 1,089 to 993 square feet (down 9 percent), while Los Angeles apartments went from 958 to 916 (down 4 percent). Chicago also saw a 4 percent size change, from 912 to 879 square feet.
In the Big Apple, average rentals moved down 3 percent, from 890 to 866 square feet. The average Houston apartment, previously 990 square feet, is now 1 percent smaller at 978 square feet, the report says.