We'll add more market news briefs throughout the day. Check back to read the latest.
Mortgage Bankers Association's Weekly Applications Survey:
Mortgage applications decreased 7.3 percent from one week earlier.
The refinance share of mortgage activity increased to 63.1 percent of total applications from 62.9 percent the previous week.
The average contract interest rate for 30-year fixed-rate mortgages with conforming loan balances increased to 3.70 percent from 3.67 percent week-over-week.
Mortgage rates:
Home equity rates:
Most recent market news:
U.S. Census Bureau/U.S. Department of Housing and Urban Development's August 2016 New Residential Construction:
Single-family housing unit authorizations in August were at a rate of 737,000, 3.7 percent above July 2016.
Single-family housing starts in August were at a rate of 722,000, this is 6.0 percent below July.
Single-family housing completions in August were at a rate of 752,000; 0.3 percent below July.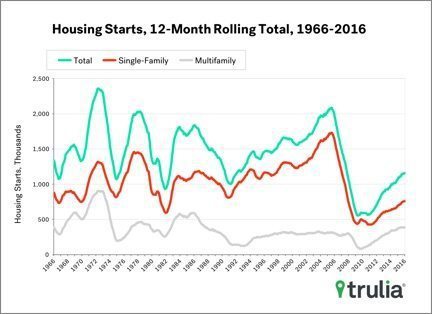 First American's Potential Home Sales Model for August 2016:

Low-cost, high-impact marketing with video
How one broker showcases her culture and retains top talent
READ MORE
The market for existing-home sales is underperforming its potential by 5.6 percent.
In August, the market potential for existing-home sales grew 1.08 percent month-over-month.
Potential existing-home sales increased to 5.78 million, 91.9 percent above the December 2008 market bottom.
Email market reports to press@inman.com.