Listing 2 Leasing tenant screening and transaction management platform aims to streamline the entire real estate process.
Launched a month ago with a group of Coldwell Banker Residential Brokerage agents, the platform is now open to all agents and brokerages.
An all-in-one solution makes documentation and task management easy to eliminate repetitive tasks and stay on top of current tasks.
Landlords and rental brokerages in Chicago are familiar with the disconnect between their industry's growth and available technology to keep their work streamlined and safe. Listing 2 Leasing is aiming to lessen the disconnect by enabling brokers, landlords and tenants to communicate in a seamless platform.
Having owned a brokerage in Chicago for more than 10 years, Justin Kling decided to merge with a major brokerage, Coldwell Banker Residential Brokerage. But despite gaining the same resources as a multinational company, Kling still noticed similar issues when it came to transaction management and tenant screening processes.
Thus, Listing 2 Listing was born. The free software was quietly launched to a group of Coldwell Banker agents last month and is now available to all agents, brokers and landlords.
Tenants, however, will have to pay a screening fee.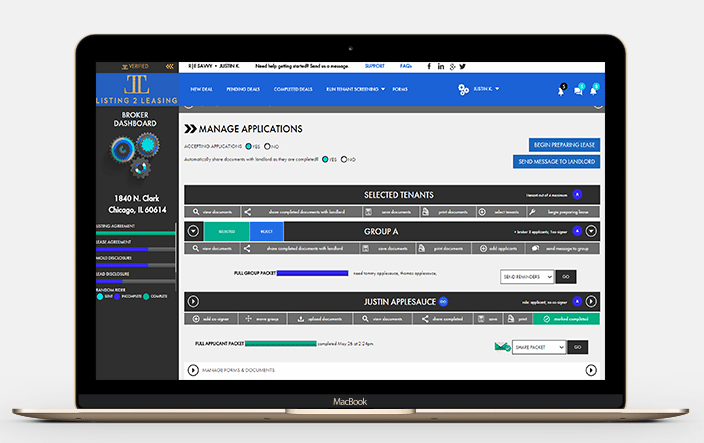 The system has task management features that allow users to set reminders and notifications to check in with tenants or others. And because the system has customized forms, libraries and document storage, everything is all within the click of a button.
Listing agreements, disclosures, leases, receipts, forms and templates can all be made available right within the system. Listing 2 Leasing also includes LogiDocs, which pulls information from previous documents to make filling out paperwork less redundant.
The proprietary ESIGN and UETA-compliant technology also makes documentation faster and more efficient. This integration allows for multiple signers and signature ordering and is responsive on desktop, mobile or tablet. It also features time stamps that track IP addresses, dates and times.
Landlords and agents also have access to the tenant screening solutions, including credit checks, background checks and eviction checks. The entire application process can be done through Listing 2 Leasing, including secure online payments.
The platform also includes capabilities to update and edit listing information and photos or drawings of properties.