U.S. real estate experts and Chinese investors in American real estate disagree on which presidential candidate, Hillary Clinton or Donald Trump, would be most likely to implement policies that benefit Chinese property buyers.
The 7,000-plus miles between the U.S. and China haven't stopped America's biggest pool of foreign real estate investors from tuning into this election season.
And according to a survey published today by international Chinese real estate portal Juwai.com, their views don't exactly line up with those of America's real estate experts.
The research (which polled over 400 real estate agents and over 500 Chinese buyers) showed that the majority of Chinese real estate investors (54 percent) believe a Hillary Clinton White House is most likely to implement favorable policies for their U.S. housing interests.
Industry professionals in the U.S., however, "feel slightly reverse" on the same issue, with 55 percent staking their claim with Trump.
Survey participants also gave their predictions on how a Trump or Clinton presidency would change the popularity of Chinese investments — would the candidates encourage more interest, or would they dry it up?
Here, opinions on Trump between U.S. experts and Chinese consumers were more split than their expectations for Clinton. The biggest share from both groups (respondents in U.S. versus China — around 30 percent of each) believe there'd be no change under a Clinton presidency.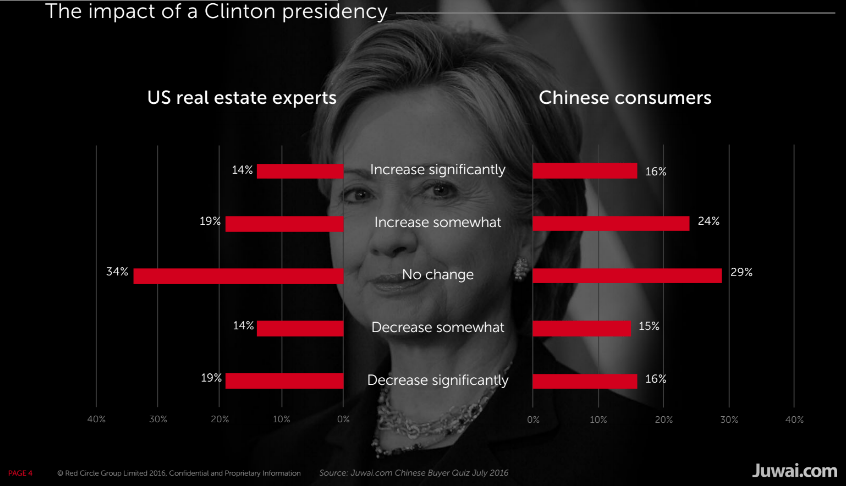 Yet the "no change" sentiment was only reflected in 6 percent of U.S. experts when it came to Trump — 54 percent of whom thought a Trump win would cause in increase in investments. By comparison, 25 percent of Chinese investors believe Trump as president would result in no change, while 39 percent would hedge their bets on Trump boost.
A reason to keep your politics behind closed doors?
Matthew Moore, Juwai's president of the Americas said: "They say you should never talk about politics at work and this survey shows why. More agents prefer Mr. Trump and more buyers prefer Mrs. Clinton, so you could imagine a political discussion between them going badly."
He added: "While Trump has made many anti-China statements and promised to tax Chinese goods, most Chinese observers feel with him that there are no ideologies, only interests, and interests can be negotiated."
And while Chinese investors don't like that Clinton is critical on human rights in China, the Chinese respondents felt it was "extremely unlikely" that Trump would ever criticize them on human rights grounds, said Moore.
The Juwai Americas president added that most Chinese investors think Clinton's presidency would mean a continuation of President Obama's policies. They see Obama's biggest effect on foreign investment as endorsing and signing legislation that has removed special taxes on foreign real estate investors.
Experts believe this relaxation of taxes will result in hundreds of billions of dollars of new investment by offshore groups in the coming years.
"Will Chinese buyers desert the U.S. market after the election? It looks like they will not," said Moore. "American politics fascinate the Chinese because our system is so different from theirs. They are watching our election closely."
On a lighter note, the survey asked both sets of respondents who they would rather break bread with. American agents preferred to dine with Trump (62 percent) while Chinese investors preferred Clinton's company (54 percent).
Whoever makes it to the White House, Chinese buyers are expected to continue their U.S. real estate purchasing spree, the U.S. market remaining attractive due to relatively high yields and America's perception as a safe environment for investment.
Juwai estimates Chinese investors will spend at least $218 billion U.S. dollars on existing American real estate between 2016 and 2020, compared with $350 billion between 2010 and 2015.
The Juwai.com "U.S. presidential election" survey was conducted from Oct. 4 through Oct. 20, 2016 with 416 US real estate experts — including agents and developer representatives — and just over 500 Chinese consumers.