Check Inman every day for the daily version of this market roundup.
Mortgage rates:
Home equity rates:
Day-by-day market activity
Friday, December 2:
Bureau of Labor Statistics' Employment Situation Summary for November 2016:
The unemployment rate declined to 4.6 percent in November.
Total nonfarm payroll employment increased by 178,000.
Employment gains occurred in professional and business services and in health care.
Thursday, December 1:
Freddie Mac's Primary Mortgage Market Survey:

Boost your brand, efficiency and productivity with one platform
Brokers, give your agents the strategic services and support to become productive powerhouses
READ MORE
The 30-year fixed-rate mortgage (FRM) averaged 4.08 percent with an average 0.5 point for the week ending

December 1, 2016.

This is up from last week when it averaged 4.03 percent.
A year ago at this time, the 30-year FRM averaged 3.93 percent.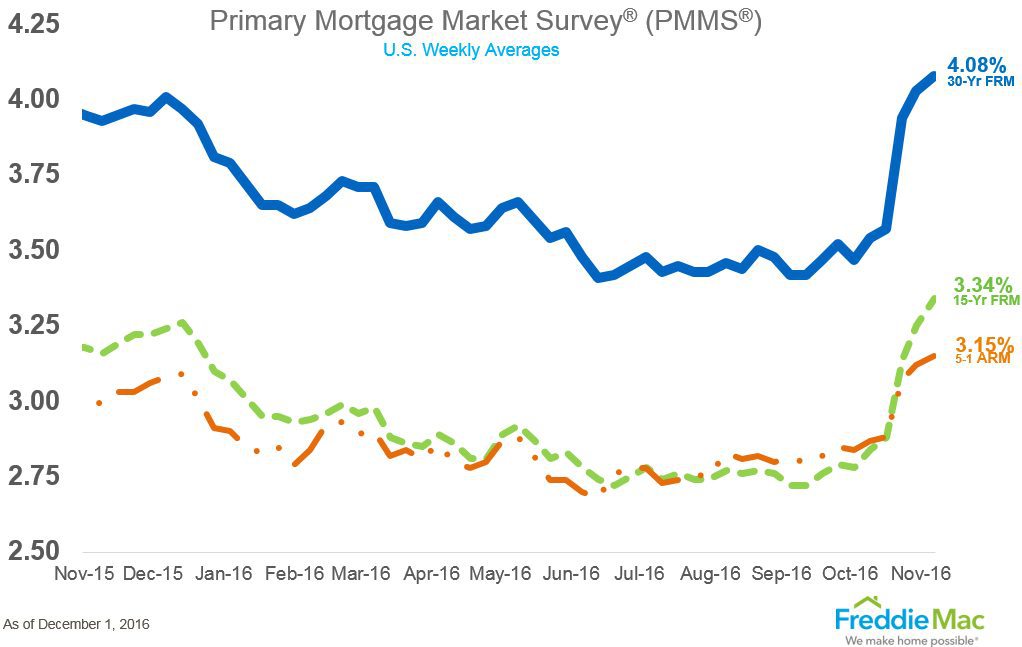 U.S. Census Bureau's October 2016 construction report:
Construction spending during October 2016 was estimated at a seasonally adjusted annual rate of $1,172.6 billion.
This is 0.5 percent above the revised September estimate of $1,166.5 billion.
The October figure is 3.4 percent above the October 2015 estimate of $1,134.4 billion.
Attom Data Solution's Q3 Home Refinance Originations report:
More than 1.9 million (1,919,180) loans were originated on U.S. residential properties (1 to 4 units) in the third quarter of 2016.
This is down 2 percent from the previous quarter and up less than 1 percent from a year ago.
The report also shows total dollar volume of loan originations increased 8 percent from a year ago to more than $502 billion thanks to higher average loan amounts.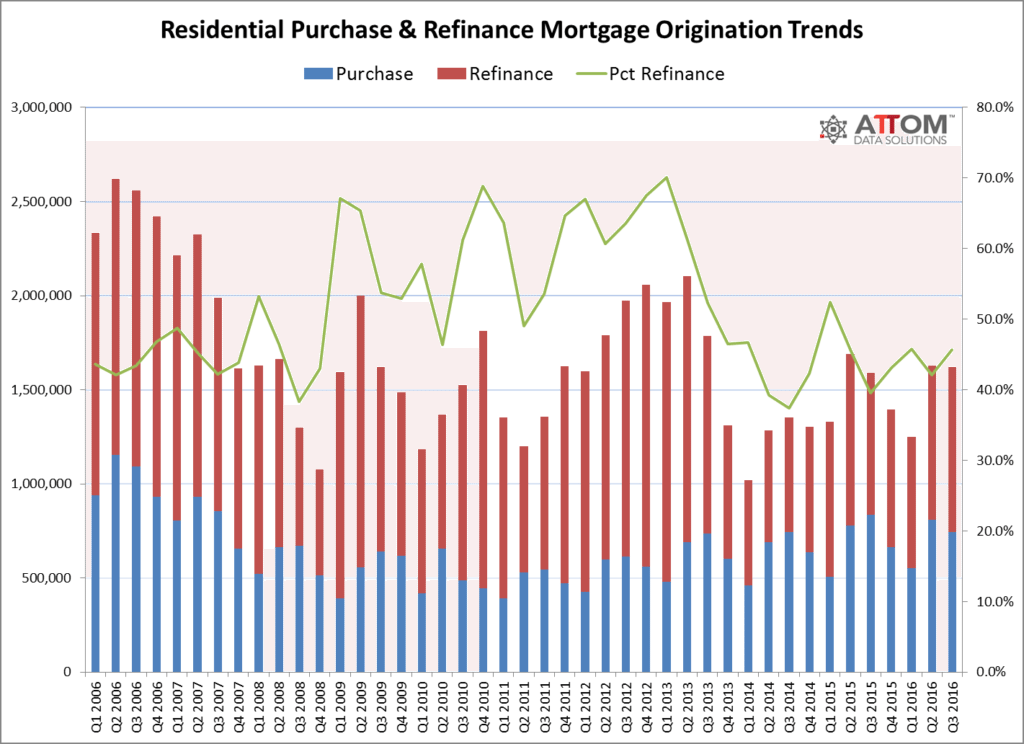 Wednesday, November 30:
National Association of Realtors' Pending Home Sales Index for October 2016:
The Pending Home Sales Index was up 0.1 percent to 110.0 in October from a slight downward revision of 109.9 in September.
With last month's small increase, the index is now 1.8 percent higher than last October (108.1).
40 percent of sales in October sold at or above list price, an increase from 33 percent last October

.
First American October 2016 Loan Application Defect Index:
The frequency of defects, fraudulence and misrepresentation in the information submitted in mortgage loan applications, decreased 1.4 percent in October compared with September 2016.
Compared to October 2015, the Defect Index decreased by 13.9 percent.
The Defect Index is down 33.3 percent from the high point of risk in October 2013.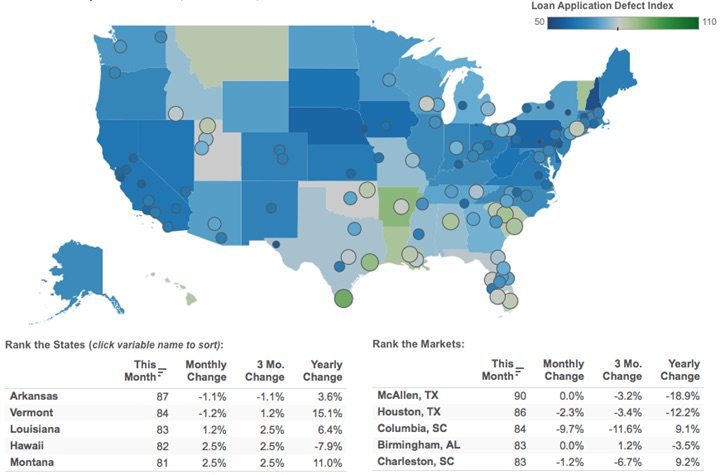 Freddie Mac's Multi-Indicator Market Index for September 2016:
The national MiMi value stands at 86, indicating a housing market that's on the outer edge of its historic benchmark range of housing activity.
This indicates a 0.42 percent improvement from August to September and a three-month improvement of +1.61 percent.
On a year-over-year basis, the national MiMi value improved 5.56 percent.
Yardi Matrix Monthly Real Estate Market Report for November 2016:
Average U.S. monthly rents fell in November, marking the third consecutive month of decline.
The national average was $1,214, down $2 from October 2016.
Metros whose rents fell the most in November on a trailing three-month basis were Denver, San Francisco, Baltimore, Boston and Seattle.
Mortgage Bankers Association's Weekly Applications Survey:
Mortgage applications decreased 9.4 percent from one week earlier for the week ending November 25, 2016.
The refinance share of mortgage activity decreased to 55.1 percent of total applications, the lowest level since June 2016, from 58.2 percent the previous week.
The average contract interest rate for 30-year fixed-rate mortgages with conforming loan balances ($417,000 or less) increased to its highest level since July 2015, 4.23 percent, from 4.16 percent.
Tuesday, November 29:
Federal Housing Finance Agency's Mortgage Interest Rates for October 2016:
The national average contract mortgage rate for previously occupied homes by combined lenders index was 3.62 percent for loans closed in late October.
This is up 1 basis point from 3.61 percent in September.
The average loan amount for all loans was $312,700 in October, up $9,800 from $302,900 in September.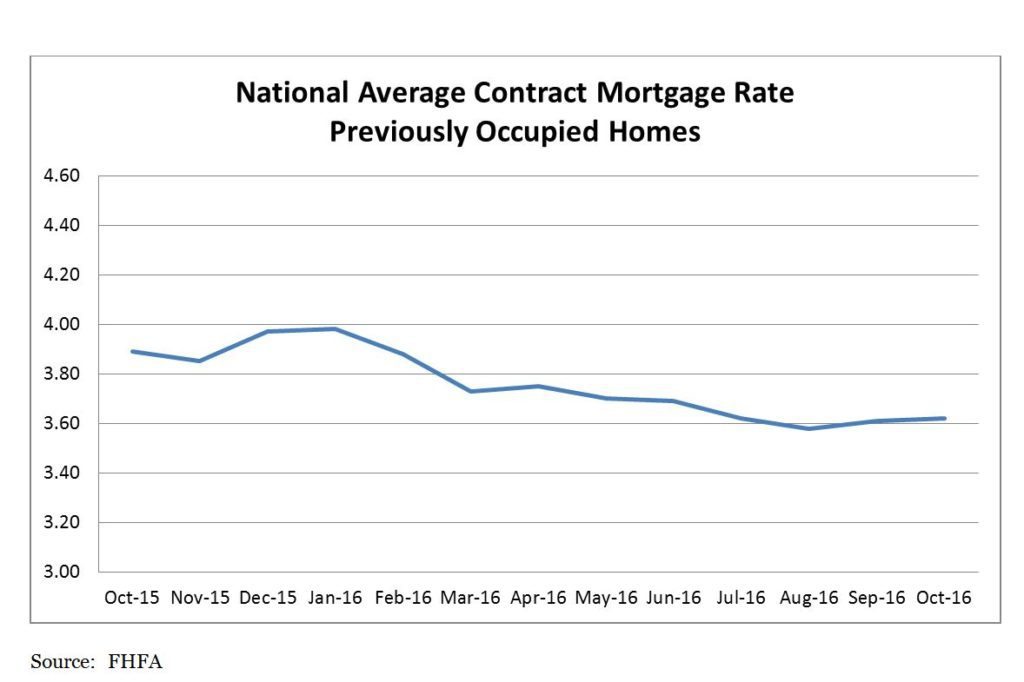 Black Knight Financial Services' "First Look" At October 2016 Mortgage Data:
October's 56,500 foreclosure starts was the lowest one-month total in nearly 12 years.
Active foreclosure inventory continues to improve — just over 500,000 active foreclosure cases remain.
Prepayment activity was down slightly from September but remains 37 percent above last year's level.

S&P/Case-Shiller National Home Price Index for September 2016:
The National Home Price Index rose 5.5 percent year-over-year in September 2016.
This is up from August 2016's 5.1 percent year-over-year gain.
The national index posted a month-over-month gain of 0.4 percent in September 2016.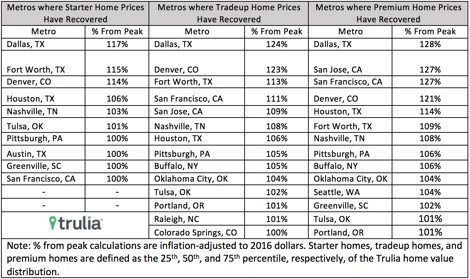 Redfin Housing Demand Index for October 2016:
The Redfin Housing Demand Index declined 3.5 percent from September to a seasonally-adjusted level of 100 in October.
In October, the number of Redfin customers requesting home tours fell 3.7 percent from September, and the number of customers writing offers on homes fell 5.9 percent.
Across the 15 metro areas tracked by the Demand Index, the number of homes listed in October was 9.5 percent lower than a year earlier.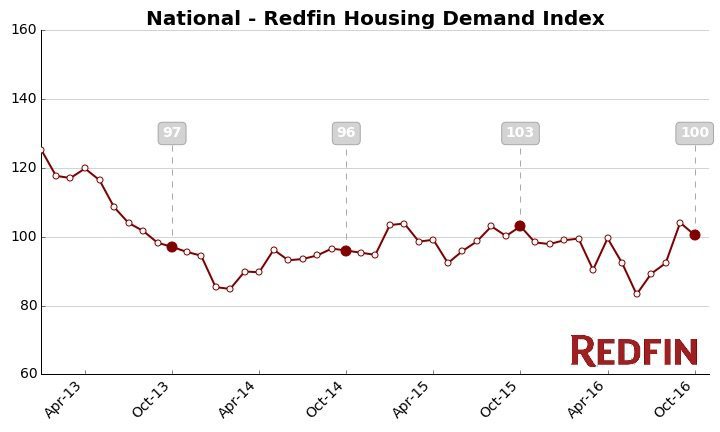 Zillow's October 2016 market report:
Home values rose 6.2 percent over the past year to a Zillow Home Value Index (ZHVI) of $191,200 in October.
Rents rose 1.4 percent over the past year to a Zillow Rent Index (ZRI) of $1,402.
There are 5.7 percent fewer homes for sale than a year ago, with Boston and Indianapolis reporting the greatest drop in inventory.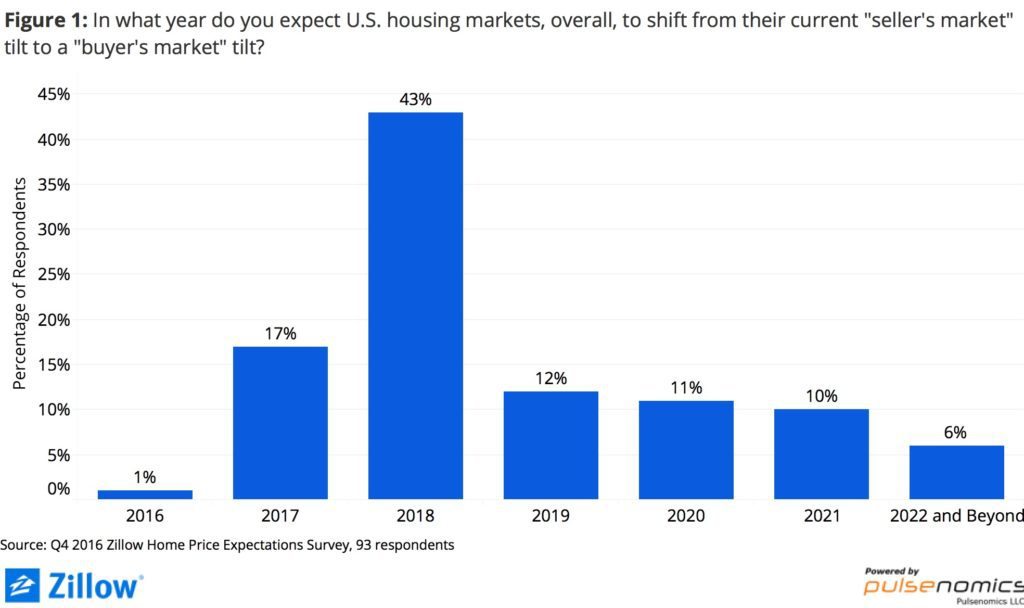 Monday, November 28:
Black Knight Financial Services Home Price Index (HPI) Report for September 2016:
The U.S. HPI was $266,000 in September 2016.
This is 0.1 percent higher than August 2016.
It's also 5.4 percent higher than September 2015.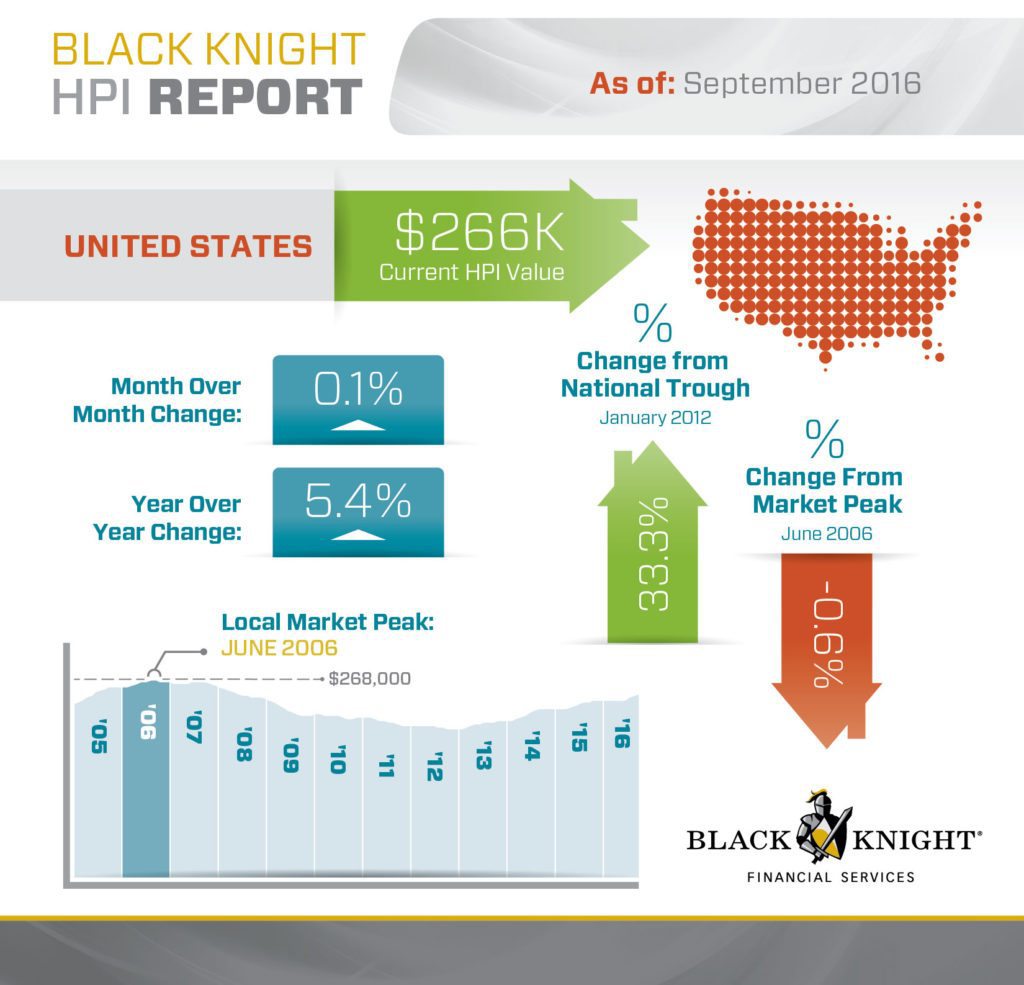 First American Real House Price Index for September 2016:
Real house prices increased 1.0 percent between August 2016 and September 2016.
Compared to September 2016, real house prices decreased by 2.0 percent.
Real house prices are 40.4 percent below their housing-boom peak in July 2006 and 19.9 percent below the level of prices in January 2000.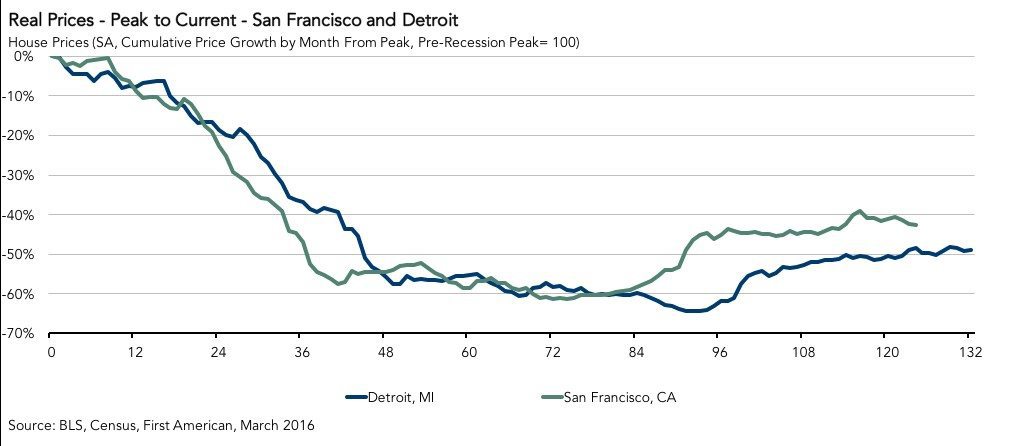 Email market news to press@inman.com.