We'll add more market news briefs throughout the day. Check back to read the latest.
Attom Data Solutions' Q3 2016 home flipping report:
There were a total of 45,718 single family home and condo sale flips in the third quarter of 2016.
This represents 5.1 percent of all single family and condo sales during the quarter.
The 5.1 percent Q3 2016 home flipping rate was down from a 5.6 percent rate in the previous quarter and unchanged from Q3 2015.
Freddie Mac's Primary Mortgage Market Survey:
The 30-year mortgage rate averaged 4.13 percent with an average 0.5 point for the week ending December 8, 2016.
This is up from last week when it averaged 4.08 percent.
A year ago at this time, the 30-year FRM averaged 3.95 percent.
CoreLogic's Q3 2016 Home Equity Report:

The Nanny Cam and other privacy issues in real estate
A can't-miss course takes on pressing new legal concerns for every agent
READ MORE
384,000 residential properties regained equity in Q3 2016.
6.3 percent of mortgaged homes were in negative equity in Q3.
The value of homes in negative equity was estimated to be $281.9 billion.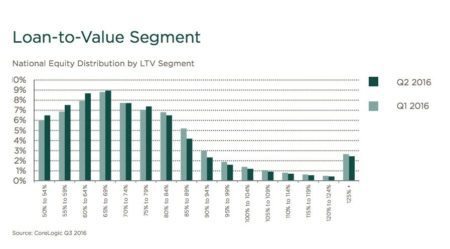 Mortgage rates:
Home equity rates:
Most recent market news:
Mortgage Banker's Association's Weekly Mortgage Applications survey:
Mortgage applications decreased 0.7 percent week-over-week for the week ending Dec. 2, 2016.
The refinance share of mortgage activity increased to 56.2 percent of total applications from 55.1 percent the previous week.
The average contract interest rate for 30-year fixed-rate mortgages with conforming loan balances increased to its highest level since October 2014, 4.27 percent, from 4.23 percent last week.
Fannie Mae's Home Purchase Sentiment Index (HPSI) for November 2016:
The HPSI decreased in November 2016 for the fourth consecutive month to 81.2.
This is down 0.5 points from October 2016.
The share of consumers expecting mortgage rates to go down over the next year and those who believe now is a good time to sell a home both fell 6 percentage points.
Email market reports to press@inman.com.