Buyers looking for the perfect home at a lower price should buy in August or September, according to Zillow's newest study.
Inventory is 5.3 percent lower than a year ago, which means many buyers will rush to put an offer on the first home that meets their needs.
Well, according to Zillow's latest study, agents may be wise to tell buyers to pump the breaks and wait until August and September — the best time to find the perfect home at a lower price point.
The analysis of 25 major metros showed that there are more homes for sale at the end of the summer than at any other time of the year, giving buyers more selections and more wiggle room to negotiate prices.
For example, in August, Los Angeles had a whopping 8,000 more available listings than in April of the same year.
Zillow Chief Economist Dr. Svenja Gudell says the price cuts happen because sellers get worried that their homes won't sell, and more are willing to negotiate.
"In such a competitive housing market, it's easy for buyers to get frustrated when they are putting in multiple offers without success," she said in a statement.
"Buyers who start their home search in the spring may still be looking months later — but for those who can wait it out, the end of summer will bring more favorable conditions. Homes that may have been overpriced earlier in the year are more likely to have a price reduction, and those listings passed over in earlier months may look better with a fresh perspective."
On the other hand, sellers would be wise to list their home as soon as possible — spring listings sell faster and sell for an average of $1,500 more.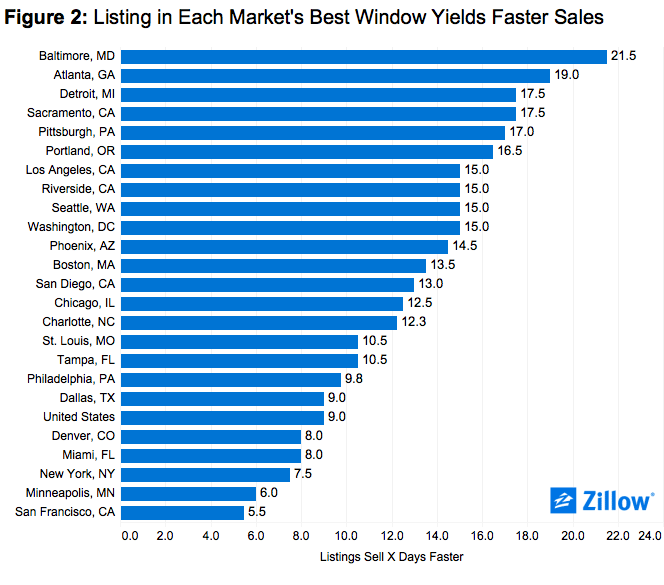 Sellers who list their homes in late April-May can sell their homes anywhere from 5.5 to 21.5 days faster due to buyers' hastiness.