We'll add more market news briefs throughout the day. Check back to read the latest.
Most recent market news
CoreLogic Home Price Index (HPI) and HPI Forecast for November 2017
CoreLogic reports fourth consecutive month with more than 6 percent
Home prices nationally increased year over year by 7 percent from November 2016 to November 2017, and on a month-over-month basis home prices increased by 1 percent in November 2017 compared with October 2017.
Looking ahead, the CoreLogic HPI Forecast indicates that home prices will increase by 4.2 percent on a year-over-year basis from November 2017 to November 2018, and on a month-over-month basis home prices are expected to decrease by 0.4 percent from November 2017 to December 2017.
Washington, Nevada, Utah and Idaho posted 12-month price gains of 10 percent or more in November.
Lack of affordable housing stock keeps home price index high in many markets.
According to CoreLogic Market Condition Indicators (MCI) data, an analysis of housing values in the country's 100 largest metropolitan areas based on housing stock, 37 percent of metropolitan areas have an overvalued housing stock as of November 2017.
"Rising home prices are good news for home sellers, but add to the challenges that home buyers face," said Dr. Frank Nothaft, chief economist for CoreLogic.
"Growing numbers of first-time buyers find limited for-sale inventory for lower-priced homes, leading to both higher rates of price growth for 'starter' homes and further erosion of affordability."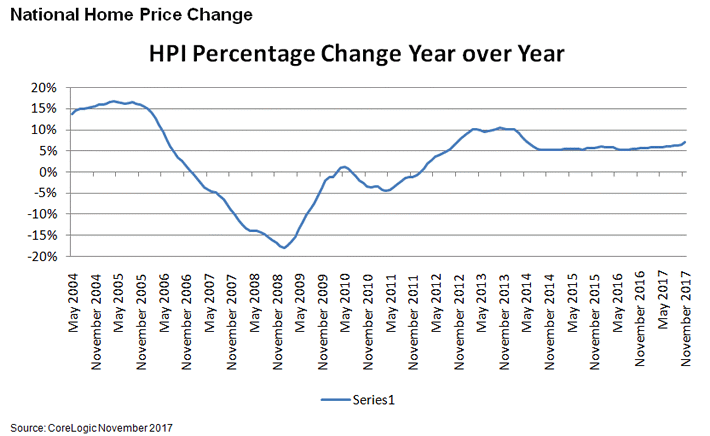 "Without a significant surge in new building and affordable housing stock, the relatively high level of growth in home prices of recent years will continue in most markets," said Frank Martell, president and CEO of CoreLogic.
"Although policymakers are increasingly looking for ways to address the lack of affordable housing, much more needs to be done soon to see a significant improvement over the medium term."
Email market reports to press@inman.com.