The immediate reaction to the election was a 545-point jump in the Dow, and long-term rates on the edge of upward breakout. The widespread assumption: Democrats did not do as well as hoped/feared, not a wave but a ripple. The Republican gain in the Senate takes power from their moderates, and a pro-business administration is secure.
(Footnote: Republicans think the Democrats did better than the Democrats think, the GOP worried about 2020. The Electoral College reflects the House, not the Senate).
The market
Order was restored in the asylum yesterday by the Fed. It will increase the cost of money from 2.25 percent to 2.50 percent on Dec. 19, and markets assume another 0.25 percent every 90 days next year to at least 3 percent.
The stock market is easily excited by good economic news, and later considers consequences. We have one of the best economies in 50 years, which draws the unwelcome attention of the Fed. Better to cool it than to have the Fed ice it. Thus stocks have given up most of their gains. Long-term rates have fallen back also: The 10-year T-note touched 3.24 percent on Thursday, back to 3.19 percent today.
Mortgage rates are a different story: They have not retreated, lowest-fee quotes now close to 5.25 percent. The spread between Treasury 10s and mortgages for several years had been a predictable 1.80 percent but has been nudging up this year, now almost 2 percent. I'm not sure why, perhaps the Fed letting its MBS portfolio run off or possibly nothing more than MBS front-running the Fed's future hikes.
(Sidebar: Why any spread? About 0.25 percent for credit risk, MBS riskier than Treasury; maybe 0.75 percent for Fannie's guarantee and the cost of servicing the loan and the remaining 0.75 percent or so for the privilege of paying off whenever the borrower wishes without penalty.)
Rate increases are crossing important thresholds. A 2-percentage-point rise in mortgages has marked the onset of previous recessions, and we're just about there. This newest move, mortgages for the moment above the October jump, is producing borrower shock. One caller today, who was asking for financing for an investment duplex, Fannie's minimum down payment and the least possible points, took a long pause and then made a change of plans when I said "Maybe six."
Three callers this week have old ARMs, which are now adjusting upward for the first time in 10 years.
The most common index is one-year Libor, today 3.14 percent, plus a "margin" of 2.25 percent means new notices to borrowers for a change to 5.375 percent, if the 2 percent change cap will allow.
Borrower: "I'd like to refinance to get off this thing." Break the news gently: A 30-fixed will be 5.25 percent, 5.125 percent if we're lucky. "To hell with that — let's do another ARM and a lower rate."
Ummm … Sir, without points, just closing costs, a new five-year ARM will be close to 5 percent. The best we can do is just as you say, get you off this thing and stop future increases, but Fed hikes have pushed ARM rates up faster than fixed. That's the meaning and effect of a "flat yield curve."
When or at what point will the economy slow under Fed pressure?
Now. Or maybe last summer.
The Fed's G.19 tables show the growth in credit card balances topped in Q4 2017, a 10 percent increase. In 2018 only in one month growth above 2.9 percent, and in September, an annualized drop of 0.4 percent. The Fed's H.8. total bank credit pooped out in 2017, growing less than GDP, and now barely half of GDP, August-September 2.1 percent annualized.
Housing of course is the most credit sensitive of all. This cycle is the most unusual in modern times in that we do not have an over-build of new housing, whose liquidation previously made all recessions deeper. Nor have we had an easing in credit terms during this long recovery — every owner has been rigorously qualified. But rate-pain is still rate-pain.
New applications for purchase mortgages have fallen to a two-year low (MBA). Two cities with good, tech-centered economies: here in Denver, year-over-year sales are down 15.9 percent and for-sale inventory up 35 percent. In Seattle sales are down 18 percent and inventory is up 102 percent. In both cases the big market shifts began in summer.
The Fed with the best intentions always overdoes the hiking cycle. It may already have done so.
Veteran's Day
Shift to big stuff, the outside world, humanity and governance. Sunday is Veterans Day, which began as Armistice Day (still is in France) marking the end of World War I at the 11th hour of the 11th day of the 11th month.
In the UK, Remembrance Day — every Brit wears a red poppy in memory of the slaughter of a generation among poppies in Flanders. This 100th anniversary has been little-noted in the U.S., but should be, marking the first rescue of Europe by the U.S. with no American objective in conquest except to come home in peace. No other great power had ever behaved that way, and ever is a long time.
World leaders gather this weekend in Europe, and someone may say something wise. Keep a firm grip on your senses of perspective and humor. Media and politicians today struggle to account for political shifts, tossing around terms like "populism" and "nationalism." The left and globalists decry both; the right tends to celebrate both.
These issues are slippery. French President Macron this week entered the discussion, one foot planted on a bar of soap, the other on a fruit peel. The French are gifted at ambiguity, not the least embarrassed by simultaneously advocating two opposite positions.
Macron this week called for a "true European army" to protect against China, Russia and "even the United States of America." And then warned that a "nationalist leprosy" risks dragging Europe back to the 1930s.
One day before, the 250,000 people of the islands of New Caledonia (upon discovery in 1774 Captain Cook thought they looked like Scotland, and may have been drinking that day) since 1853 a territory of France, voted yea or nay on independence. Macron then blared his "immense pride" that the Pacific archipelago had voted to remain part of the French Republic. One man's dangerous nationalism is the same man's glorious nationalism?
Nations and cultures will be with us always, insuppressible and prone to conflict. We do have to live with each other, but pretending we are all the same is as foolish as belief that mine is better than yours and therefore I can make you do what I want.
The charts
The 10-year T-note in the last year, I still think likely to hold this top, but based on hope for more data showing the economy slowing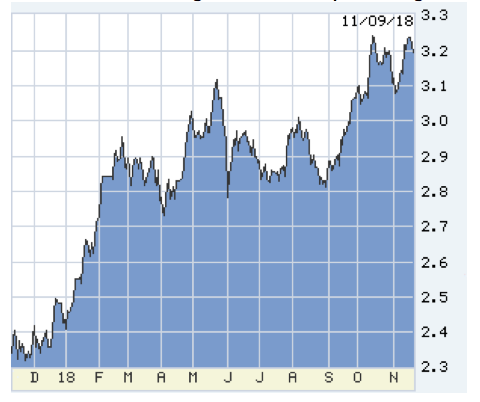 The Fed-predictive two-year T-note reached a new high at 2.98 percent before sliding back a little with the stock market today. Twos are fishing for the Fed's pause level next year and will be the first financial market to signal a cycle-top.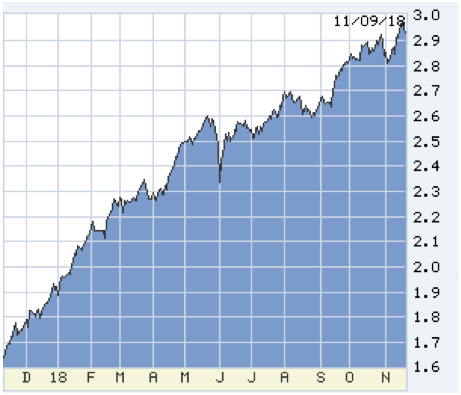 The Atlanta Fed GDP-tracker has Q4 growth at 2.75 percent, not slow enough to slow the Fed, but GDP is often the last to get the word.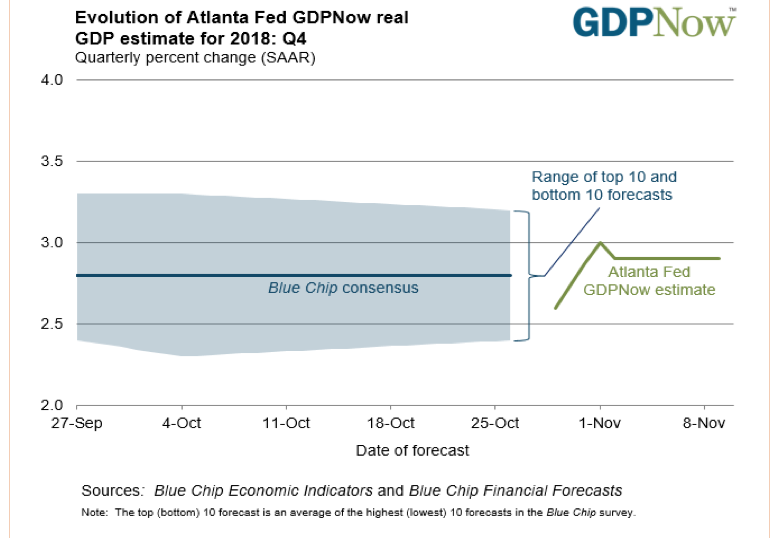 Parting words
The British poets of World War I left to us monuments of loss and horror beyond memory and marble. It's OK to weep at these. The author of the second poem was killed in action on Nov. 4, 1918.
In Flanders Fields
by John McCrae
In Flanders fields the poppies blow
Between the crosses, row on row,
That mark our place; and in the sky
The larks, still bravely singing, fly
Scarce heard amid the guns below.
We are the Dead. Short days ago
We lived, felt dawn, saw sunset glow,
Loved and were loved, and now we lie,
In Flanders fields.
Take up our quarrel with the foe:
To you from failing hands we throw
The torch; be yours to hold it high.
If ye break faith with us who die
We shall not sleep, though poppies grow
In Flanders fields.
Dulce et Decorum Est
by Wilfred Owen
Bent double, like old beggars under sacks,
Knock-kneed, coughing like hags, we cursed through sludge,
Till on the haunting flares we turned our backs,
And towards our distant rest began to trudge.
Men marched asleep. Many had lost their boots,
But limped on, blood-shod. All went lame; all blind;
Drunk with fatigue; deaf even to the hoots
Of gas-shells dropping softly behind.
Gas! GAS! Quick, boys! — An ecstasy of fumbling
Fitting the clumsy helmets just in time,
But someone still was yelling out and stumbling
And flound'ring like a man in fire or lime. —
Dim through the misty panes and thick green light,
As under a green sea, I saw him drowning.
In all my dreams before my helpless sight,
He plunges at me, guttering, choking, drowning.
If in some smothering dreams, you too could pace
Behind the wagon that we flung him in,
And watch the white eyes writhing in his face,
His hanging face, like a devil's sick of sin;
If you could hear, at every jolt, the blood
Come gargling from the froth-corrupted lungs,
Obscene as cancer, bitter as the cud
Of vile, incurable sores on innocent tongues, —
My friend, you would not tell with such high zest
To children ardent for some desperate glory,
The old Lie: Dulce et decorum est
Pro patria mori.