The U.S. homeownership rate is likely to rise as the nation's population ages, though many renters doubt their chances of ever owning a home, according to an annual survey from the New York Federal Reserve.
Currently, the nation's homeownership rate stands at 64.2 percent, which economists at the New York Fed noted "is very close to the longer-run average." In the 30 years between 1965 and 1994, the homeownership rate hovered at around 64 percent before rising five percentage points between 1995 and 2004, to more than 69 percent. The housing crash and subsequent recession knocked down the rate to 62 percent before it bounced back to the current rate.
Because mortgage credit became harder to obtain after the crash, those who became homeowners in the last decade are less likely to default, meaning changes in the homeownership rate will likely be due to rates of entry into homeownership rather than foreclosures, the New York Fed economists said in a blog post.
"Barring a change in the economy, the nation's aging population will likely push up homeownership since older households are historically much more likely to own," they wrote.
"Further, the majority of current renter households would rather own; nonetheless, tight credit and other constraints, including the high prevalence of student debt, mean that many of these same renters see it as unlikely that they will ever be able to enter into homeownership. How these factors — demographics, preferences, and constraints — play out over the next decade will determine where the homeownership rate lands."
The housing portion of the New York Fed's 2019 Survey of Consumer Expectations, fielded in February, found that the share of renters who preferred or strongly preferred to own instead of rent (if they had the financial resources to do so) was 71.5 percent, up from 67.3 percent in 2018 — an increase the bank said was driven by renters aged 50 and older.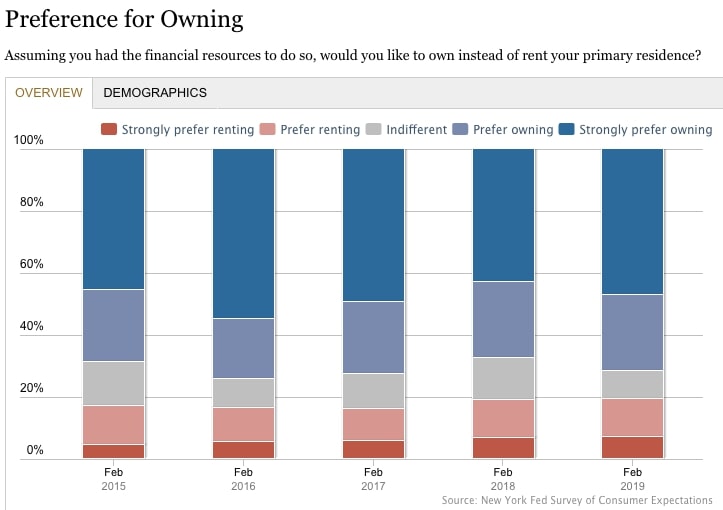 Renters put their probability of owning a home at some point in the future at an average 52.4 percent, up from 49.5 percent last year, but still lower than the more than 55 percent average probability in 2016 and 2017. The survey found the probability rise over the last year was strongest among older renters.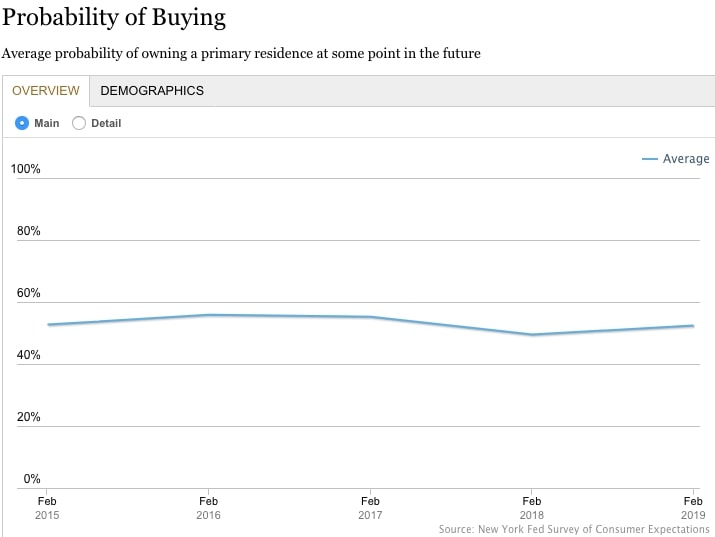 Most renters — 57.9 percent — continued to believe obtaining a mortgage if they wanted to buy a home would be either "somewhat difficult" of "very difficult," but that figure has dropped significantly from last year, when 67.5 percent of renters thought it would be difficult. More also thought it would be "somewhat easy" or "very easy" to get a mortgage — 21 percent compared to 17 percent in 2018, the bank said in a press release.
"These movements were most pronounced among older renters and those with incomes below $60,000," the release said.
Among all respondents, renters and homeowners, 65 percent said that buying property in their ZIP code is a "very good" or "somewhat good" investment, unchanged from last year. While 10.6 percent of respondents thought it would be a "very bad" or "somewhat bad" investment in 2018, only 9 percent did this year.
"Younger households were slightly less enthusiastic about housing as an investment, with lower shares believing it is a good investment, and higher shares believing it to be bad," the release said.
Respondents expected home prices to rise less in the near future than they did last year. Looking a year ahead, they predicted home prices would rise an average of 3.56 percent, down from 4.65 percent in last year's survey. Looking ahead five years, they anticipated an average 1.99 percent annual increase, down from 2.96 percent last year.
Respondents put the average probability of home prices decreasing over the next five years at 29 percent, up from 27 percent in 2018.
"Younger respondents — those under 50 — perceive more downside risk compared to those over 50," the release said.
Expectations regarding rent prices barely budged compared to 2018. Respondents expected the average rent increase to be 7.3 percent looking ahead one year (same as last year) and 4.5 percent looking ahead five years (up from 4.3 percent last year).
Like me on Facebook | Follow me on Twitter
How do you stay ahead in a changing market? Inman Connect Las Vegas — Featuring 250+ experts from across the industry sharing insight and tactics to navigate threat and seize opportunity in tomorrow's real estate. Join over 4,000 top producers, brokers and industry leaders to network and discover what's next, July 23-26 at the Aria Resort. Hurry! Tickets are going fast, register today!
Thinking of bringing your team? There are special onsite perks and discounts when you buy tickets together. Contact us to find out more.