The California Association of Realtors (C.A.R.) is warning real estate agents who work in the state to stay away from law firms "trying to create litigation" against brokerages over independent contractor status.
"C.A.R. recently learned that some members have received solicitations from lawyers regarding the independent contractor status in real estate," the memo from C.A.R. leadership to members reads.
"These lawyers are attempting to instigate groundless litigation and creating a false impression that just following the licensing law — such as required supervision and salespersons only working for one broker — creates an employment status. Don't be fooled by such uninformed messages from those trying to create litigation."
One such type of solicitation appears to be showing up in the Facebook feeds of real estate agents. Jessie Beaudoin, the founder of startup CallAction, shared a Facebook ad he had been seeing on Inman's reader Facebook group, Coast to Coast. The ad offered agents a free consultation to learn if they have been misclassified as independent contractors by their brokerage. Inman does not control Facebook's targeted ads or sponsored posts served up to individual users like this.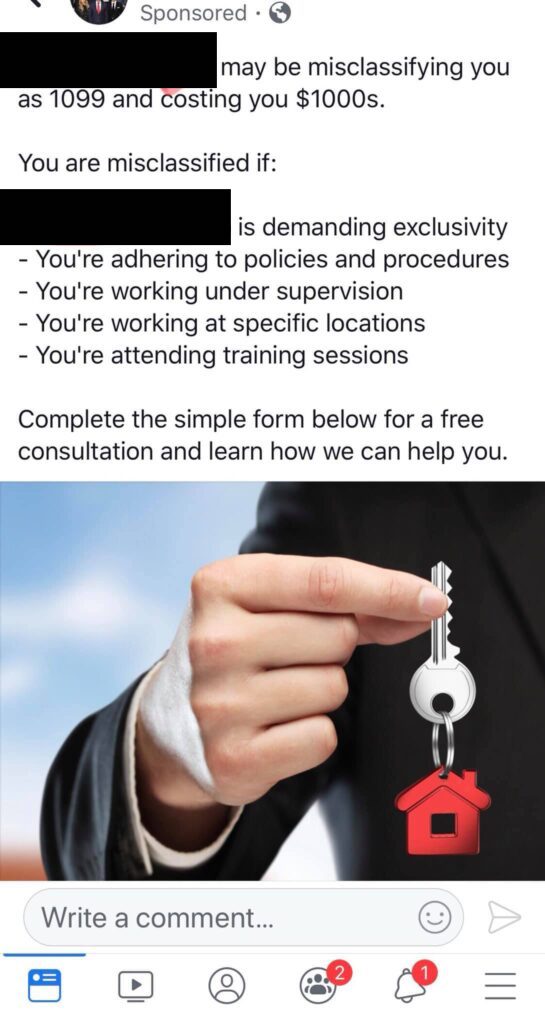 There have been questions over the status of real estate agents in California — and possible ramifications or ripple effects nationwide — in the wake of a labor ruling by the California Supreme Court over a year ago.
In Dynamex Operations West, Inc. v. Superior Court of Los Angeles, the court laid out an "ABC" test for determining whether or not a worker could be considered an independent contractor. A worker is considered an independent contractor if they pass each of the three standards:
(A) that the worker is free from the control and direction of the hiring entity in connection with the performance of the work, both under the contract for the performance of the work and in fact;
(B) that the worker performs work that is outside the usual course of the hiring entity's business;
(C) that the worker is customarily engaged in an independently established trade, occupation, or business of the same nature as the work performed.
After that decision, complaints have been filed against Purplebricks and Owners.com, alleging that independent contractors at those brokerages are treated as employees and thus entitled to employee benefits.
C.A.R., in the memo, notes however that for over half a century, real estate salespersons have overwhelmingly chosen the option of being independent contractors and running their business under the state's real estate licensing law.
"Moreover, the real estate licensing law specifically reiterated the validity of real estate licensees as independent contractors when with amendments that went into effect January 1, 2019," the memo states. "These statutes specifically reiterate the independent contractor as a lawful choice between a broker and salesperson."
State lawmakers passed legislation last month in the wake of the Dynamex decision that would make it harder for companies to define their workers as independent contractors, rather than employees, but it includes an amendment to "exempt specified professions," including real estate licensees. That should enable most real estate brokerages already active in the state to continue working with agents classified as independent contractors, that is, to continue business as usual.
The legislation passed in the California Assembly. It now needs approval from California's Senate and a signature from Democratic Governor Gavin Newsom in order to become law, which is expected.
"Brokers and salespersons can be rest assured they don't need to choose between being an independent contractor or losing their license to practice real estate," C.A.R. added.
How do you stay ahead in a changing market? Inman Connect Las Vegas — featuring 250+ experts from across the industry sharing insight and tactics to navigate threat and seize opportunity in tomorrow's real estate market. Join more than 4,000 top producers, brokers and industry leaders to network and discover what's next, July 23-26 at the Aria Resort. Hurry! Tickets are going fast, register today!
Thinking of bringing your team? There are special onsite perks and discounts when you buy tickets together. Contact us to find out more.