New markets require new approaches and tactics. Experts and industry leaders take the stage at Inman Connect New York in January to help navigate the market shift — and prepare for the next one. Meet the moment and join us. Register here.
With a recession looking increasingly likely this year, home prices are looking softer to economists at Fannie Mae, who now expect national home prices to fall 6.7 percent over the next two years.
For now, homes are still unaffordable to many would-be buyers, and home sales are also projected to drop 21 percent this year to a level not seen since 2010, Fannie Mae said in a forecast released Friday.
The good news is that rather than triggering a wave of foreclosures, the gradual home price declines envisioned by Fannie Mae forecasters could set the stage for mortgage rates to drop and for sales to rebound — but not until 2024.
"While we are forecasting sizable home price declines over the coming two years, we do not expect a repeat of the Great Financial Crisis," Fannie Mae economists said in commentary accompanying their latest forecast. "Due to the minimal use of adjustable-rate mortgages (ARMs), teaser rates, and exotic mortgage products, a relatively small portion of current single-family borrowers are subject to payment shocks from this past year's rising interest rates in the way many borrowers were in 2006-2008."
Home prices expected to fall
Source: Fannie Mae housing forecast, January 2023
While Fannie Mae issues new forecasts on a monthly basis, home price appreciation projections are updated quarterly, in sync with the Fannie Mae Home Price Index.
When Fannie Mae economists last updated their home price appreciation forecast in October, they expected national home prices to fall by 1.5 percent in 2023, followed by another 1.4 percent drop in 2024.
The latest forecast is for an annual home price decline of 4.2 percent in 2023, with another 2.3 percent drop in 2024. As measured by the Fannie Mae Home Price Index, home prices are projected to fall 6.7 percent over the next two years.
Annual home price appreciation is projected to turn slightly negative in the second quarter of this year and hit 4.2 percent in the second half of the year before easing in 2024. While prices may not fall in every market, some unaffordable markets could see price declines that exceed the national average.
"This year is expected to manifest an ongoing correction in housing market affordability as we expect household incomes and housing costs to gradually approach a more sustainable relationship," Fannie Mae economists said. "We project that the combination of declining home prices, lower mortgage rates, and, with time, growing household incomes, will eventually place the housing market in a recovery. The same dynamic holds for rents. However, we believe this process is likely to take multiple years."
Home sales projected to rebound
Source: Fannie Mae housing forecast, January 2023
Fannie Mae forecasters project total home sales will dip below 5 million this year to 4.52 million units, a 21.3 percent decline from 5.74 million sales in 2022. Next year, the forecast is for a "partial rebound," with sales of new and existing homes rising 12.8 percent to 5.1 million units on the back of an economic recovery.
With the supply of existing homes for sale remaining tight, Fannie Mae forecasters "do not anticipate an overabundance of properties on the market leading to disorderly home price declines. Rather, we expect an environment of weaker sales to continue along with gradual home price declines until affordability measures approach more sustainable levels, which would then lead to a recovery in transactions."
The tight supply of existing homes should help bolster sales of new homes, which are projected to drop by a more modest 12.7 percent this year to 570,000 before rebounding by 7.9 percent in 2024 to 615,000, Fannie Mae forecasters said.
"With many existing owners disincentivized to list their homes for sale and move due to 'lock-in' effects, by which existing owners have mortgages with rates well below current market rates, as well as overall affordability challenges, first-time buyers have increasingly turned to new homes," Fannie Mae economists noted.
Mortgage rates may have peaked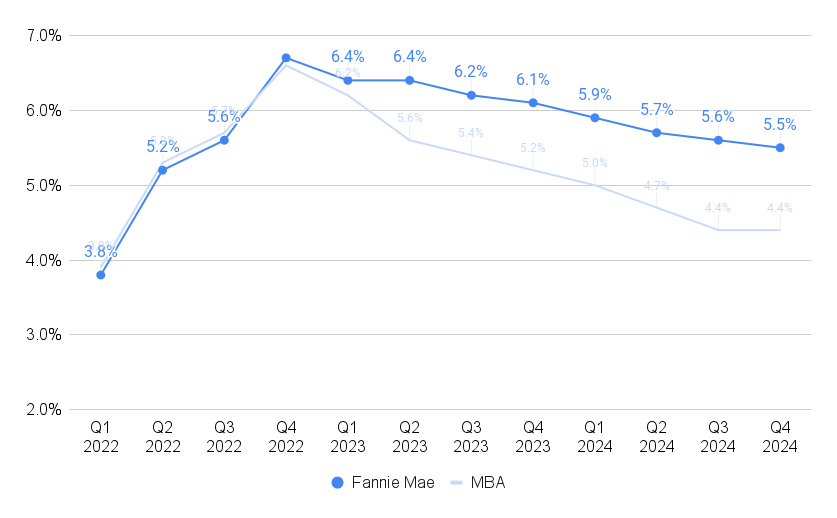 Source: Fannie Mae housing forecast, January 2023, Mortgage Bankers Association forecast, December 2022
Fannie Mae economists remain convinced that mortgage rates peaked in the fourth quarter of 2022 and will steadily decline as the Federal Reserve nears the end of its rate-hike campaign. A recession could even lead the Fed to reverse course and lower short-term rates — something bond market investors who fund most mortgages are already betting on.
"The market sees the Federal Reserve easing in the second half of the year, which can be interpreted either as a view that the recession is forthcoming or that the slowdown in inflation will lead to a less restrictive monetary posture," said Fannie Mae Chief Economist Doug Duncan in a statement. "If the latter occurs, the lower accompanying rates will likely set the stage for a pickup in housing activity going into 2024, as can be seen in our latest forecast."
Fannie Mae economists don't see mortgage rates falling below 6 percent until 2024. But in a Dec. 19 forecast, economists at the Mortgage Bankers Association projected rates on 30-year fixed-rate loans will drop below 6 percent during the second quarter of this year and below 5 percent next year.
After two months of declines, mortgage rates are now at their lowest level since September with purchase loan requests jumping 25 percent last week as mortgage rates continue to fall, an MBA lender survey shows.
Duncan warned that if the market is wrong, and the Fed keeps the short-term federal funds rate elevated to ensure that inflation doesn't flare up again, "then the accompanying rate decline and associated revival in housing activity will likely be delayed. In either case, we expect 2023 to be a slow year for the housing market."
Mortgage refinancings slow to a trickle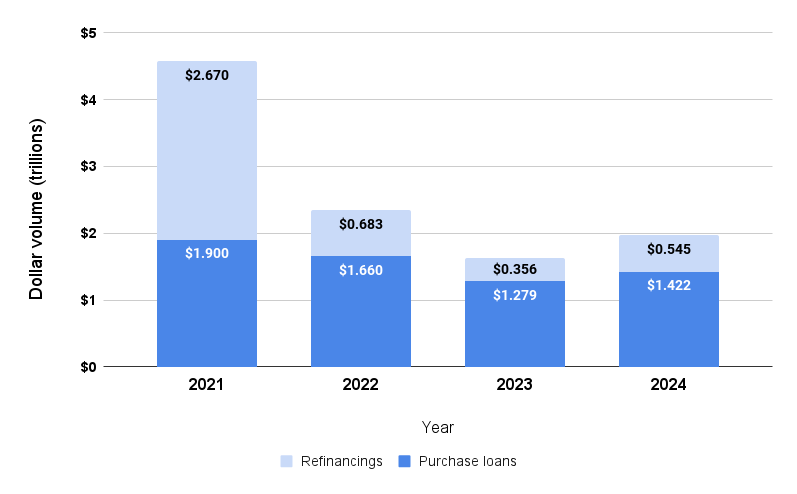 Source: Fannie Mae housing forecast, January 2023
With rates expected to remain elevated for now, Fannie Mae economists project mortgage originations to drop by 30 percent this year, to $1.64 trillion.
After plummeting by 74 percent last year to $683 million, refinancings are expected to slow to a trickle in 2023, falling another 48 percent to $356 million. Next year, lower rates are projected to generate a 53 percent increase in refis to $545 million.
Elevated home prices have provided some support for purchase loan origination by dollar volume, which fell 13 percent in 2022 to $1.66 trillion. But this year's projected drop in both home sales and prices is expected to drive purchase loan originations down 23 percent this year to $1.279 trillion. Lower rates and slowing home price depreciation are expected to drive an 11 percent rebound in purchase loan originations next year to $1.422 trillion.
Get Inman's Extra Credit Newsletter delivered right to your inbox. A weekly roundup of all the biggest news in the world of mortgages and closings delivered every Wednesday. Click here to subscribe.