In these times, double down — on your skills, on your knowledge, on you. Join us August 8-10 at Inman Connect Las Vegas to lean into the shift and learn from the best. Get your ticket now for the best price.
Wells Fargo continues to shed mortgage workers as part of a plan to withdraw from correspondent lending and simplify the bank's home lending business, with the latest round of layoffs this week targeting hundreds of mortgage bankers and home loan consultants whose compensation is mostly sales based, CNBC reported citing anonymous sources.
The layoffs were announced Tuesday "and ensnared some top producers, including a few bankers who surpassed $100 million in loan volumes last year and who recently attended an internal sales conference for high achievers," CNBC reported.
Asked to comment on the report, a Wells Fargo spokesperson declined to provide specifics but pointed to the company's announcement in January that the bank will no longer buy mortgages from correspondent lenders as part of a strategy to better serve the bank's customers and minority communities.
"We announced in January strategic plans to create a more focused home lending business," Wells Fargo said in a statement provided to Inman. "These plans continue the work the company has advanced over the past three years to simplify the business."
As part of these efforts, Wells Fargo confirmed "displacements" across its home lending business "in alignment with this strategy and in response to significant decreases in mortgage volume in the broader market environment."
In reporting fourth-quarter earnings, Wells Fargo said it shed 10,000 employees across all divisions in 2022, finishing the year with 239,000 workers. That's the same number employed at the end of the third quarter but represented a 4 percent reduction from a total workforce of 249,000 at the end of 2021.
At $8.4 billion, fourth-quarter personnel expenses were down just $60 million from a year ago, or 1 percent, as much of the savings Wells Fargo expects to realize down the road were offset by $353 million in severance expenses — primarily in home lending, the company said.
"Employees affected by these changes have each been an important part of our success," Wells Fargo said in a statement provided to Inman. "We have communicated openly and honestly with impacted employees and provided opportunities for severance, career assistance, and other services to assist them. Additionally, we intend to retain as many employees as possible and have had good success identifying other opportunities and transferring them into other roles within Wells Fargo."
Wells Fargo mortgage originations, by channel
Source: Inman analysis of Wells Fargo regulatory filings
Correspondent lenders are typically smaller institutions that originate and fund their own loans, then resell them to other lenders or investors.
During the final three months of 2022, Wells Fargo trimmed its correspondent loan originations by 58 percent from a year ago to $6.4 billion. But with mortgages originated through the company's retail channel also down by 75 percent, correspondent lenders accounted for 44 percent of Wells Fargo's fourth-quarter loan production.
As it closes branches, Wells Fargo is serving more customers online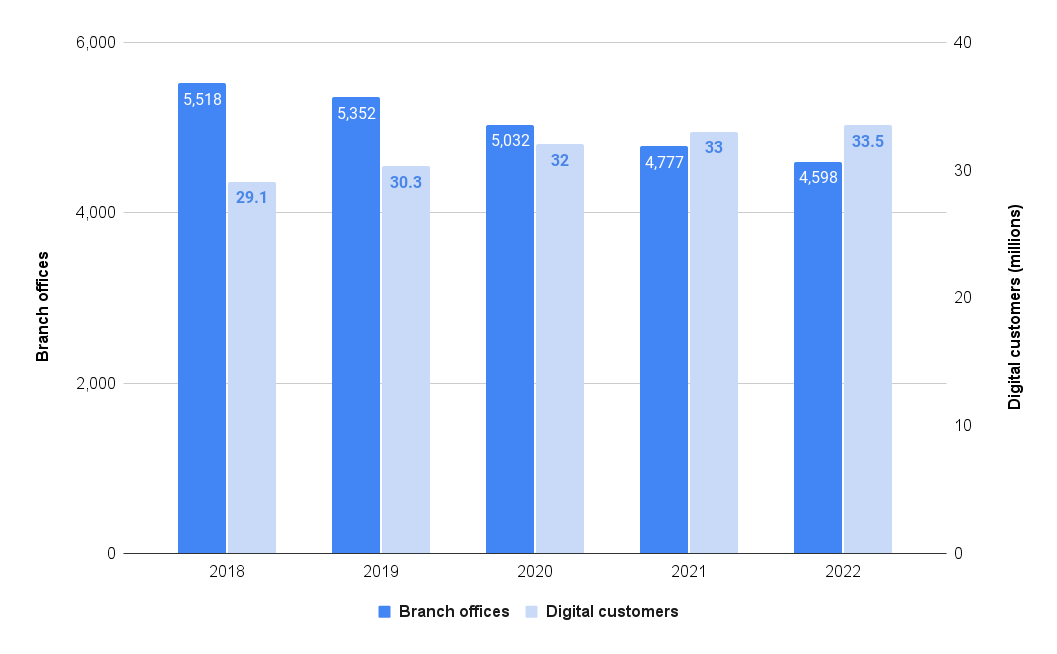 Source: Inman analysis of Wells Fargo regulatory filings.
While rising mortgage rates put a dent in many mortgage lenders' originations last year, Wells Fargo has also been closing retail branches that accounted for three-fourths of Wells Fargo's 2021 mortgage loan originations.
Wells Fargo has closed nearly 1,000 retail branch offices in the last four years, with 4,598 offices open at the end of 2022. That's down 17 percent from 5,518 at the end of 2018.
But with more customers doing their banking online, Wells Fargo's count of "digital active" customers has climbed by 15 percent over the same period to 33.5 million.
Although Wells Fargo has also been closing retail branches in recent years, the bank said in January that it plans to hire more home mortgage consultants to work in minority communities. Wells Fargo plans to broaden an existing $150 million investment from the company's Special Purpose Credit Program (SPCP) to include purchase loans and invest an additional $100 million to advance racial equity in homeownership by investing in strategic partnerships with nonprofit organizations and community-focused engagements.
Noninterest income from Wells Fargo mortgage banking dwindles
Source: Inman analysis of Wells Fargo regulatory filings
Wells Fargo has seen noninterest income generated by its mortgage banking division — including profits the bank realizes when it resells mortgages it originates — dwindle from more than $1.3 billion per quarter at the height of the 2021 refinancing boom to just $79 million during the final three months of 2022.
Get Inman's Extra Credit Newsletter delivered right to your inbox. A weekly roundup of all the biggest news in the world of mortgages and closings delivered every Wednesday. Click here to subscribe.