I like Evernote. A lot. What has made the note-taking app so invaluable is its powerful ability to organize disruptive thoughts. Now, the serendipitous idea for a blog post on real estate mobile technology is OK to have while I work on a broker listing presentation. I just whip out my iPad or iPhone, record my thoughts into my "Raveis Blog" note in my notebook and then transition peacefully back to what I was doing. No muss, no fuss.
I have been using two interesting features on Evernote for some time to further organize my thoughts. You may or may not have heard of these, but I find them important to share.
1. Related Notes for Chrome Web Clipper
The Web Clipper is one of the coolest, most convenient features offered by Evernote. It makes recording our unexpected (but important!) thoughts while Web searching a cinch; simply select the clipper and capture Web pages, photos, etc.
Last month, an important update was announced for Web Clipper users on Chrome: Evernote would display related notes after a clip was completed. When I first read this, I thought, "Big deal." This is just like a "related articles" feature on a website or blog. But, when I tested the feature, I was pretty impressed.
For example, when I clipped Michael McClure's article, "6 Things You Should Be Using Evernote for Every Single Day," Evernote pulled up three related notes: one on our blog (where I and other contributors cover technology, like Evernote); one on deciphering real estate data at a local vs. national level (also related to real estate); and the final was a "Welcome Evernote" note (not sure how I feel about that one, but a little more on that later).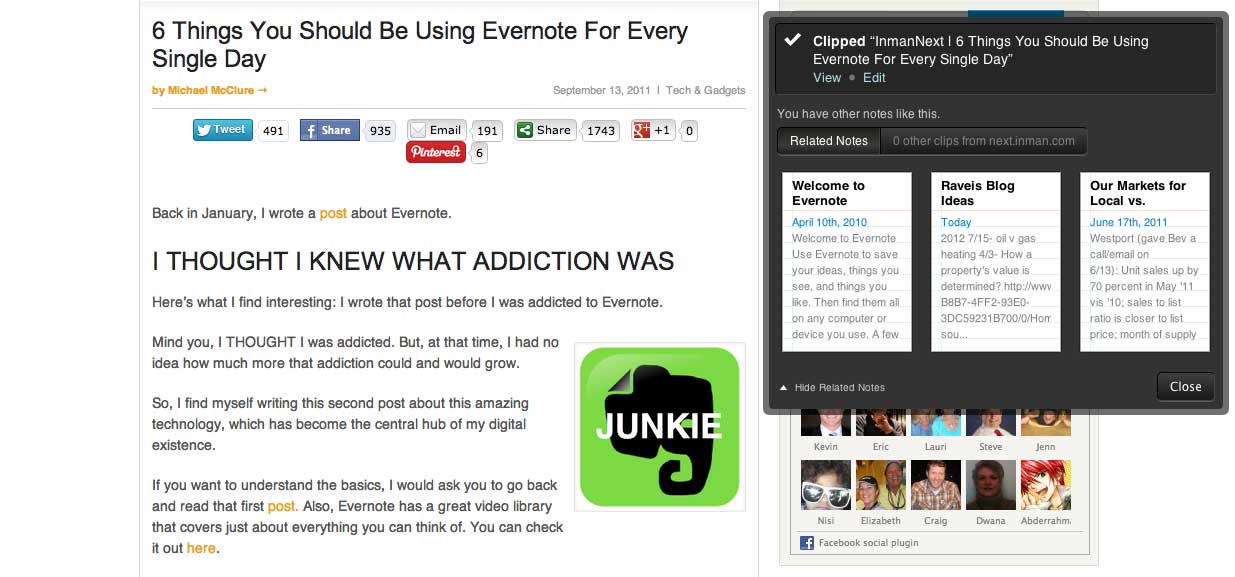 In addition, the Related Notes feature will also display all the notes you've ever clipped from that same domain. You can see an example below: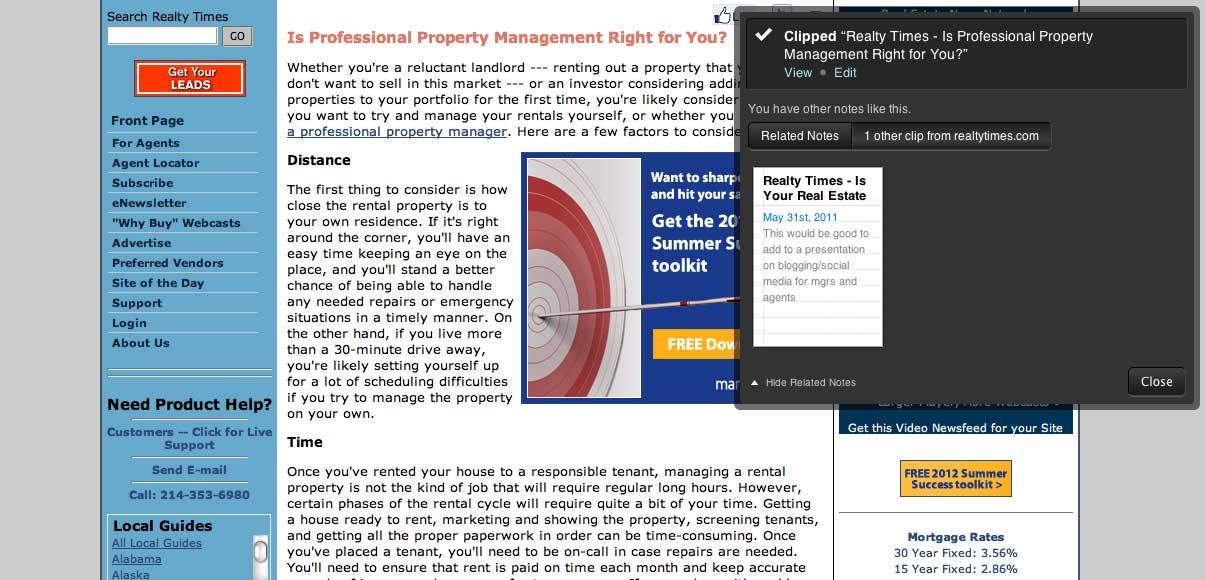 These features make it incredibly helpful to create a logical patchwork between new and rediscovered, older thoughts. This can result in better content development and better service to clients.
The Downside: Yes, you've already detected it — this feature is offered only on Chrome (if you've noticed otherwise, let me know). Evernote has stated that the addition will be offered for other browsers in future Clipper iterations, but, until then, you may want to start experimenting with what has been called the world's most popular browser.
The other issue, albeit small, is the content of Related Notes. In the above example, I was surprised Evernote came back the with the "Welcome to Evernote" result, especially when I had several other notes that had a stronger correlation to the clip. However, I was still able to generate solid ideas based off the other results. I suspect future enhancements will address this issue. So, kudos, Evernote!
2. Email Documents Directly to Your Evernote Notebook
This is another helpful feature I've been using. Evernote provides a specific email address to which you can send anything — buyer/seller agreement templates, marketing/drip campaign templates, or your itinerary for a getaway to Punta Cana. It's very simple to set this up:
Sign into your Evernote account, make sure it's the desktop version (use the "Web Sign In").
Under Account Summary, see an "Email Notes to" field.

Copy that email address and add it to your contacts. In my case, I added it to my Gmail contacts, as that is my ESP.
Identify a default notebook to which you'd like to send your documents. Do this by right-clicking on the desired notebook within the Evernote UI, select properties, then check the box that says, "Make this my default notebook." You'll see that mine is "Gmail."
From here, it's as easy as sending documents to that email address. They will then automatically be added to your default notebook.
I was tipped off by writing from @MichaelHyatt, best-selling New York Times author, on a way to further fine tune where your documents end up. For example, if you don't want the note to be sent to a default notebook, such as "Gmail," you can specify an alternate notebook within the subject line, itself.
Address an email to your custom Evernote address, which you added to your contacts.
In the subject line, add your desired notebook name, preceeded by the "@" sign.
You can even tag the note within the subject line of the email, by using the '#' sign followed by a tag. Check out a sample below:

This is a super easy way to make sure all email documents pertaining to your business, or your personal life, stay in one, easy-to-reference place.
The Downside: I have to be honest, I really don't see a downside to this feature. I think the "Default Notebook" could get confusing, because your emails and documents could end up in the wrong spot. However, if you program yourself to use the tagging system in the email subject line, you should be A-OK.
Again, Evernote is making the process of thought and information gathering from as many sources as possible faster and easier.
For more information on Evernote, I highly recommend following the company on twitter, @evernote, as well as checking out the company's Trunk: http://evernote.com/trunk/.