Are you working smart with social media?

As a real estate agent or broker – you have to ask yourself: "Am I spending my time wisely or is social media a 'time suck'?"
Can you track views, clicks, likes, and conversations? Can you track when your name or company name is mentioned across all platforms? If not, keep reading!
It's one thing to have a Facebook page or Twitter account, but it quite the other to be able to make intelligent choices about content, time of day of posting, what works and what doesn't and so much more…. AND not consume all of your time! :)
Recently, there are two companies that have caught my eye:

1. TwentyFeet
TwentyFeet provides detailed analytics AND aggregates all your stats into one place. It gives you an overview of Twitter, Facebook, YouTube, bit.ly, Google Analytics and more. The key here is "all in one place! The other thing I really like is that they "nudge you" via email when your metrics change significantly – brilliant!
They offer a free 30-day trial and them you can order their services which start at $2.49/year. It is a simple, straightforward program that could help a lot of real estate agents and brokers track their social media success.
Here is a quick video that highlights some of the features:

2. Postling
I started using Postling about a month or so ago and I think it is an extremely useful tool.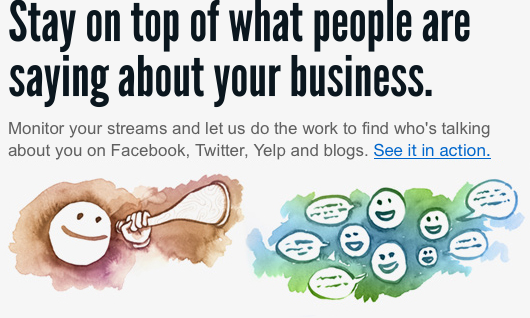 One of the nice things about Postling is you can use it to publish to Facebook, Twitter, LinkedIn, WordPress, Tumblr and Flickr. You can also schedule your posts out which is nice for real estate agents – you can "drip" their posts out over the course of a few days – just like drip marketing. Also, Postling brings all of the comments your readers leave on your blog, Facebook, Twitter, or Flickr into one place. Every morning Postling will send you a daily digest email recapping the recent activity for all of your social media accounts.
With Postling Tracking, they dig through Twitter, blogs, mainstream media, RSS feeds and more to find every time your name comes up.  Are there certain phrases that you know lead to potential new customers?  Save those phrases within Postling Tracking and they'll notify you when you've got a match – very cool!
What do you think? Have you used either one of these tools? Are their other tools that you are using that you love? Leave me a comment below!
Written by: Katie Lance, Senior Marketing Manager, Inman News @katielance