It's always been easy to share with all your friends on Facebook, but until Facebook introduced Groups last October, there wasn't a simple way to share with just a few people.
Yesterday Facebook announced three new upgrades to groups: the integration with Questions, the ability to upload photo albums, and additional membership controls. You can post questions and polls for only members to weigh in on.
For group owners, Facebook also added a control that lets you approve people before they are added to the group.
Big News – The Send Button
The Send button lets you share with Groups. A year ago, Facebook launched the Like button, which gives you a quick way to share the things you find on the web with all your friends. But there are times when you find something that you only want to share with a few specific people.
With the Send button you can share an article with a group on Facebook, or just one of your friends on Facebook. I think this is an exciting development. I am seeing more and more real estate groups pop up on Facebook and I think this new Send button as a great new enhancement.
I could also see how real estate agents will like the ability to share an article with just one of their clients via Facebook (instead of emailing it to them) or instead of sharing it with all of their Facebook friends. I also know a lot of real estate agents are starting niche groups within their community like 1st time home buyer groups, investor groups, and even community or school-based groups. With this new Send feature, a real estate professional can send an interesting or informative article directly to the entire group from a 3rd party site.
Here is a screenshot Facebook shared today showcasing the new Send feature: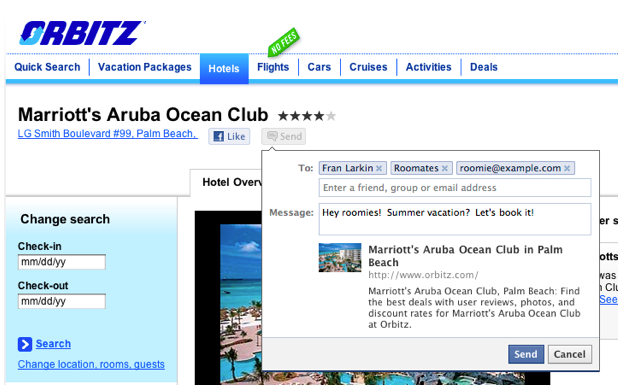 What do you think of this new feature? I'd love your feedback – leave me a comment below!
Written by: Katie Lance, Social Media Director, Inman News, @katielance