If you are a real estate agent or broker, have you ever wondered how you can back up all the data that you put onto Facebook, Twitter, and your blog? There are tons of quick and easy ways to back up your social media data.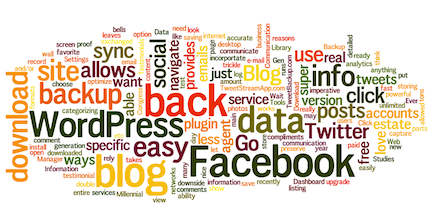 First of all….why backup your data? You may be asking why you'd want to back up your data. As a real estate agent, there are three reasons I would back up my social media data:
To preserve communication exchanged with clients. It is imperative that a real estate agent be able to have an accurate communication record, and in this day and age, that means more than just saving emails. Studies show that the Gen Y and the Millennial generation use email less and less and rely even more on their social networks to communicate.
To preserve testimonials or compliments received about your service or business. Once someone leaves you a nice comment or testimonial on your page – it can disappear pretty fast, as new comments and posts trickle in. But, by having a back up of your Facebook and Tweets, you can easily screen capture those posts and incorportate them into your listing presentation and/or add them to blog or Web site. This "social proof" is very powerful!
To preserve all your data "just in case." You never know what could happen to Facebook, Twitter or your blog. By backing up your accounts on a fairly regular basis you are less likely to lose any important info that keeps your business running.
Here are 3 simple steps to backup your social media data:
STEP ONE – Facebook : Facebook recently allowed all users the ability to download all of their content – the info on their wall, photos, videos etc. This is how you do it: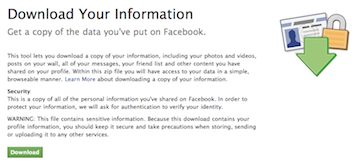 Go to Facebook and log in
Go to Account Settings
Click on "Download Your Information" and allow Facebook to download your info
Wait for an e-mail that will let you know your info is ready
Go through the security test that allows you to download your info onto your desktop
Once it's downloaded, double click it to unzip. From there you can open it and view all your information.
STEP 2 – Twitter : There are many ways to back up your tweets – even the Library of Congress is categorizing and storing tweets. So how can you store yours?
Here are my two favorite services:
TweetStreamApp.com: This site has a free version which allows you to sync up to 3 Twitter accounts and provides detailed analytics, or you upgrade to the paid version which allows an unlimited amount of accounts for only $5 a year! The only downside is I found it takes quite a while to sync your data, but I really love the look of the site – easy to navigate
TweetBackup.com: This site is free and super easy to use. No bells and whistles but I think it is super easy to navigate and I love being able to sync and save specific hashtags.
STEP 3 – Your Blog:
WordPress Blog: If you have a WordPress blog, download the plugin WP-DB Manager, this plugin gives you the option to optimize, backup and restore your entire database. If you want to just backup specific parts of your WordPress blog, in your Dashboard, click 'Tools,' then click 'Export' and you can then choose which posts you'd like to backup
Non WordPress Blog: If you don't have a WordPress blog you can use BlogBackupr.com. This service works for all other blog formats, provides a daily backup, runs over the internet, and there is no need to install anything!
So now that you have the tools, I highly recommend before the month is over to go backup your data. Start the new year right!
I'd love your comments or feedback on this subject, please leave me a comment below!
Written by: Katie Lance, Senior Marketing Manager, Inman News @katielance