Guest Blogger Stephen Pacinelli has delivered presentations to thousands of REALTORS® on the benefits of sales automation, social media, blogging and online marketing. Stephen's strategies come first hand from some of the best Realtors around the country. Steve co-founded Tech Savvy Agent and helped build it from the ground up to provide the best technology and marketing information to REALTORS® seeking the latest strategies and tools.
Let's face it, Google pretty much runs the Internet.  It dictates where we go and what we see.  So if I want to play nice with anybody, guess who it's going to be….Google.
There are 4 indispensable tools that I feel everyone should be implementing in their current business.   These tools are easy to get, and free, simply by going to google.com and signing up for an account on the upper right hand side of the page.  We're going to start with the most basic, being your profile and touch upon some more advanced tools like, the Keyword Tool, Google Alerts and Analytics.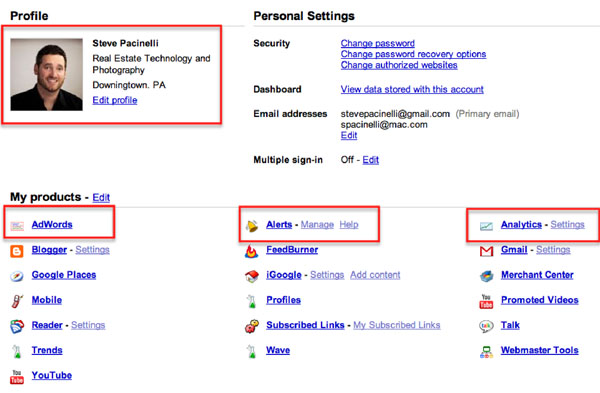 1. Google Profile
We can't control what appears on the first page of Google, right?  Wouldn't it be great to at least know that a hand-typed profile and a nice looking bio created by you, would be guaranteed to appear on the first page?  Well, guess what?  We can do that by simply filling out your Google profile.


After getting your Google account, go to Google.com and click on Google Account Settings.  You will see an empty profile screen on the upper left hand side.  This is where you want to add some information, such as a short bio or other variations of your name.  The information entered onto this screen is guaranteed to show up on the first page of Google (on the bottom) when someone searches for your name.
2. Google Alerts
The next important tool I would recommend is Google Alerts.  The Internet is a wide open space for anyone to say anything.  Do you know what people are saying about you?  You spend a lot of time making sure your reputation is secure off-line.  How about on-line?   Under the Google Account Settings screen, look for the small yellow bell and click on the Alerts link.  Key in your name here but be sure to put it in quotes as shown below, to lock your first name in with your last.  Otherwise, in my case I would get notified of all "Steve's" or all "Pacinelli's".  Answer the next few questions and Google is now set up to send you an alert the second it finds any reference to your name on the Internet.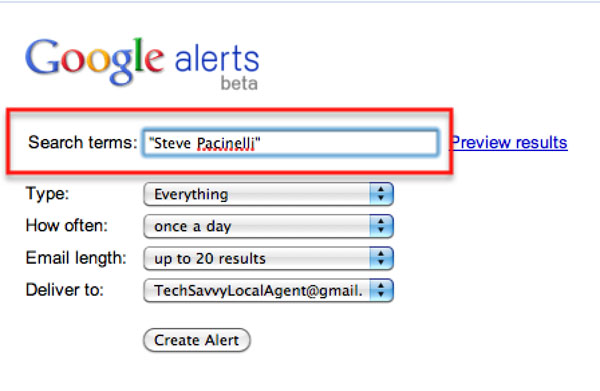 3. Google Analytics
Everyone has a website these days.  But it seems as if only a small amount of agents are truly harnessing the power of their on-line presence.  To do this, you need to have an understanding of your consumer and know what they liked most as well as what they didn't like or did not find beneficial from your website.  Google Analytics to the rescue!  This tool will compile and save data about your visitors on your site including location, time spent, pages visited, their entry page and exit page as well as a myriad of other statistics that will give you better insight to cater towards their needs.  Google Analytics will work on almost any website and most reputable website providers will have a custom box to enter in the code that Google supplies.  Simply find the Google Analytics button under the same Google Account Settings screen I referenced earlier.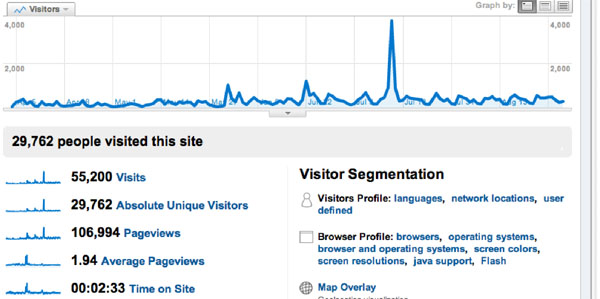 4. Google Keyword Tool
In this blog post, we definitely saved the best for last.  Knowing what your target audience is searching for on the internet can give you a competitive advantage in trying to meet the needs of this fickle group.  Since Google knows where everyone is going, it keeps detailed information about what people are searching for on the Internet.  This fantastic feature is the Google Keyword Tool.  Any tech savvy agent that is looking for a good domain name, has a website or enjoys blogging will find this tool invaluable.  The easiest way to take advantage of this free tool, is to Google "Google Keyword Tool".  The first entry to pop up is what you are looking for.  Type a phrase into the space and instantly see the amount of searches completed for that phrase.   This is a component that has limitless use, since knowledge is power in understanding consumer behavior in the real estate industry.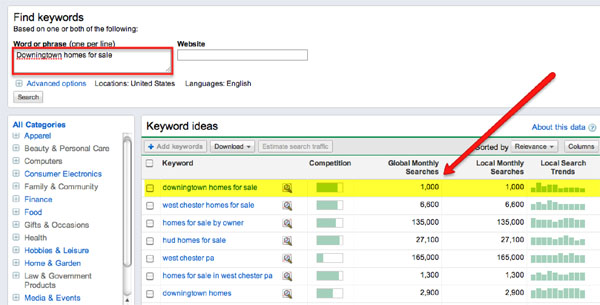 I hope you find these four tools as useful as we all do at Tech Savvy Agent. What are some other free tools are you using in your business?