REALTORS® – did you receive an iPad under the Christmas tree this year? If so, here is your quick-start guide to setting it up!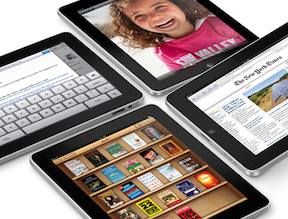 1. Remove from the box and remove the clear plastic cover. :)
2. Plug it into your computer to sync it up. When iTunes launches, you'll be asked to activate the iPad, agree to its Terms and Conditions, and register your device. If you have never had an iTunes account, you will be prompted to set one up. You will need to provide your credit card information. This is the card that will be used when you purchase anything from the iTunes store like apps, music, videos and movies. You'll also need to come up with a username and password. Take my advice and write that down somewhere so you don't forget! If you already have an iTunes account, you will be prompted to add your iPad to your account. One of the best things about Apple is how untuitive their set-up process is. But, if you need assistance, you can go to apple.com and use their live chat feature or view any one of their video tutorials.
iTunes will serve as your iPad's "backup system." If you already have an iPhone or iPod, I recommend that you start fresh and do not automatically sync everything from your iPhone or iPod to your iPad. Why? Not everything is compatible and it will take a lot of time!
Next, you can choose to automatically sync applications, photos, music and videos or customizing your options.
You can also skip the iTunes process temporarily if your iPad was activated at the Apple Store.
To set up your email, click on the General Settings app button on your iPad, enter your login information, and you're ready to go.
3. Now the fun part – let's download some apps!
Apps are already segmented between "universal" apps (that work for iPhone, iPod Touch, and iPad) and apps that are designed specifically for the iPhone. So you can sync all of the universal apps you already have, and then either track down the iPad equivalents of the iPhone apps you love.
4. What apps should you download right away? Here are just a few of my favorite for REALTORS®:
Flipboard (Free) – Overwhelmed by the amount of content streaming through your Facebook, Twitter and RSS streams? Turn your social media and RSS feeds into an easy to read magazine.
Friendly Plus for Facebook ($.99) – Until Facebook creates it's own app, this is the next best thing. I also love how easily you can switch between accounts if you have more than one person sharing your iPad. This is great if you are part of an agent team and sharing one iPad – you can all easily flip back and forth on your Facebook accounts.
Keynote ($9.99) This app is gorgeous! If you are creating presentations, this is a must-have. As a real estate agent, I would use this all the time with clients, especially listing presentations. You can create animated charts and transitions and so much more.
Numbers ($9.99) This is the best spreadsheet app hands down. If you live in Excel, then you will love the abilities of Numbers. Plus, it's just a fantastic app for organizing data. Completely redesigned for the iPad – this one is a must-have for every real estate agent or broker,
Pages ($9.99) The perfect word processing app out there. Create letters, documents, PDF's and so much more. Another must-have for the mobile real estate agent.
…there are SO many more great iPad apps for real estate professionals – check back often for more blog posts about this very subject!
5. Purchase a case for your iPad. Your iPad will get banged and bruised very quickly without getting a proper case. Do a quick google search and there are millions of options or search right from the Apple store.
Am I missing anything? Feel free to chime in with your tips and feedback – leave me a comment below! Stay tuned – we are planning on many more iPad blog posts for 2011.
The iPad has truly changed the technology industry – and for REALTORS®, the possibilities are endless!
Written by: Katie Lance, Senior Marketing Manager, Inman News @katielance