Guest post by Veneeta Eason, Director, Worldwide Marketing Manager – Real Estate for Kodak.
If pictures are worth a thousand words, can you imagine how much a video is worth?  People are watching over 2 billion videos a day on YouTube.  Video creates a more personal connection, and if nothing else, that's what Real Estate professionals do every day.   Video has the ability to increase your business, build better relationships, and amplify your credibility.  With today's technology, it is easier than ever to capture great video.
Here are five easy ways to integrate video into your marketing efforts:
1.    Cover a Local Event. This is a powerful way to position yourself as an authority within your community.  The one who holds the microphone will naturally be perceived as the expert.  Examples of events are a parade, picnic celebration or school fundraiser.  Interview neighbors, dignitaries, teachers and students (with parent permission, of course).  There is an emotional connection to these types of events and what better place for you to be than in the midst of that positive connection.
2.    Interview Local Vendors. This is a low-hanging fruit opportunity to become the dominant video source for your area.  People in the community are looking for information on businesses within their community.  Restaurants, repair services, child-care facilities and dry cleaners are just a few examples.  Focus the interview on why the proprietor loves serving the community.  Be creative.  Offer an "Interview Corner" and feature one per week.   As viewers find these videos, they will find you too!   Here is a sample shot by our real estate group using a simple pocket video camera.

3.    Make a Video Testimonial. What sells you better than having real clients raving about how invaluable you were in the process of buying or selling a home?  At the closing, set your camera up on a tabletop tripod and simply ask the client to talk about their experience working with you.  Make it informal and have 3 or 4 questions prepared where they can offer up 20 second answers. These testimonials can be posted on your YouTube channel, your Facebook page, LinkedIn, and even mentioned in Twitter.

4.    Capture Home Tour Vignettes for Buyers. How often have you shown multiple homes to a buyer and they can't distinguish one home from another or even remember what they saw?  Now you have to schlep them back to the same homes again.  As you walk through the homes, shoot quick videos of each home…what the buyer liked or didn't like.  When you send the video to the buyer, they will inevitably share with friends and family…voila, viral marketing for you.

5.    Become the Go-To Expert for Real Estate. You can provide information on market trends, short sale and foreclosure tips or interview an expert (i.e. lenders, title professionals, home inspectors).   For example, you can interview a home inspector highlighting what things to look for before buying a home.  Create an editorial calendar of the content you would like to provide, identify who you will team up with (if necessary) and ask them to participate.
Creating video has never been easier.  To get started: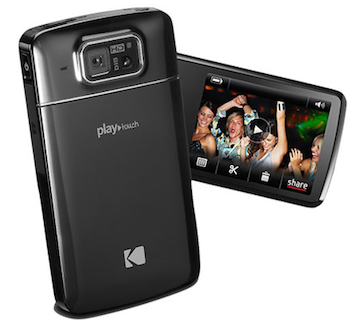 Get a great pocket video camera like the new KODAK PLAYTOUCH Video Camera. The KODAK PLAYTOUCH offers an external microphone jack, which will give you excellent sound quality. This is a "must have" feature for agent marketing videos.
Shoot the video in 720p or 1080p High Definition. Use a tripod as it steadies the video and will allow you to have a natural stance behind the camera and frees up your hands to be in front of the camera.
Easily edit your video using your camera's on-screen editing features or import your video into video editing software. Some easy-to-use packages are Windows Movie Maker and iMovie.
Post it on YouTube, and get a share icon to embed on your website and within your signature on your email.
Tag all your videos properly. Use keywords that will help them get found on searches, and include the city names of the areas that you are marketing in.  A great free tool is YouTube's Keywords Tool. Use it to research the most commonly used terms for your area.
Above all, remember to have fun. Sometimes we forget that behind every great agent and broker is an individual with family and friends.  You may not be able to generate business with the video you capture of those family and friends, but isn't that what life is all about?
Don't forget to have fun and keep your video camera handy for all of life's incredible Kodak Moments.
To receive 20% off the KODAK PLAYTOUCH Video Camera, visit www.kodak.com/go/redeal.
(Note to our readers: I was able to "play" with a KODAK PLAYTOUCH camera at Agent Reboot and Real Estate Connect NYC and it was a blast! It was super easy to use and I was able to get some great impromptu videos. Thanks Kodak! – Katie Lance, Senior Marketing Manager, Inman News @katielance)