Kori Covrigaru is a young entrepreneur, currently CEO of PlanOmatic, an online real estate marketing company providing interactive home tours. Kori grew up in Michigan, went to school and Western Michigan University, and currently lives in Colorado, enjoying the mountains in all seasons.
If you can relate to one of the situations listed below, then "RockMelt – Your Browser. Re-Imagined." is definitely for you. On the other hand, perhaps what I meant to say is exactly the opposite. If you can relate to any of these situations, download Google Chrome J… I guess that's for you to decide.
You consider yourself to be a "Social Media Guru".
You spend most of your time on the web surfing through facebook, updating your status and posting new tweets.
Every other click on your computer takes you from one social networking site to another.
You've closed your browser window, only to find yourself opening a new one and subconsciously going directly back to the same social media site you just left (yes, it happens to the best of us).
You've just finished a two-hour couch session with your laptop, and find yourself browsing through facebook and twitter in bed with your smartphone, only to read the same exact posts you read five minutes ago.
RockMelt, available for both Windows and Mac, is a remarkable social networking, news feed and content contributing platform built directly into a desktop web browser. It incorporates facebook, twitter, RSS feeds, sharing solutions and much more while maintaining a clean, easy to navigate user interface. See a snapshot below.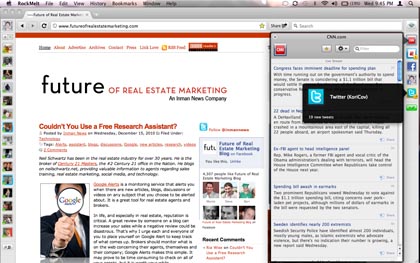 I have RockMelt installed on my Mac, but is RockMelt for me? Probably not.  Without the help of RockMelt, I find myself plenty distracted by news and social networking sites throughout the day as it is. Perhaps if social media is your business, I can see how RockMelt might be right for you.  However, for those of us who don't use social media to earn a living, I think we'll pass.  Isn't social networking easy enough to come across in a standard web browser?  Do we really need facebook, twitter and RSS feeds hovering on the outskirts of our window as we type in a simple search for directions to the closest convenience store?  I think I'll stick to my bookmarks for now.