There are a ton of Twitter 3rd party applications that will track your tweets, your followers, your retweets, and more. As a social media director, I use a number of different tools to monitor our social presence and to track our analytics. One thing I have found is that some social media tracking products are too complicated for the average user diving into social media. Especially if you are a real estate professional who is trying to get a handle on your ROI and learn about what does and doesn't work in social media
If it's too complicated you won't use it. I am a big fan of KISS – "Keep it Simple Stupid!" :)
One of my favorite products I use is Twitter Counter.
Ther best part of Twitter Counter is the quick and simple email I receive once a week: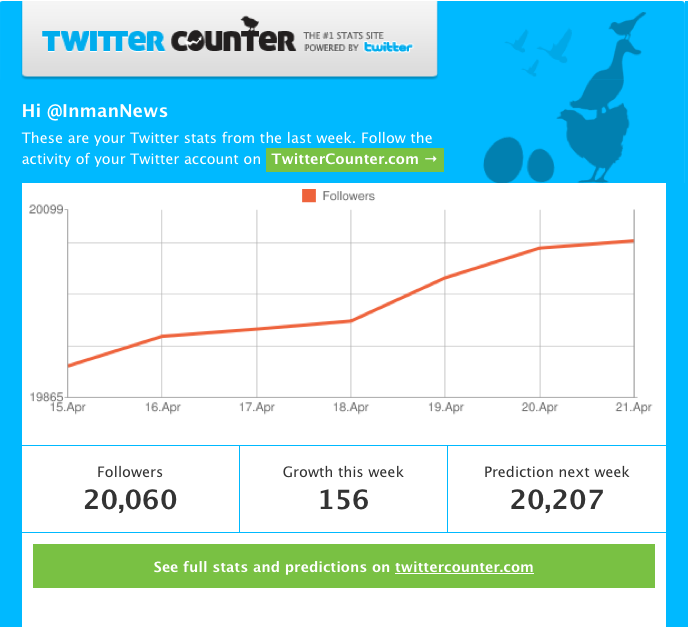 The chart very simply show how many followers you have and how many you are predicted to have based on past performance. Once you log onto Twitter Counter there are other free charts to view and then if you'd like you can upgrade to a paid account. For me, this snapshot delivered right to my inbox gives me a quick view of where we are at on Twitter, and where we are predicted to be next week (in terms of followers). For me, this service is like a quick "check-in" to make sure I am on track to hit my goals.
Have you used this service? Do you use another Twitter analytics platform that you love? Please share and leave me a comment below!
Written by: Katie Lance, Social Media Director, Inman News, @katielance