For the past five years I have written a blog post that compiles information on all of the local area Independence Day fireworks shows.
And for the past five years, July 4th has been my single highest traffic day of the year.
Take a peek at the traffic to this year's Fourth of July festivities post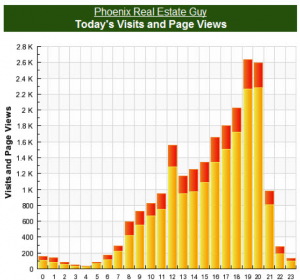 Add that up, and you get almost 18,000 visitors. That's a weeks worth of traffic in one day. At one point around 7:30pm on the Fourth, there were 389 people on the blog at the same time. Sure, those aren't mega-site numbers, but they're not-so-shabby for a real estate site.
Whenever I talk about the traffic a post on something like local fireworks shows can bring, inevitably someone will say, "So what? How many of those people are buying or selling a home?"
The answer is probably none; at least at that moment in time.
But who is to say that some of these visitors won't bookmark the site. Or subscribe via email or RSS. Or visit other pages. Or tell their friends about this amazing new site they found that is chock-full of information on real estate and local events?
It's not all about selling a home, folks. Generating prospects via the internet is a numbers game and as such, getting traffic does make a difference. Being known as a go-to spot for local information does make a difference. Today's visitor looking for fireworks information may well be tomorrow's home search registration.
Some Tips for Optimizing Local Information Articles
Write a headline that people are likely to search for.  I titled mine, July 4th Fireworks in Phoenix, the 2011 Edition. More thought than you may think went into tha
t. Using Google's Keyword Tool for AdWords, I researched potential keywords and noted more searches are conducted using 4th as opposed to Fourth (though I also intentionally spelled out "Fourth" in the post to help capture those who spell it out). More people use "July 4th" or "4th of July" than "Independence Day" (though you'll note "Independence Day" is included in the body of the post as well — that isn't accidental). Your article title is a key component in Search Engine Optimization (SEO), which helps your content rank better in search engines.
Post early. I see many people waiting until July 3, or even the morning of July 4 to publish their fireworks posts. That's way too late. I published this year's edition on June 27 one week prior to the big day. This gives Google time to find and index your article, and gives those who don't wait until the last minute to plan the opportunity to find your article. My traffic on July 4 was up about 600% over a normal day. July 3rd traffic was more than double normal and for the seven-day period from when this article was published, it was viewed over 45,000 times. That never would have happened if I'd waited until the 3rd or 4th to publish it.
Edit previous year's editions. This is critical, and a point I see many people missing. Once you publish a post like this, go back to all your posts in previous years and right at the top of those articles write something like, IMPORTANT! Click here if you are looking for Phoenix fireworks shows for 2011, and link to your current post. Why? Because those older posts will still be in Google, and people will find them. This year, over 13,000 people first landed on my 2010 fireworks post. There is no point in frustrating them by providing them out-of-date information. Keep them on your site and give them what they want. And no, don't just delete the old posts. They help drive people to your site. Let them continue doing that.
Don't worry about providing ALL the information. Posts like these can take a long time to research and compile. You don't need to provide every little detail of the specific events. Link out to the sites with all the minutia. You want to provide a general resource, a landing page so to speak. I provide the name of the event (these names tend to have juicy keywords), the location, the time and the admission. If someone wants more detail, they can click through to the specific event site.
Include a disclaimer. Until three years ago, I never thought about including any sort of disclaimer in posts like this. Then I got "the call." A very irate woman phoned me the morning of July 5th because she went to a venue to see fireworks and the show had been cancelled. She blamed me for ruining her kids' Independence Day. While it seems stunningly obvious that I am not the fireworks show producer and that I've done nothing but compile information from various sources, the obvious escapes many people. So now I put it in print. Sure, no one will read the disclaimer, and they may still blame you, but at least this way you can point to the disclaimer and be done with them.
Suggestions for other related posts

Fireworks in July aren't the only opportunity for articles like this. Write about events that a lot of people will be attending, or where there are multiple options for folks. New Year's Eve festivities posts are consistently my second-highest traffic weeks. The week the Superbowl was being played in Phoenix was insane. Halloween is a biggie. If your area has things like concerts in the park, street festivals,  farmer's markets, flea markets, theater events — whatever may attract a crowd or make people seek information are all great events to cover.
You don't have to be a journalist breaking news stories. Face it, you aren't a journalist, you're a real estate agent. Odds are pretty good that if you look for it, someone else that does write news for a living has already done a lot of the leg work. You just need to compile the various bits and pieces and re-publish it. (And for the love of fluffy bunnies, DO NOT simply copy/paste said journalists' work. That would be a copyright violation — perhaps a topic for a future article here).
Think you'll forget to write this post? Go to your calendar, and add "write July 4 fireworks post" on June 27, 2012. Do it. Now.
While articles like this can be tedious to write, the payoff in traffic can be huge. The real payoff though is providing a service to your community, and adding content to your site that helps establish you as a neighborhood resource. Even if single posts like these don't lead directly toward gaining a prospect or sale, that "neighborhood resource" label will lead to both at some point.