Listen. Adapt. React.
I am excited to announce that there are some major changes happening at Inman News.
The feedback that I have gotten the most since it was announced that I was joining Inman as Chief Evangelist back in June is that our content is great, but within 24 hours of the content being published it becomes available to members only.
The challenge with a structure like that in a world of Tweets, status updates and blogs is that it cripples your ability to have your content shared and linked to.
For example. We write a great piece, you want to share it with your clients or fellow agents, you email/socially distribute the link, when they click it provides a short excerpt and then asks them to become a member to read the full piece.
That is not the way the web works.
We heard you loud and clear and so effective immediately we have a new model.
If content is public and free on our site it will ALWAYS be public and free.
The timer is gone!
We have gone a step further and built a really neat and simple to use tool called REMessenger as to make any of our public content as easy to distribute as possible.
It will be a benefit of all memberships including our free option.
Below is a video I did fully explaining how REMessenger works.
[php function=1]
As for our paid membership options there are also some great changes to announce.
The cost of our premium membership in the past was $149 a year.
We now have 2 levels of paid membership in addition to our free member account, all three of which are pictured below.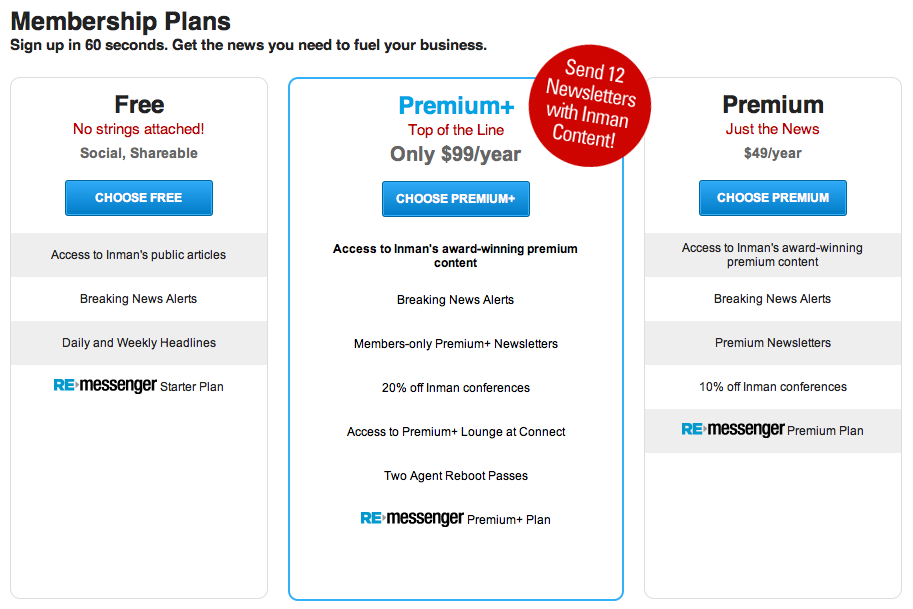 As you may have noticed our most expensive option is now $99 a year which breaks down to $8.25 a month.
It not only includes access to all of our award winning Premium member only content, but ALSO includes 2 free passes to Agent Reboot and 20% off Real Estate Connect.
The dollar value in that alone is almost triple the price of the membership!
As a paid member you will also receive additional access and usage of REMessenger, as well as a member only newsletter filled will super rich content that will include in depth reports, case studies, white papers and much more.
I am proud to be a part of an organization that is rapidly evolving and adapting based on user feedback.
To get started with your new Inman account click here.
I would really appreciate you helping us spread the word on Twitter about the exciting changes at Inman News!
Note to existing Inman premium members:
As an existing premium member of our site, you will be automatically upgraded to our new PremiumPlus membership, and will receive an extra six months of membership at no cost.