Note: I've asked several people to share their thoughts and experiences about what Real Estate Connect has meant to them with our FOREM readers. Look for these special "Connect Stories" here on FOREM leading up to Real Estate Connect San Francisco, July 27-29, 2011. Our sixth Connect guest post is from our friend Chris Nichols, 2011 President, Utah County Association of REALTORS® (@utahREpro on Twitter). Thank you Chris! – Katie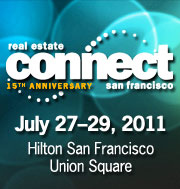 @InmanConnect #ICSF
In my life prior to real estate I was in sporting goods retail. It was always drilled into our head the 3 P's of Marketing – Product, Price, and Promotion. If you had a good product, priced well, and promoted properly, you'd have success! Well, Inman News has found success with their own 3 P's for Inman Connect San Francisco – PROGRAM, PEOPLE, and PLACE!
PROGRAM
I attend many real estate conferences throughout the year, and I can say without a doubt that Inman Connect is the one that I look forward to most. It's due in large part to the phenomenal program that they put together year in and year out. This year is no exception as they have lined up an incredible group of speakers. Some of the highlights this year for me will be: Brian Solis, author of "Engage!"; David Pogue, personal technology columnist at the New York Times and Ryan Holmes, CEO of HootSuite.
But it doesn't just end there with the headliners! Inman has lined up an amazing supporting cast of breakout session facilitators. Trust me when I tell you that you will struggle to decide which sessions to attend! This is where it's good to have some friends to divide and conquer and then share notes… or you could also keep on eye on the live Twitter stream (#ICSF) to catch anything you might have missed!
PEOPLE
While a great program is just one ingredient for a successful conference, the attendees are quite possibly even more important! Inman Connect has a proven track record of attract the highest quality people to attend their conference. This will be three days you will never forget, as you rub shoulders with some of the greatest people in the real estate industry. Friendships will be forged, ideas will be shared, and opportunities will abound to network and truly CONNECT like you never have before.
Already on Twitter with the #ICSF hashtag – conversations are happening, plans being laid, and new friendship are being created! I already have a list of amazing people I am looking forward to meeting and interacting with, whom I have never met before. If you don't leave Inman Connect with a new group of friends from all over the country, you are missing out!
PLACE
San Francisco! Do I really need to say more? One of my favorite cities, and not just because I was born there! Opportunities abound as you meet with your new CONNECTions in the various restaurants, cafes, and historical sites that surround this wonderful venue that Inman calls home. So grab a new friend, hop on a trolley and go experience something new.
One more "P" for the road – PREMIUM!
In closing I have to share one more great thing with you about Inman Connect. As I mentioned earlier, I attend A LOT of conferences! As I leave each conference, I find I am lucky to have a handful of good ideas to implement in my business. At Inman Connect I find I am overwhelmed with great ideas!
Be sure to get a premium membership to Inman News as part of your premium registration. You'll find it easier to keep track and implement all of those great ideas when you get home as it includes video archives of Inman Connect sessions! Plus it's a year's worth of incredible content that will remind you why Inman Connect San Francisco was one of the best investments you ever made in your business!
I look forward to seeing you at Inman Connect!
(Here is a video Chris filmed about Real Estate Connect)
Do you have a Connect Story you'd like to share? Did coming to Connect profoundly change you, your outlook, your team or your business? All of the above? If so, I want to hear from you and possibly feature you here on FOREM. Leave me a comment below or email me katie (at) inman (dot) com.
Join the Connect conversation on Facebook and Twitter (#ICSF)
Katie Lance, Social Media Director, Inman News, @katielance