I've had a few days to de-compress from Real Estate Connect SF – what a fantastic event! After looking through my notebook, I wanted to share with FOREM fans one of my favorite sessions.
Designing Great Experiences – Kevin Hoffman, User Experience Director, HappyCog, @kevinmhoffman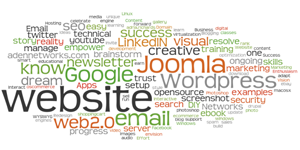 This session was the first session in the Digital Marketing Workshop at Connect. I wasn't sure what to expect, but this was one of the most informative sessions during the show!
During the presentation, Kevin showed a variety of screen shots of websites from different industries. He showed some great examples of what works and what is confusing to the consumer. Happy Cog mantra is this:
"Happy Cog delivers beautiful websites that never lose sight of the human being using them."
I love this. So many times in real estate we get caught up in terms and phrases that we know and understand but forget to take a step back to think of someone looking at the site for the 1st time.
One of the things I really enjoyed about Kevin's presentation was that he is not in the real estate industry. He brought some really fresh insights on why website fail or don't convert like they should. I thought he was very well prepared, easy to listen to, and had some fantastic points!
Kevin suggests asking yourself several questions when you put your site together. He says,
"Great user experiences are easy when you ask the right questions!"
Does your site answer the questions:
What can I do for you?
Who are you?
What does your audience want to do when they get to your site?
Is your site as easy as it should be?
Can I trust you?
Here are some great takeaways I took from his presentation:
You don't need to put 'click here' on a website – they know to click, they are ONLINE! :)
Is their consistency in your website (i.e. verbiage, fonts, style)?
Don't use different words that mean the same to you but are confusing to a user of our site (i.e. 'log in,' 'sign up,' 'premium homes,' 'fine homes') – this was my 'a-ha' moment. How many times have you looked at a real estate site and have seen things called a variety of names? What is a fine home? A premium home? What is a map search versus a home finder? Things that make total sense to us – may not make sense to the average consumer.
If you have comments enabled in your site – make sure you have comments! Comments = social proof. This is one of the reasons Digg is so successful!
Your site should move someone from being a stranger to engaging in your business.
You can view Kevin's presentation slides here >>
Kevin's video (along with all conference videos) will be available soon to Inman Premium Members. Sign up now for only $99 and get a 1 year Inman Premium Membership which includes ALL post-conference video.
Would love your comments and feedback – leave me a comment below!
Written by: Katie Lance, Marketing Manager, Inman News