Yesterday, I completed my first Inman News webinar with the collaboration of our gracious sponsor The GoodLife Team.  The webinar was all about creating your own Mobile Evolution in your business, and I discussed that from your online presence, social media presence, and your business systems, mobile is affecting the lifestyle and ecosystem of the real estate industry. Multi-media content, delivered and consumed through multi-devices is just part of how we communicate, work, socialize, and shop, often all at one time.
Responsive websites: the front end of a mobile real estate business
As a WordPress girl, I have been building websites for a few years, and about a year ago was turned on to responsive web design by the OC WordPress Meet Up Group, sponsored by Jeff Turner and Steve Zehngut at Zeek Interactive , and a light bulb went off. WordPress themes structured to adapt to the screen size of the viewers device, iPhone, iPad, Tablet, while they are viewing it. It happens automatically. I quickly went to work to find themes that I could try to build my first responsive websites with, and there weren't many. It was still too new. It still is new. But it's taking off, and the real estate industry is poised to be front and center in this exciting new technology.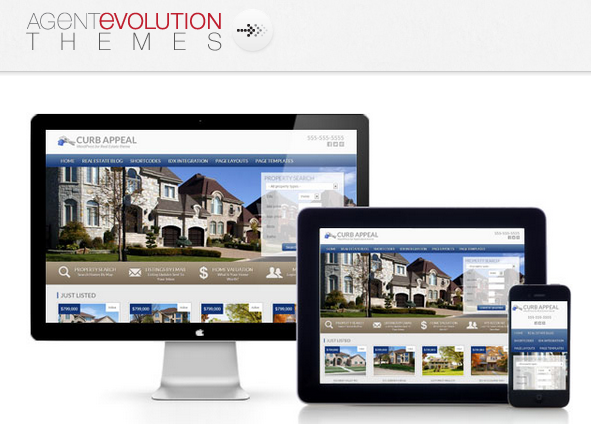 Enter Agent Evolution.  After building more than 1,100 custom and semi-custom WordPress websites for real estate agents and brokerages over the last 5 years, Agent Evolution launches a WordPress theme shop, just for real estate. Two brand new affordable WordPress themes, 100 percent responsive.
"Curb Appeal and Turn Key are the direct effect of understanding our most innovative client needs, as well as our extensive knowledge and experience with WordPress." – says Co-founder and Chief Creative Officer, Nicole Nicolay, also known as @nik_nik.
Agent Evolution continues to provide WordPress customization while also planning to launch more themes in the coming months. To learn more about WordPress for real estate, visit AgentEvolution.com to sign up for weekly WordPress tips and download their free ebook. Hot tip for InmanNext readers: Agent Evolution is offering a special launch coupon code "evothemes20″ that takes $20 off either theme at the time of purchase. I think this is one of the best investments you can make in technology for 2013. 
I'm extremely happy that Nicole will be speaking more about WordPress websites, and how to take them from "Static to Standout" at this year's Agent Reboot in New York City next week. I'm looking forward to having some off stage time for geeky girlfriend WordPress talk as well.
I hope that you make it to Agent Reboot in NYC, but if not, you can bet this is not the last conversation we'll be having on responsive! If you have any questions or comments, I would love you to share and I will respond!
P.S. The Mobile Essentials Webinar slides and recording will be available very soon!! I'll let you know.