Millions of people upload their photos to Facebook everyday. For most of us, Facebook is the first place we upload our photos of our family and friends. Why? Because it's easy, quick, and that's where all of ourfriends are!
Just announced yesterday, Facebook said it will soon enable facial-recognition technology. It'll start rolling out to about 5 percent of Facebook's U.S. users next week. When Facebook members upload photographs and are encouraged to "tag" their friends, they will be able to choose from a list of suggestions.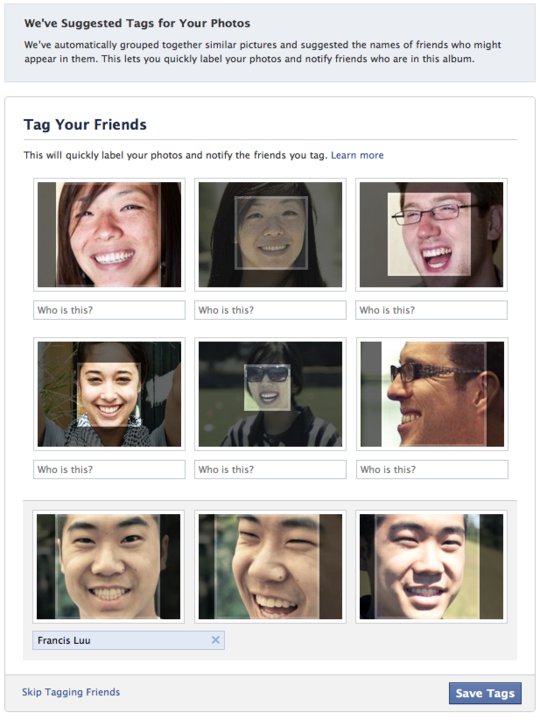 According to Facebook there are now 100 million photo uploads per day, and 100 million "tags" each day as well.
"Every day, people add more than 100 million tags to photos on Facebook. They do it because it's an easy way to share photos and memories. Unlike photos that get forgotten in a camera or an unshared album, tagged photos help you and your friends relive everything from that life-altering skydiving trip to a birthday dinner where the laughter never stopped. Tags make photos one of the most popular features on Facebook."

"Because photos are such an important part of Facebook, we want to be sure you know exactly how tag suggestions work: When you or a friend upload new photos, we use face recognition software—similar to that found in many photo editing tools—to match your new photos to other photos you're tagged in. We group similar photos together and, whenever possible, suggest the name of the friend in the photos." – Facebook Blog
Also, earlier this year Facebook announced it will roll out the ability to group tag photos (versus tag the same person 50 times in one album!)
I'm excited to see the roll-out of this new technology – it's just one more way Facebook is setting the bar higher and always improving upon what they have developed.
One thing I really hope to see in 2011 is the ability for a page admin to tag photos of people who like the page, not just tag their friends. We'll see if that happens – but for now, the new face recognition seems to be an exciting update to Facebook's #1 service – Facebook Photos.
I'd love your thoughts on this, leave me a comment below!
Written by: Katie Lance, Senior Marketing Manager, Inman News @katielance