There are tons of great little tips and tricks to making the most of your Facebook page. Throughout the next couple weeks I will be sharing quick and easy tips that you may or may not know about to enhance your Facebook page.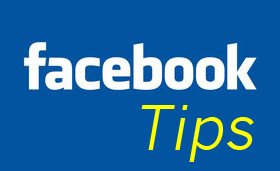 One of my favorite tricks that surprisingly a lot of people don't know about is the ability to send custom status updates on your Facebook page. This is an awesome opportunity for a real estate agent. You can send a custom status update to the people who like your page. (Note, I am not talking about your personal profile, I am referring to your business Facebook page.) You can customize your updates based on country, state, city, and language.
For a real estate agent, it is a great opportunity to send a custom update to a specific city – like an event, a listing, a specific neighborhood update, etc. Also, if you are working with multilingual clients, you can customize your posts into different languages.
Here are 2 screen shots that show you how easy this is:
Step 1: Go to your page (facebook.com/pages) and click on your page. Type your custom status update. Click the arrow underneath the status update box and click "customize"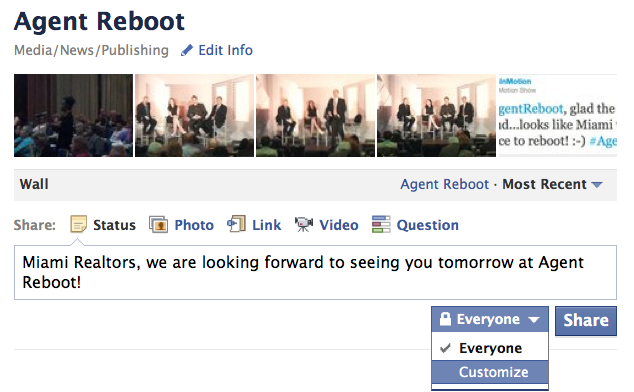 Step 2: Once you click 'customize,' this box will pop up where you can choose you country, state, city, and language. You can even choose multiple cities if you'd like.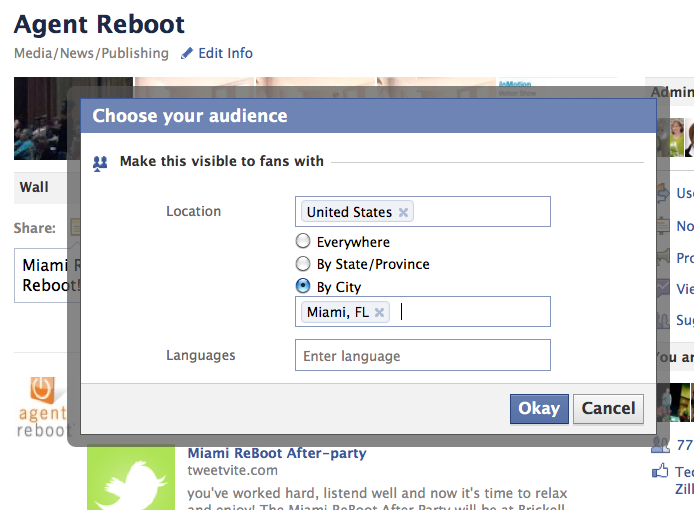 Once you click "Okay" then your status update will go live. You will see it on your page BUT the people who like your page who are not part of your custom filter will not see it. So you could literally post 5 similar updates but edit them to be custom for a specific city. You will see all five updates on your page, but the people who like your page will only see the updates that pertain to them.
This is a quick and easy opportunity to post custom updates which usually results in higher engagement from your audience.
Have you done this with your page or is this news to you? I'd love your feedback, leave me a comment below!
Written by: Katie Lance, Social Media Director, Inman News, @katielance