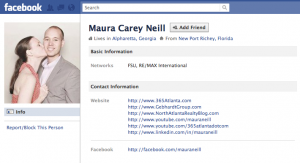 Whenever I speak about social media in general and Facebook in particular — whether it's at a national conference or a local chamber of commerce — I generally encounter two camps of people: those who set a lot of store by social media and those who don't. Those who believe that Facebook is the business and lead-generation marvel they've been looking for and those who wouldn't touch it with a 10-foot pole. Those who don't understand why they're not getting any business from using social media and those who don't understand why they're not getting any business from not using social media.
Both camps have valid points: on the one hand, there's the argument that the majority of people begin their home search and search for a REALTOR® on the Internet and that technology is the way to reach those people; on the other hand, the argument that social media isn't, well, social enough, that it's too impersonal, and not inclusive enough to reach all of our clients and potential clients.
Which camp do you relate to? Hopefully neither. But just in case you need a little dose of moderation, consider moving a little closer to the middle ground. It's not as common to meet people in the middle: the ones who have learned that social media isn't the end-all, be-all, not the miracle cure for business, but it also isn't the big bad, to be avoided at all costs.
Here's how I see it: moderation is good in almost everything: bacon, chocolate, vodka gimlets, social media. They can be a part of your life — and a good part of your life (trust me, especially about the bacon and chocolate parts — I know!) — but they shouldn't make up your entire diet. So here are a few tips for incorporating social media, specifically Facebook, into your business "diet" without giving up the face-to-face.
1. Make a plan. You have a business plan, right? You have a list (either written down or in your head) of daily and weekly activities that help to keep your business moving, correct? Is social media on that list? It probably should be. Incorporating your online efforts into your business plan will help you in a couple of ways:
It will help you to be consistent. Consistency is key with any aspect of your business. What helps to keep you consistent? Is it making a list and crossing off items each day, or is it doing the same thing at the same time every day? For me, it's logging onto Facebook daily (and yes, some days I don't make it there, whether I'm out showing homes, spending a day with my family, or bogged down in more vital aspects of my business).  For the most part, however, I am on daily – posting a witty status update, commenting on others' status, finding out what people are up to. For me, it's usually first thing in the morning, while I'm having my coffee, again around lunchtime, in the evening while I'm watching television. It's a normal part of my day and it helps me to keep in touch with my friends, family, and clients, whom I might not get to see as often as I'd like.
It will keep you on task. Having a plan will help to keep you focused. In other words, it will help you resist the "time suck", that phenomenon that occurs when you log onto Facebook at 9 AM and the next thing you know, it's noon and you've accomplished absolutely nothing. You know yourself better than anyone and you know your propensity for procrastination. If you're prone to time-wasting, trolling the Internet for funny stories, Oatmeal comics or infographics that make you say, "hmmmm," then you need a plan that includes how much time you plan to spend on Facbeook and when. Set a timer, limit yourself, and you'll be much more productive when you're online.
It will help keep you from getting overwhelmed. One of the biggest stumbling blocks I hear about from people new to Facebook is, "What should I write? Why do people want to know what I'm doing each minute of the day?" To answer the first question, well, that's up to you. To answer the second one, they don't. What you write should be a reflection of you: you will attract friends who share your interests, and you may learn a thing or two about each other. If you like gardening, post about your garden; if you like food, talk about great meals you've had; if you're passionate about knitting, talk about your latest project. Your friends don't need (or want) a play-by-play of your daily life – they want to know more about you, to reconnect, to discover things you have in common that they might not have known before. And with Facebook, all those things are possible.
2. Make the (re-)connection. Picture this: That long-lost friend from high school whom you lost touch with friends you on Facebook. A couple of months later, you see on his Facebook status that he's moving to your city. You reach out, offer your assistance, and he accepts. A year and a half later, you've helped him find a temporary rental home for his family, then helped him and his family buy a permanent residence, and had two referrals from him, one of which you've helped to close on a new home. That's one of my Facebook success stories. If I hadn't reached out to him, via Facebook (the only way I knew he was moving here), I wouldn't have reconnected with him, met his family, gained their trust and closed three deals. I have other success stories, directly from Facebook – I'll share them with you in future posts – but believe me, connecting via Facebook works and it can bring you business.
That's not to say it's the ultimate solution for your business. It's just a small part of what I do. However, it can be successful if you're diligent and have a plan. (Still not convinced about needing a plan? See #1.)
3. Reconnect. In person. This is where the face-to-face comes in. Your friends on Facebook were, most likely, your friends in real life previous to social networking, or you share a friend-in-common and you've discovered a common interest or passion. Ask anyone who is active on social media and they will tell you that they've gained new friends they would not have known without the help of Facebook. Quite simply, Facebook makes the world seem a little bit smaller.
So why not reach out to those people – the friend you haven't seen in person in awhile, the new friend you've never met but feel like you kind of know? Schedule a coffee date, a play date for your dogs at the park, a lunch. Too intimidating? Invite them to a tweet-up or other public event to take the pressure off of the one-on-one. In short, get out from behind the laptop and meet in person. All you have to do is ask – the worst they can say is no.
So, if you're still skeptical and wondering why any of this matters, here's my take on it. I see every friend, every acquaintance, every contact as a potential client or a potential referral source. I'm not good at sales; I've never used the line, "do you know anyone who is in the market to buy or sell a house?" I'm not comfortable with the used car salesman approach. I am, however, completely at home with getting to know people, establishing a relationship and trust, credibility and likeability.  Facebook and social media in general is not about selling yourself, and that's why I like it. Whether I'm conversing with friends, clients, or other REALTORS®, I am building relationships and maintaining friendships. I can see when my clients have had life changes – new babies, new jobs; I can see what their interests and hobbies are to help me better relate to them; I can discuss referrals with agents across the country and get to know them before sending a client their way.
In short, I can't visualize my business today without Facebook. Pure and simple, it has allowed me to find long-lost friends and make new ones, to remind people (in a soft-sell kind of way) what I do, and to discover common interests with the people I already know. It's invaluable to me — can it be invaluable to you, too? In a word, yes.