Have you seen Really Rotten Realty yet? I stumbled across this site this week and thought it would be perfect for "Fun Friday!" :-)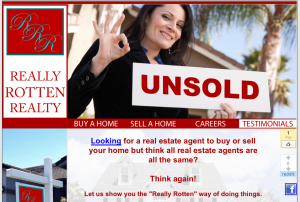 Here are a few of my favorite quotes from this site:
Looking for a home with specific qualities?
We will work with you to find out what you are looking for in a home, then we'll show you the homes we wanted to show you before we pretended to care about your needs.

Worried about getting pre-approved by a mortgage company?
Why bother? That takes all the fun out of home shopping. We'll figure all that math stuff out after you fall in love with a home you can't afford.

We hold open houses every week for our clients.
We've never actually sold a listing by holding open houses, but we have attracted lots of new customers to our agency by using our client's homes for our own personal gain. Plus it's fun to rummage through our client's personal belongings and if we're lucky there might even be something good in the refrigerator. We'll hold as many open houses as you like. It's the least we can do.

Want your house advertised by a professional?
We believe in the 3-P's of real estate marketing: Put, Put and Pray. Put a sign in the yard, Put it on MLS and then Pray someone will come along and buy it. We usually find that after enough time passes, and after several price drops the house usually sells itself without too much intervention from us. That's an easy commission earned. We like easy.
Props to Agent Harvest for creating this really entertaining site. According to their site: 'AgentHarvest empowers clients, selling or buying a home, with the ability to find, interview, hire and work with the best available agents that can serve their needs. Our free service provides an opportunity for home owners and sellers to avoid unprofessional, unproven, or unsuccessful agents while focusing entirely on "harvested" agents in their micro-territory that have displayed an ability to sell in our client's area.'
Pretty creative if you ask me! What do you think? Leave me a comment below!
Written by: Katie Lance, Marketing Manager, Inman News