I love going to the movies. I love the whole experience; the popcorn, the soda, the previews, being a part of the big audience, getting caught up in the plot, etc. Being a big fan of marketing, I always love a movie a little bit more if it has a great business theme or does a great job at marketing itself.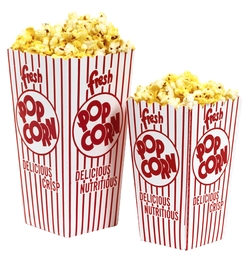 Here are a few of my favorites:
Favorite Negotiating Movie
Wall Street – Greed is good? Maybe not anymore (especially if you are a real estate agent) :), but you have to love Michael Douglas in this. Did you hear a sequel is in the works?
Favorite Sales Movie
Tommy Boy — No one has probably had as many objections as this guy. Need a boost on how to improve your listing presentation – or how NOT to do it? Then rent this one!
Glengarry Glen Ross — ABC: Always, Be, Closing.  Aren't you glad you your sales manager or broker isn't this tough on you?
Boiler Room – A more modern version of Glengarry Glen Ross – this movie epitomizes what happens when the quest for money and power cloud your judgment.
Favorite Inspiring Business Movie
Flash of Genius – Ever feel like it was you against the world? Its easy for a real estate agent to feel that way. In this movie, one man takes on the entire auto industry. This is a very inspiring movie (and true story) that makes you believe with persistence, anything is possible!
Jerry McGuire – Help me, help YOU! Wondering what a mission statement is all about? Need help with your business plan? Looking to be inspired? Look no further!
Favorite Marketing
 of a Movie
The Dark Knight and Cloverfield – Viral marketing at it's best. These two movies looked beyond traditional media and created some of the most effective and entertaining viral marketing campaigns ever! Rabbit holes led to clues, that led to mysterious web sites and dedicated fans – these two movies are great examples of what can be done when you really think 'outside the box.'
Bonus: Top 10 Movie Marketing Blunders – this is a fun list of what NOT to do in marketing!
What are your favorite sales and marketing movies? Would love your feedback, leave me a comment below!
Written by: Katie Lance, Marketing Manager, Inman News