I'm sure none of our loyal FOREM member commit any of these 'blunders' :) – but just in case… I figured it would be fun to do a little post about it today.
Feel free to pass this onto anyone "not following the rules!"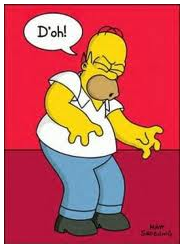 Top 5 Real Estate Social Media Blunders:
1.    Talking about yourself to no end. Enough about me, let's talk about ME! Yes, social media is social – but at some point, it is NOT all about you! This is tough in real estate, where you learn from every marketing person to 'sell yourself' and 'you are your brand' – which is true – but many people (especially the Gen X and Gen Y crowd) don't want to hear all about you – they want to know about the interesting things going on in the community, in their neighborhood, local market stats, and other things that make what YOU do valuable to them.
2.    Only posting your listings. Major faux-pas!  Luckily I have not seen as much of this lately, but it's still happening.   You can post your listings – but make sure you post other great content. (See my ideas in #1 above)
3.    Copying content and claiming it as yours. Big "no no" here. There is so much great content out there – it's fine to use an excerpt of something and then credit the source, but don't copy someone else's  material and claim it as your own.
4.    TMI. There is a fine line between being social and giving out "too much information" – no need to tell your social network everything and anything!
5.    Speaking the same on Facebook as you do Twitter. Maybe this is my own irritation, but whenever I see hashtags and @ signs on Facebook I cringe a little. The language on Facebook is different than Twitter. I think it's fine to duplicate messages on both channels (especially since a LOT of people are only on one of the channels and not both) – but if you do, take a moments to adjust your language to be more "Facebook friendly"
I know there are a lot more blunders – what's your favorite one? Or the one you see agents doing over and over again? Leave me a comment below.
Written by: Katie Lance, Marketing Manager, Inman News