Wondering which iPhone Valentine's apps to check out? Here are 5 fun ones to download for this weekend!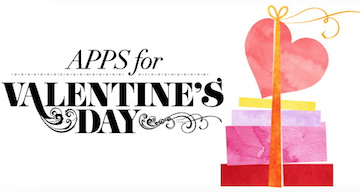 1. Candy Hearts lite – This free app is perfect for those who love the idea of candy hearts but don't want to eat any empty calories.
2.  iXplode – Valentine's Day – This $.99 app is the perfect 'Anti-Valentine's Day' app. From the product's description, "Want to send your "ex" a special holiday greeting? How about a heart shaped box of Chocolate being ripped apart in a massive explosion along a custom message straight from the heart? Maybe you just want to blow your "special someone away" with a Valentine's Day greeting they'll never forget."
3. iFlirt – For $0.99 this app will provide you with dating tips, pick-up lines, and more.
4. iWrite – Love Poems – This $1.99 app will help you get your creative juices flowing, give you tips on writing your love poem and provide examples.
5. Shakespeare. A free app containing the complete works of William Shakespeare and if it's free love poems you want then skip down to the last two items on the menu; his sonnets and poems.
BONUS:
Not really Valentine related – but Open Table (for local restaurant reviews/reservations) and Foursquare (the addicting 'check in' app) are great apps and have become two of my favorites lately.
How is this related to real estate? Well, this week is the perfect opportunity to show your clients your LOVE! Ok, I know that was cheesy :), but honestly why not take this weekend to send a quick note to your top 5 favorite clients to thank them? It couldn't hurt, right?
Happy Valentine's Day FOREM members!
Written by: Katie Lance, Senior Marketing Manager, Inman News @katielance